Can Cameron beat the Curse of Cornwall?
Every time the PM heads to the West Country, something goes awry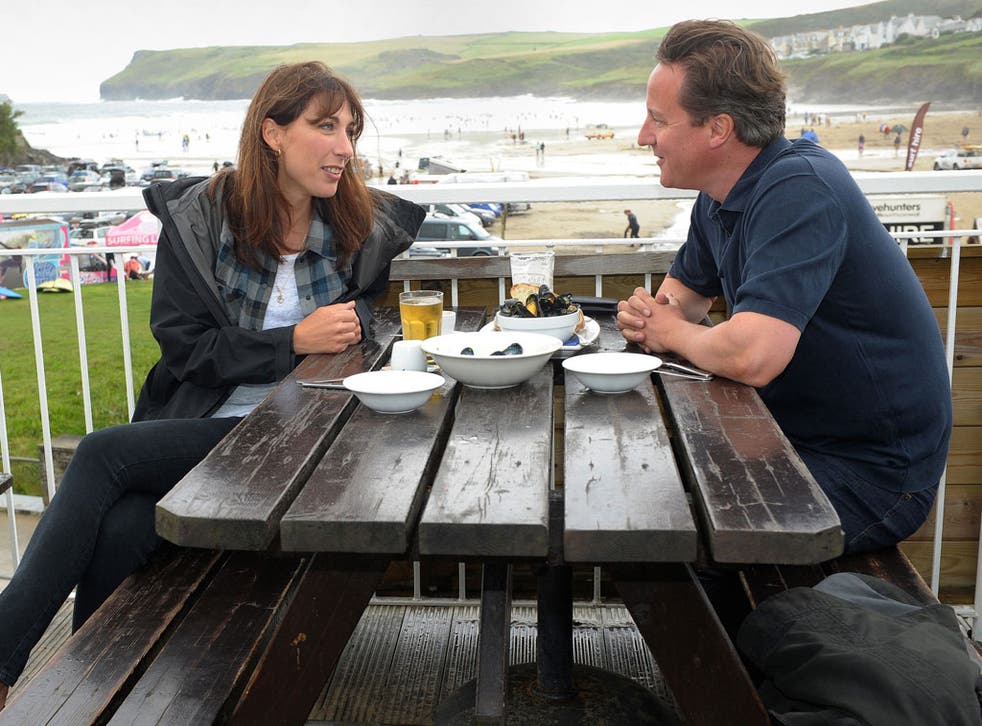 David Cameron is a brave man. He laughs in the face of the Cornwall Curse. Despite the (half-serious) misgivings of his advisers, the PM yesterday returned to his favourite county, in his usual navy shirt, to dare fate to do its worst.
On seemingly every "annual pilgrimage", something unforeseen occurs. History suggests a resignation could be on the cards. "There's no bigger supporter of Cornwall in the Government than me," he told the Western Morning News recently. Yet the political history books are littered with warnings. From the moment Andy Coulson, holidaying in Cornwall, accepted the job as Tory spin doctor, Mr Cameron has, it seems, been cursed.
12 June 2008 The shadow home secretary David Davis gets over-excited and resigns, to fight a by-election in protest at Labour attacks on civil liberties. "He is a very brave man," Mr Cameron says unconvincingly during a Q&A event in Truro. Later, in the middle on a live BBC interview, a local man, Steven Petersen, butts in to complain about the NHS. "You are a massive person," he tells Mr Cameron. "I am just a little person."
14 May 2009 Andrew McKay, Mr Cameron's close aide, resigns over his expenses, overshadowing a Cameron trip to promote geothermal hot rocks technology in Cornwall.
21 April 2010 Reporters who sat through a story-free Q&A at a college in Saltash can barely contain their glee when a student hurls an egg at Mr Cameron as he leaves the building. "Now I know which came first – the chicken, not the egg," says Mr Cameron, confusingly.
24 August 2010 Making clear an intention to keep her parents on their toes, Florence Rose Endellion Cameron arrives several weeks early. A beaming Mr Cameron explains: "We were on holiday, thought we were going to get through the holiday and then have a baby, and then it just seemed to kick off a bit quickly."
5 October 2010 As a row brews over a "Devonwall" constituency straddling the river that divides the counties, Mr Cameron is caught telling ITV Westcountry: "It's the Tamar, not the Amazon, for heaven's sake." He later clarifies: "What I meant, of course, is that it's bigger."
19 November 2010 Another visit, another resignation: enterprise guru Lord Young quits after telling the Daily Telegraph most had "never had it so good" during this "so-called recession. Mr Cameron, visiting flood victims in Mevagissey, says Lord Young will be "doing a bit less speaking in the future".
23 August 2011 The escalation of war in Libya means the PM has to rush back to London to chair the National Security Council.
29 March 2012 Amid an outcry over plans to put VAT on pasties, Mr Cameron tries his man of the people act: "I'm a pasty-eater myself. I go to Cornwall on holiday. I love a hot pasty. I think the last one I bought was from the West Cornwall Pasty Company. I seem to remember I was in Leeds station at the time." Except the shop shut down two years earlier.
25 August 2012 Mr Cameron and his wife Samantha are battered by showers as they arrive for a holiday. Throwing caution to the (strong) wind, they share mussels, ignoring the age-old rule about not eating them during months without an "r". What could possibly go wrong?
Join our new commenting forum
Join thought-provoking conversations, follow other Independent readers and see their replies