Child abuse inquiry: Home Secretary Theresa May under pressure to give investigation greater powers
The Home Secretary seeks to regain the initiative after the resignation of her appointee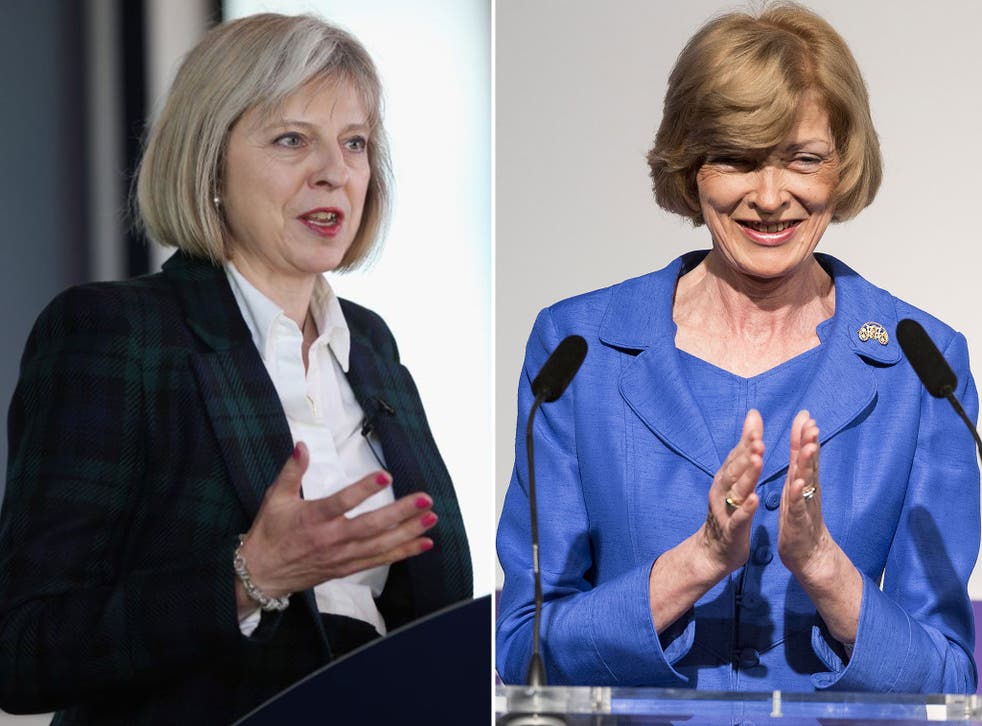 The embattled Home Secretary, Theresa May, is considering hardening the inquiry into child sex abuse to rescue the wide-ranging investigation from being further discredited.
At the meeting on Friday which decided the fate of the panel chair, Fiona Woolf, all 21 representatives of victims' groups and campaigners demanded that the inquiry carry statutory powers, including compelling witnesses and documents to be disclosed. This demand is being considered by Ms May after campaigners cautioned that this was necessary to ensure credibility.
It was also revealed that the panel will have vetting clearance allowing them access to intelligence files and information.
Ms May, whose credibility as Home Secretary and hopes of becoming Conservative leader are being severely tested over the affair, will give a statement to the House of Commons tomorrow to regain the initiative after Ms Woolf's resignation – the second time that Ms May's choice of chairman for the inquiry had quit.
Who could lead the abuse inquiry?

Show all 6
Ms May had tried to keep Ms Woolf in place, but revelations that the Home Office had extensively redrafted her account of her links to Leon Brittan made her position untenable.
The Home Office insisted yesterday that Ms May had no knowledge of the redrafting of the letter.
The Labour MP Tom Watson, who made the initial allegations of a high-level paedophile ring in Westminster, said: "I believe Theresa May is keen the investigation should be thorough and should get to the bottom of all this, but the setting up of the inquiry was resisted for a long time in Downing Street, and there are still people in Westminster who don't want it to happen."
He said Fiona Woolf was an "unfortunate" appointment: "I hope very much the inquiry will be put on a statutory footing, which would compel people by law to give evidence and to hand over documents. There are many potential witnesses who could refuse to appear, either because of their own activities or their failure to take action against abuse in the past."
Government commitment to put the inquiry on a more formal legal footing could make it far more costly.
Fay Maxted, the chairman of the Survivors' Trust, who was present at Friday's meeting, said statutory powers were "absolutely critical" to its success. She said: "Fiona Woolf going was a good result. I hope the panel goes away from our meeting and has a re-think about how they agree its constitution and approach this inquiry."
Officials are urgently seeking a new chair, untainted by personal associations but with the knowledge and authority to run an inquiry.
Labour's home affairs spokesman Yvette Cooper said yesterday that it had been a "really, really big error" not to consult with victims before Ms Woolf was appointed. However, she rejected suggestions it would be hard to find a suitable replacement who did not have similar "establishment" links.
"I think this is a really narrow view of who it is that can have the kinds of qualifications to do this job," she told BBC Radio. "It doesn't have to be someone based in London. I think there are plenty of people with great expertise who don't have close social or family ties with key decision-makers."
In Friday's meeting, 18 of the campaigners present demanded that Ms Woolf, the Lord Mayor of London, resign. Private letters by Mrs Woolf to Mrs May tried to play down her ties with Lord Brittan, the former Home Secretary who may be called by the inquiry to give evidence into his handling of abuse allegations in the 1980s. Two NSPCC members who felt further delay would hinder the inquiry's process rejected the resignation call.
Ian Pace, one campaigner present, said: "There was a unanimous vote by those present the panel has to have statutory powers, otherwise institutions under scrutiny will give no more information away than they absolutely have to. It was made clear by the panel members that they would take that view back to the Home Office."
The panel members set out the terms of reference for the inquiry, which will investigate if alleged abuse by politicians and other figures between the 1970s and 1990s was covered up. There will be three stages over at least three years: the first year will be spent investigating published and unpublished documentation; the second when they hear witnesses; and the third where the inquiry report is written.
Questions were also asked about whether civil servants or others who has signed the Official Secrets Act could give evidence without fear of prosecution.
There are serious concerns the inquiry only covers England and Wales, despite high profile abuse cases having occurred in both Scotland and Northern Ireland. The panel told campaigners that because of devolution the issue of child protection fell under the remit of those devolved authorities. The Channel Islands is also separate.
The panel did inform campaigners they were open to having more people joining it. Some names were offered and the panel promised to consider them.
A second meeting is scheduled for Friday where more panel members are expected to attend and further meetings may follow.
Questions that need answers
Who was in charge of editing Fiona Woolf's letter to the Home Secretary?
Was Theresa May involved, or kept abreast of it?
Whose decision was it to omit Ms Woolf's assertion that she and Leon Brittan had two dinners with just their spouses attending?
Why was it done, and in hindsight, was it a mistake?
Why was any mention of Colin Tucker, a struck-off solicitor and Woolf's steward as Lord Mayor of London, also omitted?
Does Downing Street have any objection to witnesses being compelled to attend and will all requested documents be provided?
Who could lead the abuse inquiry?
Brian Moore, 52
A former England rugby player and qualified solicitor who was sexually abused as a child by a teacher. Once a staunch Labour supporter, he now holds both left- and right-wing views.
Alexis Jay
A professor who specialises in social work, she is the independent chair of the Centre for Excellence for Looked After Children in Scotland (Celcis) and a Rotherham sex abuse scandal expert. She was appointed expert adviser to the child abuse inquiry in September.
Baroness Kennedy of The Shaws, 64
A formidable British barrister, broadcaster and Labour member of the Lords who has experience in cases of domestic and child abuse.
Sir Alan Ward, 76
Retired and accomplished Court of Appeal judge with experience in family disputes, he helped Ian McEwan with his recent book on the Children Act.
Lady Justice Hallett, 64
Respected Court of Appeal judge with extensive criminal experience who was coroner of the 7/7 inquests. There might be hesitancy over losing a serving judge to an inquiry with an indefinite duration.
Lord Carlile of Berriew, 66
A Liberal Democrat peer who is one of Britain's top legal experts, acting as the independent reviewer of terrorism legislation from 2005-11. He is known for not being afraid to speak out against the authorities.
Join our new commenting forum
Join thought-provoking conversations, follow other Independent readers and see their replies