Children in working families fall below the poverty line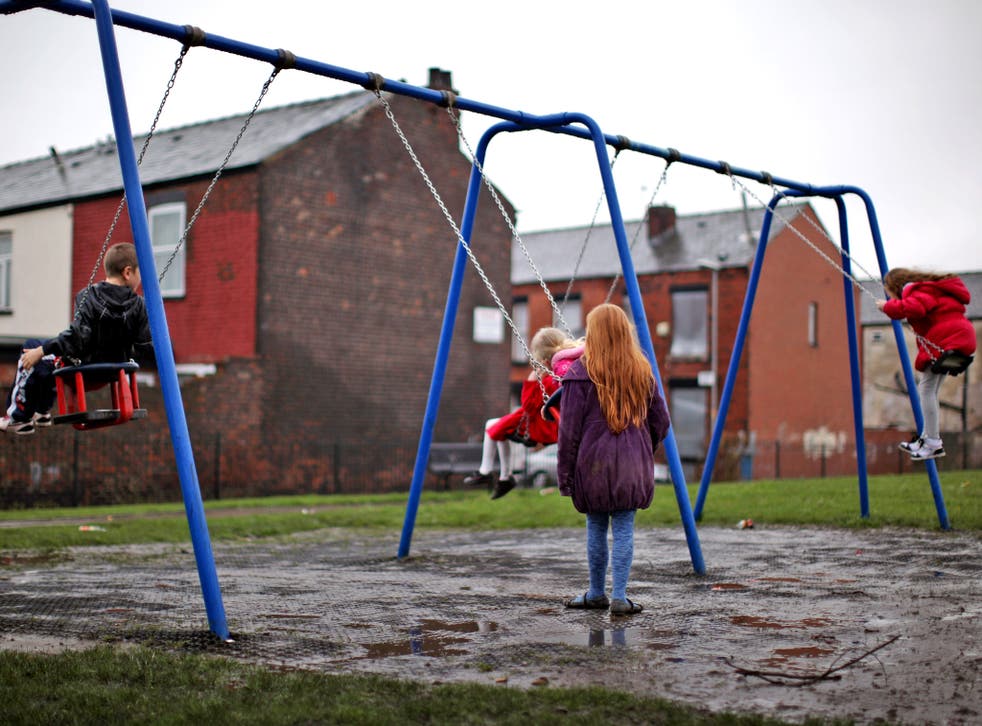 Children living below the poverty line are now twice as likely to come from working families struggling on low incomes and falling wages than those whose parents are unemployed, official figures have revealed.
The number of children growing up in absolute poverty in "breadline Britain" increased by 300,000 last year – an annual increase of 2 per cent, representing the biggest rise in two decades – according to official Department for Work and Pensions figures.
The rise means a total of 2.6 million children are now raised in poverty. After housing costs, the number is even higher, with 3.5 million in families whose incomes are significantly lower than the rest of the population.
Overall, almost a million more people of all ages were driven into poverty over the past year. Campaigners say it is "no coincidence" that the latest 2011/12 figures coincide with a time when almost £1.5bn of targeted support for low-income families was cut.
At the same time, average incomes fell for a second successive year. The median income is now only £427 per week, down from £440 in 2010/11.
The proportion of working families now in poverty has risen dramatically from 43 per cent to 67 per cent since 1996-97. The steepest rise, of six points, came in 2011-12. Although the number has risen since the financial crisis of 2008, the trend began in 2003-04.
Alison Garnham, chief executive of Child Poverty Action Group, said: "Despite all the talk about 'scroungers' and generations of families never working, today's figures expose comprehensively the myth that the main cause of poverty is people choosing not to work. The truth is that for a growing number of families, work isn't working. The promise that work would be a route out of poverty has not been kept as wages stagnate and spending cuts have hurt low-income working families."
Anita Tiessen, deputy executive director of Unicef UK, said that the true picture was "likely to be even higher than the Government's statistics suggest", since they didn't include the latest round of benefit reforms. "In the time period covered by today's figures, major austerity measures – like cuts to council tax benefit and the introduction of the bedroom tax – had not yet come into force," she said.
The increase in working poverty was particularly evident for children from one-parent families. The proportion of children with single parents who work part-time but still live in poverty has leapt from one in four to almost one in three in one year. Overall, children from single-parent families are twice as likely to live in poverty as others. Child poverty is calculated as those whose parents' disposable income is 60 per cent lower than the median.
Incomes of older people continues to rise despite recession
Oliver Wright
Older people have, you might say, had a good recession: A new analysis has revealed that the incomes of people in their 60s and 70s have continued to rise throughout the downturn.
But their grandchildren have been far less fortunate. Income among people in their 20s fell by 12 per cent between 2008 and 2012 - the largest fall of any age group.
The study, from the Institute for Fiscal Studies, found that average incomes fell between 2011–12, 5.8 per cent below their levels in 2009-10. The body's David Phillips said the research showed that the "face of poverty" had become much younger.
"Whereas in the 1960s and early 1970s the poverty rate for pensioners was around six to eight times as high as for working-age adults without children, by 2011–12 the risks had near enough equalised. Indeed, once housing costs are accounted for, pensioners actually had a substantially lower risk of poverty," he said.
Join our new commenting forum
Join thought-provoking conversations, follow other Independent readers and see their replies