'Hostile action': China warns of serious consequences if Britain and US send ships into disputed waters
Ambassador Liu Xiaoming also said China may have to intervene if the violence continued in Hong Kong
Kim Sengupta
Defence Editor
Tuesday 10 September 2019 07:12 Comments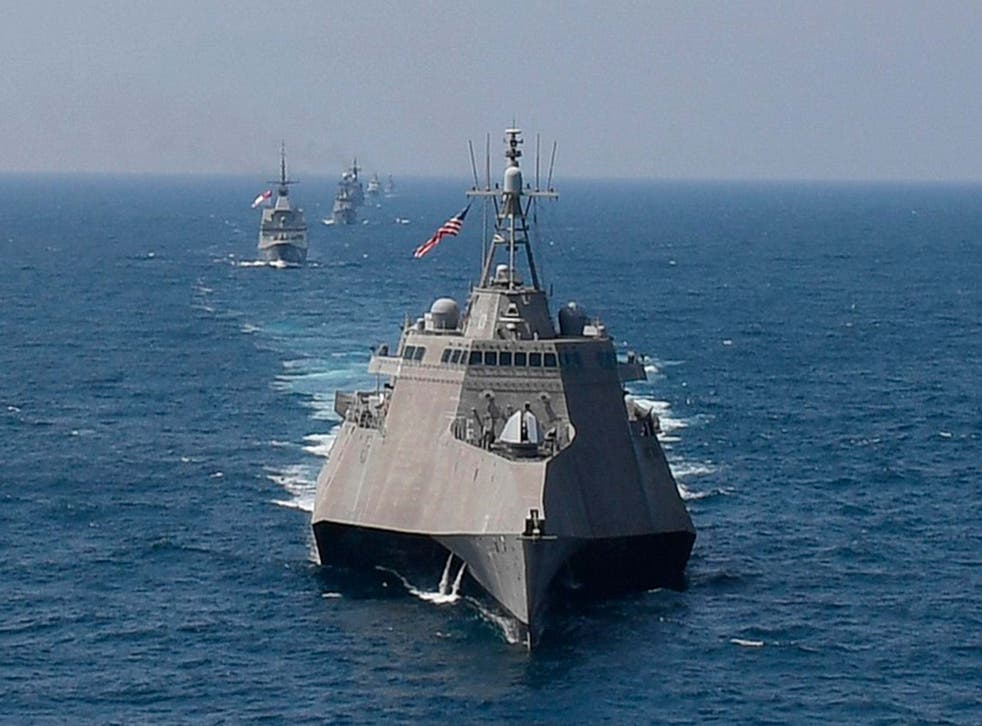 China will view the sending of British and the US warships into disputed waters it claims its own as "hostile action" with serious consequences, senior officials from the country have warned, and urged that London not get sucked into carrying out "dirty jobs" for Washington.
The message that China will not tolerate "violation of sovereignty" came as the American defence secretary, Mark Esper, called for the help of allies, including the UK, in standing up to what he claimed was Beijing's "attempts to disrupt the international order" and seek "domination".
It also comes as plans are being discussed to deploy American F-35 stealth fighters aboard the royal navy aircraft carrier, the HMS Queen Elizabeth – the first of a series of joint military initiatives between the two countries.
The Chinese ambassador to London criticised Gavin Williamson, the former defence secretary, who had wanted to send the aircraft carrier to the Asia Pacific as a display of "hard power" to counter Chinese aggression and during whose watch HMS Albion had been involved in a confrontation with the Chinese military in the South China Sea.
Mr Williamson's words and actions, said Liu Xiaoming, had hindered Sino-British relations at a time when the British governments were trying to forge trade links with his country.
World news in pictures

Show all 50
The ambassador wanted to stress that Beijing wanted to avoid a belligerent relationship with the UK and promote cooperation on a number of fields. But Mr Xiaoming also complained that some politicians in Britain were taking a "colonial" attitude in encouraging the current Hong Kong protests.
Ambassador Xiaoming stated that China may have to intervene if the violence continued and the Hong Kong government found it could not control the unrest. Speaking to journalists of the Defence Correspondents Association in London, he said: "If the riots become uncontrollable for Hong Kong SAR government, China cannot sit on its hands and watch. Hong Kong is part of China. We can't watch this violence go on and on."
"As long as you do not interfere in Hong Kong's affairs, I do not see there will be a problem. But some UK politicians still have a colonial mindset. They make irresponsible remarks to show support to demonstrators and rioters, and that is a problem."
The ambassador stated that the British government should not acquiesce to pressure from the Trump administration to bar the Chinese technological company, Huawei, from the UK's 5G network, or post-Brexit trade relationship may suffer.
"According to some analysis, if the UK shuts the door on Huawei [for 5G], you will lag a year and a half behind others. It will send a bad message to Chinese business. The UK is regarded as open and business-friendly. But this would damage the UK's image and harm business relations. It would look as though you are not open towards business," he maintained.
With the US as well as many of China's neighbours alarmed by what they see as Beijing's expanding naval hegemony, the building of fortified islands and claiming disputed territorial waters, the issue of freedom of navigation has come increasingly to the fore.
Mr Williamson, while announcing that the Queen Elizabeth would be sent to the far east, said that the UK may in future "have to intervene" to confront aggression from states like China who "flout international law" and are "resurgent" in rebuilding their armed forces.
In August last year the Chinese forces, including ships and aircraft, confronted the British warship HMS Albion, carrying a contingent of royal marines close to the Paracel Islands, claimed by China, Vietnam and Taiwan.
The Ministry of Defence in London said that Albion was carrying out a freedom of navigation exercise "in full compliance with international law" and the Chinese forces had acted in "an aggressive manner" after taking up positions "irresponsibly close" to the ship. Beijing accused the UK of "provocative action" and entering its territorial waters without permission.
Mr Xiaoming said: "It created a lot of problems in China-UK relations ... It was to show muscle; the UK should not do this dirty job for somebody else."
Speaking about Mr Williamson, Mr Xiaoming commented: "Some British politician regarded China as a threat. He listed four security threats: Russia, Iran, North Korea and China. You can hardly imagine a high level official of a government who endorses China-UK 'golden era' to regard China as a security threat. I don't think he played a positive role."
Major General Su Guanghui, the Chinese defence attache in London, said that his country will continue take a combative stance in what it considers to be incursions into its territories: "If the US and UK join hands in a challenge or violated the sovereignty and territorial integrity of China, that would be hostile action."
The ambassador added: "The South China Sea is a vast ocean, it is 3 million sq km wide. We have no objection to people sailing around there but do not enter Chinese territorial waters within 12 nautical miles. If you don't do that, there shouldn't be a problem. The South China Sea is wide enough to have free navigation of shipping."
A government spokesperson said: "The UK has enduring interests in the region and is committed to maintaining regional security. The presence of international navies in the South China Sea is normal and the royal navy is no exception to this.
"We remain committed to asserting rights of freedom of navigation at sea and in the air as provided for by international law."
Register for free to continue reading
Registration is a free and easy way to support our truly independent journalism
By registering, you will also enjoy limited access to Premium articles, exclusive newsletters, commenting, and virtual events with our leading journalists
Already have an account? sign in
Join our new commenting forum
Join thought-provoking conversations, follow other Independent readers and see their replies