Labour conference: Chuka Umunna, the outsider of Westminster, says 'I've never been at ease here'
Tipped to replace Ed Miliband as Labour leader, the Shadow Business Secretary talks to Jane Merrick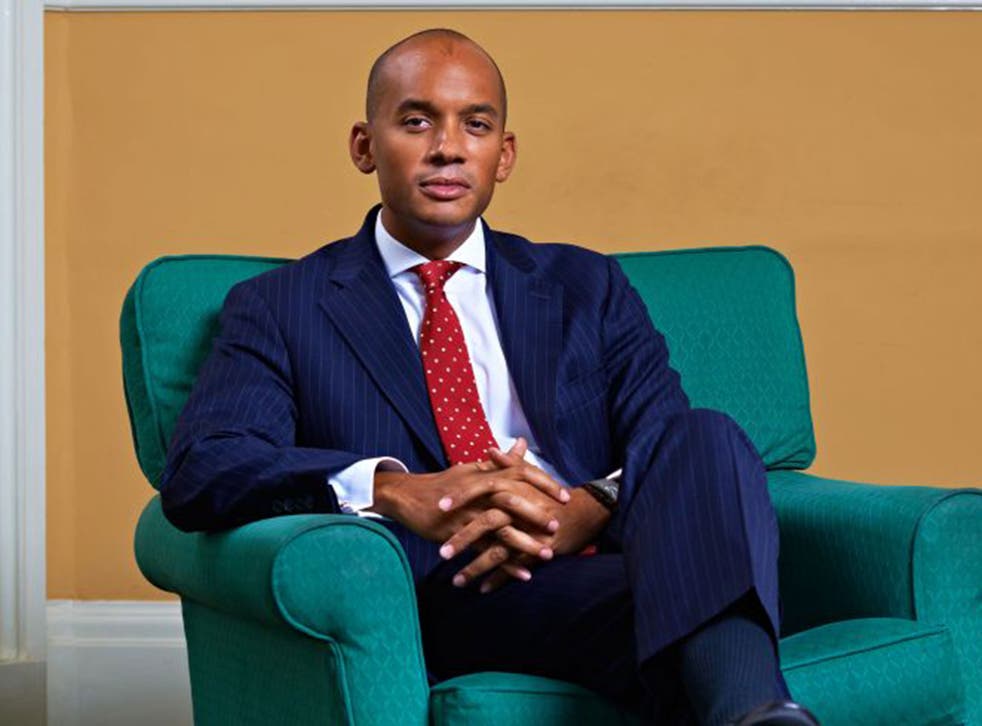 Two days before the Scottish referendum vote, Chuka Umunna is sitting in an armchair in what used to be George Osborne's House of Commons office, overlooking the Thames. This is the room in which the Chancellor, in opposition at the time, plotted what became the coalition's austerity programme, as well as the Conservatives' failed bid to win outright the 2010 election. There remains the ghost of an Osbornian wargame gone slightly awry. Today, the office is used by Ed Miliband as a meeting room for another election campaign that is far from won.
When I ask Umunna, the 35-year-old Shadow Secretary of State for Business, Innovation and Skills, what Westminster parties can learn from Scotland, he seems determined to cast himself as someone who is not part of the political elite. "I come at this as a bit of an outsider," he says. "I've never really been at ease with the way in which this place works, the culture of it, the traditions, which all seem a bit archaic to me. I didn't work in Westminster before I was elected; I practised as a lawyer for the best part of a decade, I wasn't a special adviser or anything like that.
"I was very struck during my own election [as Labour MP for Streatham] of 2010; it was a really tough fight … But the one thing that was very clear to me was that my area was politicised in a way that I had not seen for many years. We had turnouts of between 70 and 80 per cent in some of the poorest polling districts in the constituency.
"That said to me that people are not apathetic about politics but they do feel distinctly turned off by party politics. What has driven and has been used by the nationalists in Scotland to further their cause is this discontent with the way that we do politics in this country."
Part of this discontent, he says, is with the "ridiculously tribal, adversarial" Prime Minister's Questions, which he thinks should be replaced with a weekly session similar to a select committee.
Clearly, post-referendum, change needs to go further than PMQs. Umunna says there should be a genuine devolution of power from the centre – what he calls "devo default", under which the Government would have a very good reason not to devolve powers on any issue. He also wants the House of Lords directly elected, with local representatives sitting in the Chamber, based on the Spanish senate model. All the hereditaries and bishops would go: "I'm pretty big bang on this. Clear all of that out, as far as I'm concerned.
"Part of people's contempt for the system doesn't only come from the fact they often think we're just in it for ourselves, but also they doubt our ability and our power to have any impact on the big global forces of change.
"If you have power nearer people, that generates more confidence. The House of Lords is unsustainable in its current form, and it's a complete anachronism."
Does he really feel like an outsider – even as a senior member of the Shadow Cabinet? "I pinch myself every time I'm in this place and every time I'm in the House of Commons about to speak. Tessa Jowell, who is like my political mum – she has the same thing, and she's been here for over two decades. It's quite an emotional thing, representing my area. I represent lots of my close friends, my family ... you do feel this huge sense of responsibility. The moment you forget it, that's when you end up with all that expenses nonsense. It's a good thing not to be comfortable here because it needs to change. And that's kind of why you're put here."
Visiting Scotland on the campaign trail, Umunna "felt this real conflict and sense that they were being forced to compromise and choose between their sense of Scottishness and Britishness". He adds: "I relate to that – I am a Londoner, of an Irish and English mother and a late Nigerian father. I am very proud and at ease with all of my different identities and my Britishness is the umbrella for all of that, and I'm very proud of too.
"I've always defined myself positively, so I'm like, 'Yeah I'm black, I'm also European, too'. I don't think anyone should force me to choose between my different identities. I want to have them all. I will have them all and I will be confident about it, too."
Growing up in south London in the 1980s and 90s, Umunna always felt political but was expected to follow his father, a Nigerian-born businessman, into the family business (in the end he followed in the footsteps of his mother, Patricia, and grandfather, a High Court judge, and went into law). "Although I was very interested in current affairs, it just didn't occur to me [to go into politics] because I didn't see anyone who looked like me until the late 1980s."
Initially state educated, he later moved to the independent St Dunstan's College in south London. He was nevertheless "exposed to all the inequalities" evident in the Lambeth of the 1980s. "I had school friends with families who really felt the hard edge of Thatcherism".
His second major political influence was visiting Nigeria as a nine-year-old: "I first saw that grinding poverty you get in sub-Saharan Africa in the village where my family are from and that really affected me, and from there came a real political awakening."
As Labour's business spokesman, Umunna is worried that the UK is not fully prepared for the twin challenges of technology and global competition. In his book Owning the Future, Umunna says these two issues were not faced by Tony Blair's New Labour in 1997. He recently told schoolchildren in his constituency: "Be in no doubt, you're not just competing with your peers in Southwark, in Lewisham, in Sheffield and in Manchester; you're competing with your peers too in Mumbai, Shanghai, Singapore … and you know what? They may have had it a bit harder than you and may be more hungry than you. That is what you're dealing with."
It will be relatively easy, he says, for a Labour government to act on zero-hours contracts and low pay, but adds: "The harder things are how we build a fairer Britain … given all the creative destruction technology is reaping and the fact that we've got competitors we didn't have before.
"You cannot expect to be able to solve those problems simply by splashing money around."
Labour's pledge to restore the 50p higher tax rate is "not some ideological expedition" but because "we need to reduce our debts". The notion of an "NHS tax", a penny on National Insurance to fund a shortfall in the health service, is "not on the agenda".
On the economy, and on foreign interventionism, he says the UK should not "sit on our hands and do nothing" about Islamic State. Asked whether he is a Blairite, he says: "I can't be arsed with all these labels, it's just so old fashioned … I don't think Tony would argue that he has exclusive purchase over the notion we need as a Labour Party to marry economic competence and social justice together, and modernity."
Umunna insists that voters "absolutely" see Miliband as Prime Minister. He dismisses any suggestion of an "image problem" for the leader. "I think ultimately when people go to vote they don't really care what you look like. What they care about is how are you going to help children achieve their aspirations and dreams."
There is a growing belief inside the Labour party that Umunna will be the Blairite candidate in the next leadership election – which, if Miliband fails to win power in May, could be 12 months away. He shrieks with laughter when asked if he wants to be leader, as if it is the first time anyone has asked such a question.
"I just want to serve in a cabinet … I never expected to be an MP and you're asking me if I want to be leader! I'm quite happy being a member of a Labour cabinet, which I hope I will be in this time next year."
Parting, he reiterates his passion for political reform. It is easy, he says, to find yourself cheering for your side at PMQs. "That's why you've got to be careful you don't get – what's the word? – 'captured'. I am determined not to be captured by the old ways."
Join our new commenting forum
Join thought-provoking conversations, follow other Independent readers and see their replies