Clacton by-election: A bit early for Ukip to celebrate, but there's only one party
Douglas Carswell is taking many Tory voters with him to Ukip. Jamie Merrill visits the Essex town ahead of Thursday's poll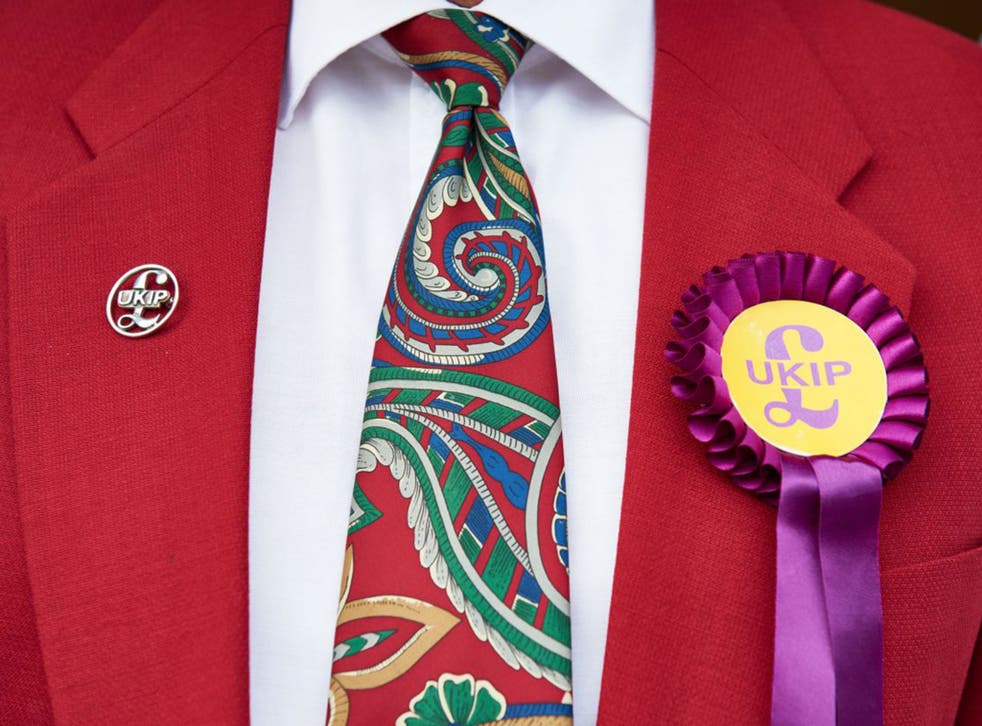 Like many residents of Clacton-on-Sea, labourer Garry Denham moved to the seaside town in search of a slower pace of life. He was also looking to "escape" a Britain he no longer recognises.
He arrived earlier this year, just in time to see the then local Conservative MP, Douglas Carswell, defect to Ukip and trigger a by-election that could see the Eurosceptic party gain its first elected representative in Westminster.
"I moved to Clacton from the East End of London because there it has become so overpopulated with Muslims that I don't know it any more. Here, though, we still have England as it should be," said Mr Denham, who will be voting for Ukip on Thursday. "There are lots of people like me here who moved to Clacton for that reason. I wouldn't want to suggest we should eradicate everyone with brown skin, but this is our country."
Clacton-on-Sea candidates

Show all 4
The polls suggest that Mr Denham is far from being the only person who will be helping Mr Carswell defend his 12,000-strong majority. That doesn't mean Mr Carswell's defection isn't controversial locally, however; outside his poster-covered office, off the high street, he faces as many snarled shouts of abuse as honks of support from passing drivers. And 200 metres down the road, at a café next to the local Conservative office, the word traitor is on the lips of some of the activists.
For his part, Mr Carswell says he isn't taking victory "for granted" on Thursday – and was out yesterday delivering some of the 100,000 leaflets with which his well-funded campaign has blitzed the run-down town. "The score is drawn at the moment, but I'm finding that people on the doorstep are receptive to the Ukip message," he told The Independent on Sunday. "They are fed up with the politics-as-usual from the bloated, corporate parties and are ready for a change."
Outside his office, two voters who seem happy with that language are Nicholas and Sarah Sloggett: "We've voted Labour before, then swayed towards the Tories, but immigration is becoming a problem in Clacton," said Mr Sloggett, who works as a ground contractor. "I'm still swayed to vote Tory in May, but I think I'm going to give Mr Carswell a seven-month trial before then. He talks a lot of sense on local issues, too. We need a change."
Another soon-to-be Ukip voter is Wayne Scaffarei, 53, who is out walking his Alsatian dog, Rebel. He said: "I've just come back to this dump [Clacton] after 17 years in America. There's nothing here for young people, no work and too many foreigners."
One person who would probably agree with calling Clacton a "dump" is the Times columnist Matthew Parris, who last month described it as "a friendly resort trying not to die, inhabited by friendly people trying not to die".
There is some truth to that; the seafront pubs are doing a strong trade in pints of lager by 9.30am and the constituency has the highest proportion of pensioners in the East of England. Rates of heart disease and cancer are also higher than the national average, while the run-down nearby town of Jaywick is regularly the focus of voyeuristic magazine articles after being repeatedly called the poorest area in England.
This poverty, and the jellied eels on the pie-and-mash shop menus, sit oddly with the tweed-wearing campaigners whom Ukip has brought in from Wiltshire and the Home Counties – the local party is less than a year old, though Mr Carswell claims to have brought nearly 200 members from the local Tory party branch.
Nicholas Carroll, who came across from Wiltshire to leaflet for Ukip, said: "This by-election is a significant step for us. I don't know Clacton, but I imagine immigration is a big issue here." Other smartly dressed Ukip supporters, however, admitted that they should "probably be at the other battle", a reference to the tough fight in the Rochester seat being fought by the second Tory defector, Mark Reckless.
Taking on Ukip for the Tory party is local man Giles Watling, who was chosen "in a hurry" and is famous locally for starring in the 1980s sitcom Bread. He admits to having a tough challenge ahead. "Six months ago, I didn't think I'd be here," he said, while handing out leaflets on a leafy suburban street. "I'm a Clacton local, but my role in the Conservative Party until recently was working to support Douglas and get his leaflets out. Now I have to knock him down in just three weeks."
On the doorstep, all the candidates admit they are facing far more local concerns, such as the NHS, street lighting and crime, than complaints about Europe or immigration in the primarily white British town. Pensioner Violet McEwan, a former Labour voter now swaying to Ukip, seems to reflect the views of many. "The problems here are to do with local services like the buses and the NHS. We have a great GP surgery that we use, but there are not enough doctors there. I'm hoping Ukip will do something about that."
As far as the other parties go, the Liberal Democrat candidate lives 150 miles away and Labour's Tim Young boasts a dangerous driving conviction from 2001, when he hit a police officer with his car. To his credit, Mr Carswell hasn't made anything of this and decries what he calls "the dirty politics of the Westminster establishment".
On the high street yesterday, Ukip seemed to be the only party in town. With Tory campaigners hitting the suburbs, the only outpost of opposition to Ukip was the Green Party candidate, Chris Southall, who took part in a small "Stand Up to Ukip" protest. He said: "He's very good at spin, Mr Carswell. The switch to Ukip was something he's done for his own personal political interest and it's cost the taxpayer hundreds of thousands of pounds.
"We are hearing a lot about immigration on the doorstep, but the truth is that the last census shows that the vast majority of the people of Clacton were born in Britain. The irony is that the only foreign person most people in Clacton will meet on a daily basis will be the doctor treating them at the local surgery."
Join our new commenting forum
Join thought-provoking conversations, follow other Independent readers and see their replies