Clacton by-election: Nigel Farage organises pub crawl to round up last remaining floating voters for Ukip
Exclusive: He's like the Pied Piper in purple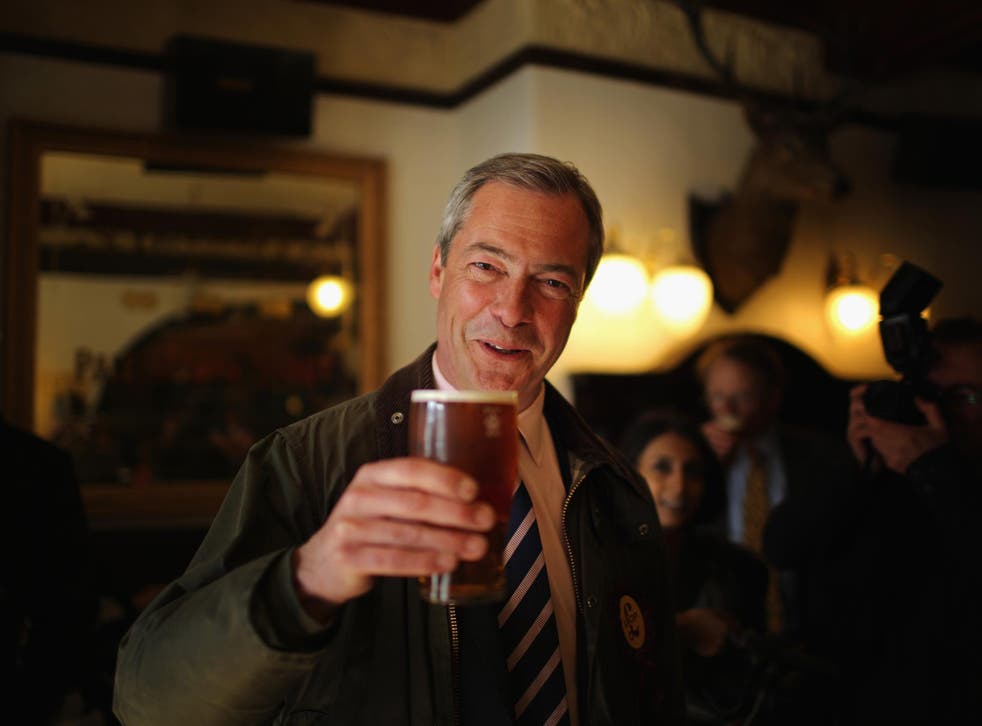 In a last-minute bid to get the people of Clacton to vote Ukip in today's by-election, Nigel Farage has promised to organise a pub crawl throughout the evening - that he hopes will culminate in a late surge to the polling booths.
Writing in his column for The Independent, Mr Farage hailed the "massive gains" his Eurosceptic party have made in the past 20 years.
As Ukip stood on the brink of receiving its first MP in this Parliament, its leader said he would do all he could to "coax people down to the polling station".
"This evening Ukip have organised a Clacton pub crawl," he said, "to encourage the remaining men and women who are yet to engage with democracy to stake their claim in tomorrow's result".
"It's a bit of a burden for me and rather a break from the norm, of course, but I would do anything for the party."
Mr Farage's plan to dredge up the last possible votes for Ukip tonight comes after a mixed week of campaigning in Clacton.
He received a great deal of attention by posing on the top of a tank yesterday – but then managed to come across as sexist by admitting his party had been a bit "blokeish" with the caveat: "What do you want me to do, go sell flowers?"
In pictures: The rise of Ukip

Show all 8
Douglas Carswell – of whom Mr Farage wrote today "cometh the hour, cometh the man" – is the overwhelming favourite to retain his seat after defecting from the Conservative Party. He held onto the seat with a majority of more than 12,000 in 2010.
And while it is expected to be a good day for Mr Farage, he has kept his own party guessing right to the very end. When approached for comment their leader's pub crawl scheme, Ukip's London press office had to admit that they hadn't been told anything about it.
Join our new commenting forum
Join thought-provoking conversations, follow other Independent readers and see their replies