Clegg set to open the way for churches to hold gay marriages
Move risks strong opposition from bishops as poll reveals most people want law to change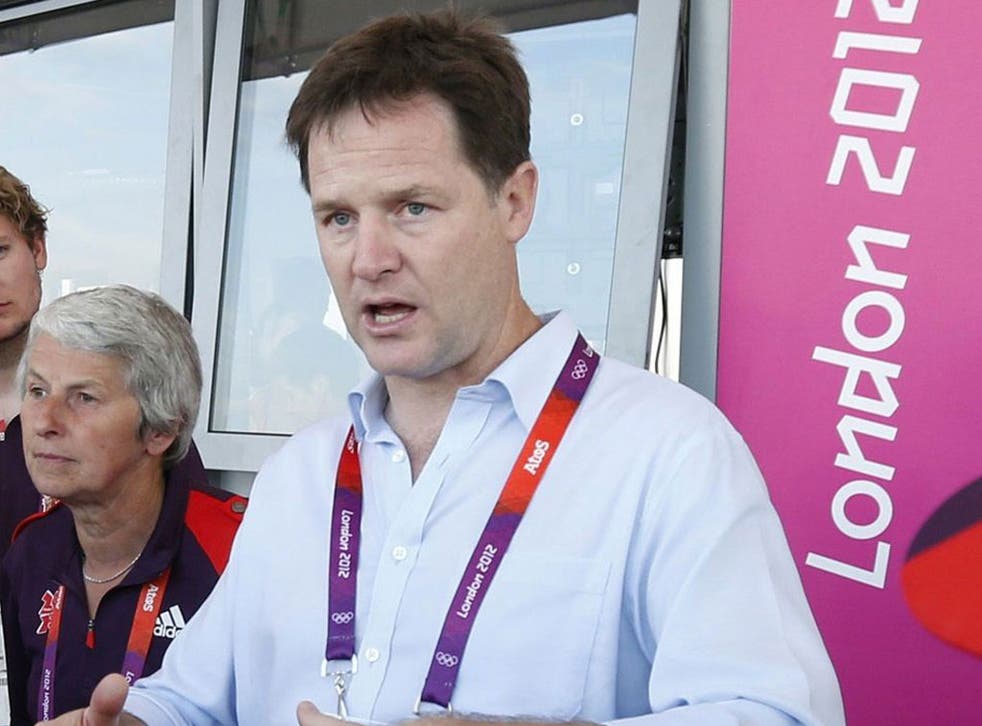 Nick Clegg will allow Parliament to go further in its plans to legalise gay marriage and enable churches and other religious institutions to conduct the ceremonies, The Independent has learned.
The Deputy Prime Minister will open the way for the Bill to go beyond the Government's formal position – allowing it to be amended to permit churches to allow gay marriage, if they choose to do so. A poll by The Independent has also revealed a majority of people want the Government to ignore the results of its public consultation exercise and press ahead with its plan to legalise gay marriage.
A ComRes survey found that 54 per cent want civil same-sex marriage to go ahead even if the idea is opposed during the consultation, while 37 per cent disagree and nine per cent are "don't knows".
More than 100,000 responses have poured into the Home Office, and Whitehall sources say a majority oppose the idea. Ministers suspect a big "round robin" campaign by religious and other groups which are trying to scupper the Government's plan.
But in a letter to the Quakers, Unitarian and Free Christian churches and Liberal Judaism, who all want to conduct same-sex marriages, Mr Clegg indicated that religious groups could be given the option.
He said: "No religious organisation who does not wish to conduct a same-sex marriage should be forced to do so. But religious liberty means allowing those churches and organisations who want to open their doors and welcome same-sex couples to do so, as much as it means respecting the rights of those who do not." He added: "It is Liberal Democrat party policy, and my personal view, that those organisations who do wish to conduct same-sex marriages, should be free to do so. It is not the place of government to mandate religious organisations to conduct gay marriages. But nor is it the place of government to ban them from doing so."
Mr Clegg was replying to a letter from the three churches urging him to "stand firm and show moral leadership on this issue". They said: "This is about religious liberty for us, so we don't expect Parliament to force others, who may disagree with us, to marry same-sex couples if they do not wish."
Any move towards permitting gay marriage in a religious setting would be strongly opposed by the Church of England and more than 50 Conservative MPs who will vote against the measure. They are already worried that the proposed law would be followed by a ruling by the European Court of Human Rights forcing churches to conduct religious same-sex marriage ceremonies.
According to ComRes, younger age groups are much more likely than older people to support the legalisation of gay marriage. It is backed by 71 per cent of 18- to 34-year-olds, but only 31 per cent of those aged 65 and over. Women (62 per cent) are more likely than men (46 per cent) to endorse same- sex marriage.
A majority of Liberal Democrat supporters (67 per cent) and current Labour voters (62 per cent) are in favour of gay marriage, but it is backed by a minority of Conservative supporters (49 per cent agree, while 43 per cent disagree and eight per cent are "don't knows"). The Scottish Government said last month it is pressing ahead with plans to allow same-sex marriage even though it was opposed during its public consultation.
Join our new commenting forum
Join thought-provoking conversations, follow other Independent readers and see their replies