Conservative Party Conference: A Tory election candidate ventures into the 'Khyber Pass' of protesters
George Grant, who came third behind Labour and George Galloway in Bradford West, goes deep into enemy territory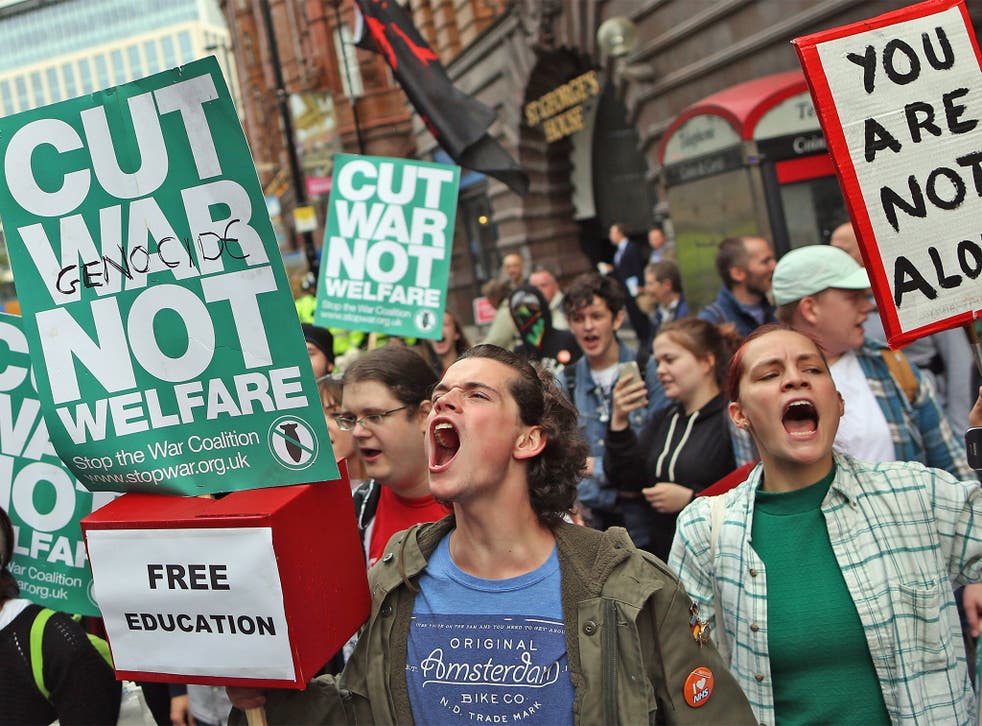 Boris Johnson called it the "Khyber Pass", the narrow entrance into the Conservative Conference where eggs, abuse and spit were hurled at delegates for days.
Only yards from the site of the 1819 Peterloo massacre where those angered by famine and unemployment were dealt with by a cavalry charge that left 15 dead and hundreds injured, shocked Tories – perhaps more used to genteel Bournemouth than northern grit - faced an "initiation ritual" with in-coming taunts of "fucking Tory scum" and "Shame on you".
Though 60,000 took part in Monday's anti-austerity march through the city centre, the Khyber Pass dangers routinely involved facing no more than a few hundred die-hard voices, a few drums and loud music. Cherished Jermyn Street club ties could have been ruined, but Peterloo it wasn't.
The street reception for the Tories convinced many that us-versus-them, class war, was surrounding their gathering. One delegate from nearby Hale Barns told The Independent: "If we ever come here again, I'm bringing a hard hat." It wasn't a joke.
George Grant, who came third behind Labour and George Galloway in Bradford West at May's general election, tried to see things differently.
The fresh-faced Mr Grant, who wouldn't look out of place on the set of The Waltons, claimed protesters had reduced his party to "soulless killers of the poor in hoc to the global elite", while his fellow delegates glared back at the updated Peterloo anger "confident in the knowledge that these people are simply mad, bad and probably dangerous to know."
Late on Tuesday evening, walking not far from the conference complex, Mr Grant thought he had "stumbled across" the enemy "encampment". Resisting the urge to sprint to the safety of the Radisson cocktail bar and protect "the only suit I brought to the conference " he instead stayed "to find out what these people are really like."
In a blog on the Conservative Home website, Mr Grant described "tents laagered in a wide lowered space, trestle tables erected … the flags of anarchism, class war and online hacktivism , fluttering ominously in the breeze."
He asked one of the tented residents that "I'd very much like to talk to you, if you'd be willing."
Peace talks began when he was told "You've got balls the size of watermelons for coming down here". Another said he was "the only Tory" who risked a parley with the group Boris Johnson called "the crusties".
Offered coffee, and declining an offer to smoke something described as "a marshmallow", Mr Grant's summit talks involved engagement with" the standard-issue collection of eco-warriors, 9/11 truthers and others".
He talked to a woman in poor health in an electric wheelchair, a girl in her late teens suffering from anxiety and depression, others describing their "life on the street", some offering their views on climate change.
Parting with several friendly handshakes, Mr Grant summed up, saying he had just had an "encounter with society's misfits" and admitted that for those he'd spoken to "the government's reforms really might not be working."
The "encampment" Mr Grant found was not however the HQ of the anti-Tory protests.
The handful of residents near the conference complex, according to Manchester Police, are the likely fallout from a mass eviction of that took place in St Anne's Square in June.
After 10 weeks of disruptions, and legal battles that cost around £100,000, 20 tented homeless protesters saw their belongings, including tents and sleeping bags, gathered up and thrown into bin wagons as council bailiffs cleared the square.
Some of those evicted promised to move elsewhere.
Of the 200 protesters who travelled to Manchester and gathered at the Khyber Pass, there had been plans to house them in a sports centre. The plans fell through over security issues.
Some of the protesters who spoke to The Independent said they had been sleeping in friends houses, in churches who have helped feed them, and in hostels paid for from donations.
Join our new commenting forum
Join thought-provoking conversations, follow other Independent readers and see their replies