Controversial 'go home' vans persuaded just 11 illegal immigrants to leave Britain
Two thirds of texts to the service were hoaxes, evaluation finds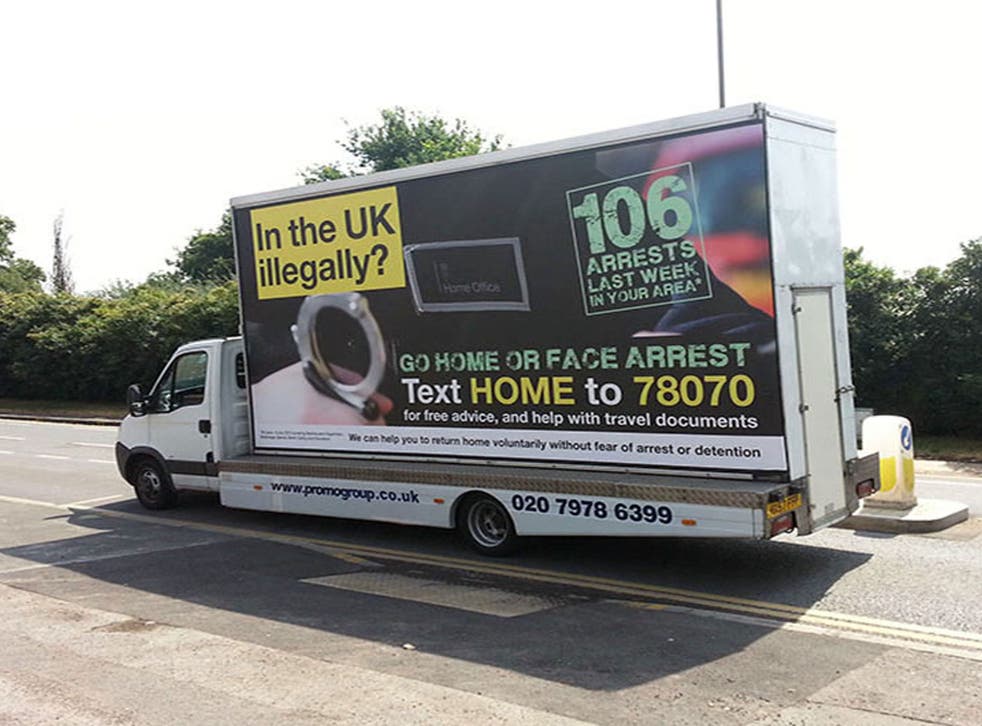 Just 11 illegal immigrants left the country as a result of a of a controversial Home Office campaign which included ad vans touring the streets with the message "go home or face arrest," an official evaluation of the policy has shown.
The report found that campaign's invitation to migrants to text for free advice and help with travel documents produced 1,561 text message responses. But 1,034 of those texts were hoax messages which took 17 hours of staff time to deal with.
Mark Harper, the Immigration minister, claimed that the mobile billboard campaign, accused of aping Far Right slogans, had been more successful in persuading illegal immigrants to leave Britain than previously disclosed.
But he confirmed that the ad vans, compared to tactics used by fascist dictatorships, will be dropped after Theresa May, the Home Secretary, called them "too much of a blunt instrument".
Mr Harper said that 60 people had already left the country as a result of Operation Vaken, the public information campaign which took place between July and August in six London boroughs.
The voluntary departures represented a "notional saving" of £830,000 based on the average £15,000 cost of an enforced removal. A further 65 cases are currently being processed.
But only 11 of those who came forward claimed to have actually seen the vans and Labour called the campaign a "divisive gimmick" which should never have been approved by the Home Secretary.
The Home Office report showed that of the 125 illegal immigrants who came forward two thirds were from India. In all, 90 Indians came forward, along with nine Pakistanis, six Brazilians and five South Africans.
Most of those who came forward said they had seen posters or leaflets which were distributed by the Home Office as part of the campaign, which cost £9,740 in total.
Eleven people left as a direct result of the van adverts and a further seven after seeing reports of the vans in the media or online. The first person to leave was a Pakistani student who had read about the vans in The Guardian newspaper.
Disclosing that each person living illegally in the UK is estimated to cost up to a further £4,250 per year in costs to public services, Mr Harper said: "The return of 60 individuals, as a result of Operation Vaken, may therefore have saved an additional estimated £255,000 in public service costs annually on this basis, with savings continuing into future years."
Yvette Cooper, Shadow Home Secretary, said: "This evaluation proves these divisive ad vans were a complete gimmick which should never have been approved by the Home Secretary in the first place.
"It was a disgraceful personal error of judgement by Theresa May - she signed off the vans, the slogans and the funding and defended them for months before her recent u-turn. It is no surprise that only two per cent of those contacting the Ad Van number were those wanting to leave the country."
Downing Street defended the campaign, whose critics included Ukip leader Nigel Farage and Liberal Democrat cabinet ministers.
The Prime Minister's official spokesman said: "The right thing to do is look at a range of ways to tackle illegal immigration. This was one of them, it was piloted and the decision was taken not to proceed on the basis of the analysis of the pilot."
Join our new commenting forum
Join thought-provoking conversations, follow other Independent readers and see their replies