Corbyn says David Cameron has 'misled the public' and lost their trust
 Labour leader calls for the Prime Minister to give a "full account of all his private financial dealings" to Parliament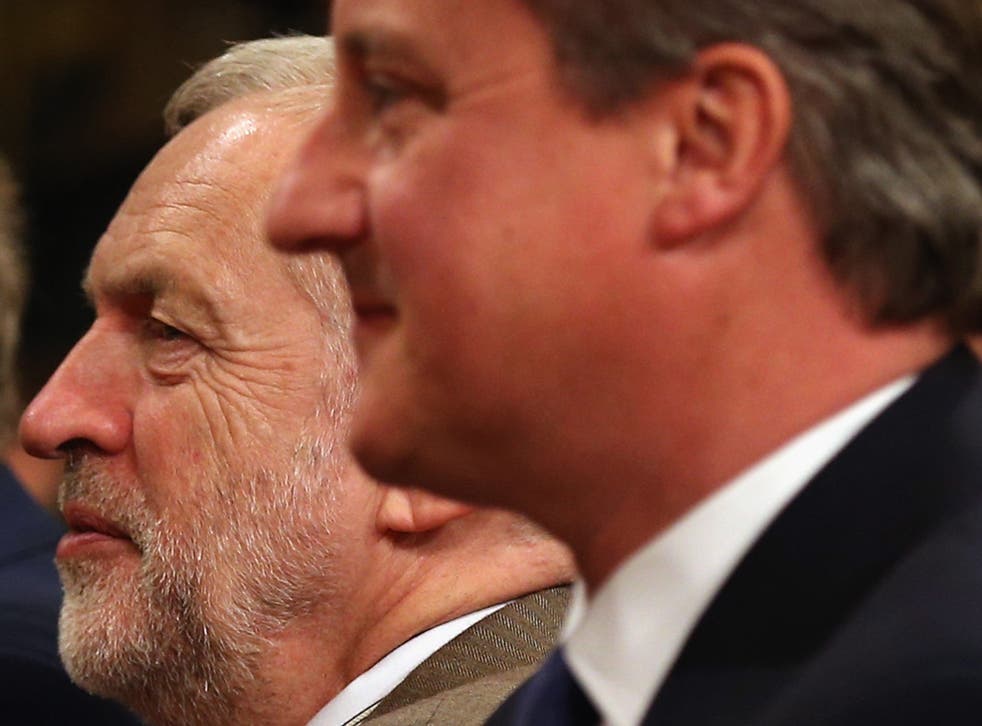 David Cameron has "misled the public" and "lost the trust of the British people", Jeremy Corbyn has claimed amid the furore over the Prime Minister's stake in his father's offshore fund.
In a fierce attack the Labour leader demanded that Mr Cameron make a statement to Parliament on Monday to give a "full account of all his private financial dealings", claiming the revelations raised questions about "personal integrity".
Mr Cameron, who admitted on Thursday that he made a £19,000 profit from selling his shareholding in Bahama-based Blairmore Holdings in 2010, is also facing a parliamentary investigation into whether he should have declared the windfall in the Commons register of interests.
In his first intervention since Mr Cameron's disclosure, Mr Corbyn said: "It took five weasel-worded statements in five days for the Prime Minister to admit that he has personally profited from an undeclared Caribbean tax haven investment deal.
"His determination to conceal that arrangement over many years raises serious questions over public trust in his office and his willingness to be straight with the public.
"Tolerance of tax avoidance and tax havens, and inaction on tax evasion, is denying funds to the public purse and leads directly to cuts in services and benefits that are hurting millions of people in Britain.
"The Prime Minister has lost the trust of the British people. He must now give a full account of all his private financial dealings and make a statement to Parliament next week. Only complete openness from the Prime Minister, and decisive action against tax avoidance and evasion, can now deal with the issues at the heart of this scandal."
The Labour MP John Mann, who has called for the Prime Minister to resign, said he would ask the parliamentary standards commissioner, Kathryn Hudson, to examine whether Mr Cameron should have declared his profits from the sale of his trust shares in the Commons register of interests.
A Downing Street spokesman said: "The Prime Minister's interests have always been recorded in line with the rules as they stood at the time."
But Mr Mann said: "No interpretation of his actions could conclude that he has acted in an 'open and frank' way, in line with the code of conduct for MP.
"It is only now, with the Panama revelations, that David Cameron has been forced to admit that he did not register his financial interests."
The move was backed by the Liberal Democrat leader, Tim Farron, who described Mr Cameron's actions as "morally murky" and said he was sure there was a case for investigation.
Meanwhile, Labour MPs called for other Government ministers to publish their tax returns, after both Mr Cameron and Mr Corbyn committed to do so.
Wes Streeting, a Labour member of the House of Commons Treasury Select Committee, said that political leaders needed to reassure the public in the wake of the Panama leaks.
"People around the world are asking their political leaders to display openness and transparency about their tax affairs, to work out if they have a conflict of interest, and that they mean it when they say want to crack down on avoidance and evasion," he said.
"In the UK, that particularly includes the Chancellor and those who aspire to be Prime Minister."
Chancellor George Osborne, Home Secretary Theresa May, Business Secretary Sajid Javid and Foreign Secretary Phillip Hammond have all been contacted by The Independent to clarify whether they will publish their tax returns. As of Friday evening, only Mr Hammond's spokesperson had replied, saying Mr Hammond was "travelling abroad and not contactable".
The political fall-out from the leak of the Panama Papers from law firm Mossack Fonseca was underlined by a YouGov poll showing Mr Cameron's personal approval ratings had fallen below Jeremy Corbyn's for the first time.
World leaders linked to 'Panama Papers'

Show all 15
It also found that that 56 per cent of the public did not believe the Prime Minister had been "open and honest" about his tax affairs, with just 18 per cent taking the opposite view.
Downing Street is scrambling to draw a line under the affair, which has wrecked Mr Cameron's hopes of spending the week focussing on the European Union referendum membership campaign. It is expected to publish the Prime Minister's tax returns over the last six years by Sunday.
Mr Cameron and his wife, Samantha, bought their holding in Blairmore in 1997 for £12,497 and sold it for £31,500 shortly before he became Prime Minister in 2010.
Income tax was paid on the dividends, but the profit on the sale was just below the capital gains tax threshold for a couple.
The Commons rules at the time of Mr Cameron's sale said such holdings were "not generally registrable", although they reminded MPs that the "general principle" of the register was "openness".
Protesters against Mr Cameron's links to offshore funds are planning to demonstrate outside Downing Street on Saturday.
Join our new commenting forum
Join thought-provoking conversations, follow other Independent readers and see their replies