Councils could be banned from using 'bedroom tax' phrase in move to veto contentious language
Communities Secretary Eric Pickles could be given power to put a blue pencil through any language with which he disagrees, critics claim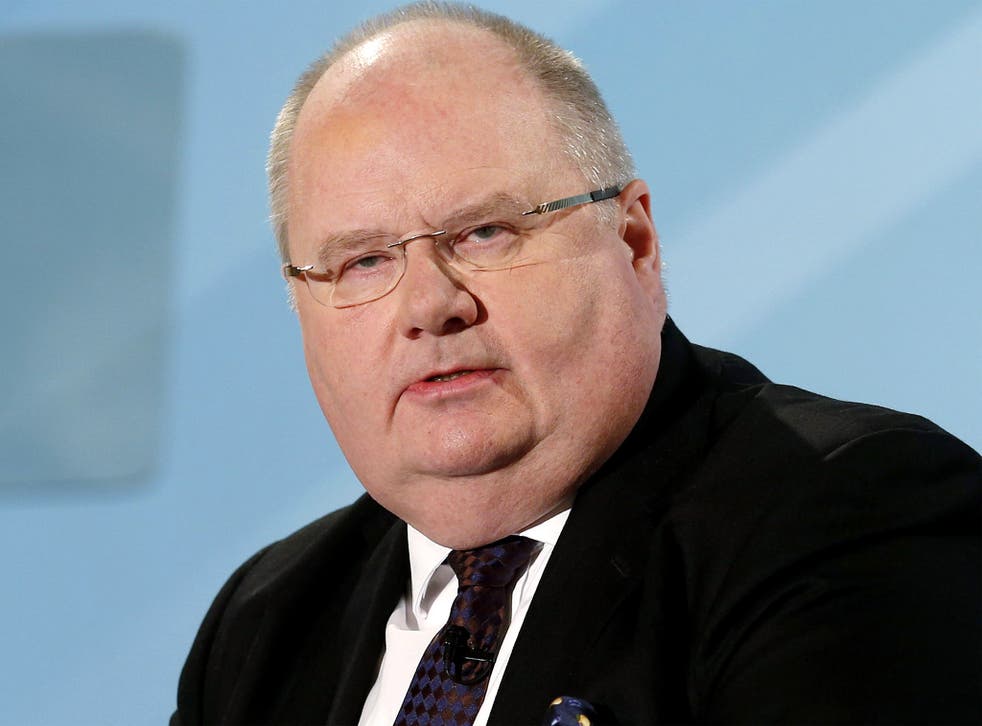 Councils could be banned from using the phrase "bedroom tax" under moves to give Eric Pickles, the Communities Secretary, the power to veto contentious language in local authority newsletters, leaflets and online publicity, critics claimed on Wednesday night.
Town halls joined forces with Labour to condemn plans to turn Mr Pickles into Whitehall's "censor-in-chief" by stopping them from criticising Government policy.
They protested that the new powers could also prevent Tory councils from attacking the Coalition's support for the HS2 rail link between London and Birmingham or from criticising any future decision to expand Heathrow airport.
Their anger centres on measures in the Local Audit and Accountability Bill, which is about to become law, to require council publications to comply with a new code of conduct. It is designed to prevent left-wing councils from using taxpayer-funded freesheets to convey critical messages.
But the moves, which could also apply to websites and Facebook pages, are so widely-drawn that they could give Mr Pickles the power to put a blue pencil through any language with which he disagrees, critics claimed.
The term "bedroom tax" could fall foul of the legislation, with councils obliged to use the phrase "spare room subsidy" to describe cuts to housing benefit to tenants in social housing who are deemed to have a spare room.
The Local Government Association (LGA), which represents 370 councils, said the moves posed a "real threat to local democracy", potentially preventing councils from campaigning on HS2, cuts to services and hospital closures.
Its chairman, Sir Merrick Cockell, a Conservative, said: "The Government needs to see sense and withdraw these ill-thought out proposals.
"Councils must retain the ability to communicate its views to its residents and not be stifled from commenting on central government policy."
The Bill will require English councils to comply with a code of conduct requiring objectivity and even-handedness in their communications.
The LGA said it had received independent legal advice that the legislation could prevent it from campaigning on issues that concerned local residents if they flew in the face of Government policy.
Andy Sawford, the shadow Local Government Minister, condemned the moves as "draconian, undemocratic and sweeping" and said ministers had not produced evidence that they were necessary.
He said ministers could interpret them to dictate the language of local authority publications, citing the example of the so-called bedroom tax. He claimed town halls could even be required to describe "cuts" as "efficiencies".
Mr Sawford told the Independent: "Councils are having to implement the bedroom tax and to communicate that to the public. People know what you mean when you talk about the bedroom tax."
The plans have also come under fire from council leaders and Liberal Democrat backbenchers, while the National Union of Journalists has raised questions over their justification.
Brandon Lewis, the Local Government Minister, said the measures were aimed at protecting the "good, local independent press" and ensuring taxpayers' money is used effectively and "not wasted on town hall Pravdas". Heavily political material should be paid for by the parties rather than local residents, he said.
Mr Brandon added: "Local authority publicity can be expensive and it can be controversial so it is important that local authorities get it right when they produce publicity."
Ministers have accused some councils, including Tower Hamlets and Hackney, of flouting a voluntary code of practice over what is acceptable in local authority publications.
They say their intention is to enshrine that code in law, although the Bill potentially leaves it open for Mr Pickles to draw up his own guidelines of what language is acceptable.
What's in a name? Labelling the tax
The Government's insistence on referring to the "bedroom tax" as the "spare room subsidy" will revive uncomfortable memories for older Conservative MPs.
The Thatcher Government's ill-fated scheme for a flat-rate tax on householders to replace the rates was officially called the "community charge".
But it rapidly became universally known as the "poll tax" and Baroness Thatcher even inadvertently used the phrase in the Commons.
The words "poll tax" referred to a centuries-old practice of basing taxation via the census rather than income under which "the duke paid the same as a dustman".
Less than a year after its introduction Mrs Thatcher had been forced from office.
Join our new commenting forum
Join thought-provoking conversations, follow other Independent readers and see their replies