Use mobile phone GPS to enforce Covid self-isolation orders, says Jeremy Hunt
Non-compliance is 'biggest flaw' in UK's coronavirus strategy, says former health secretary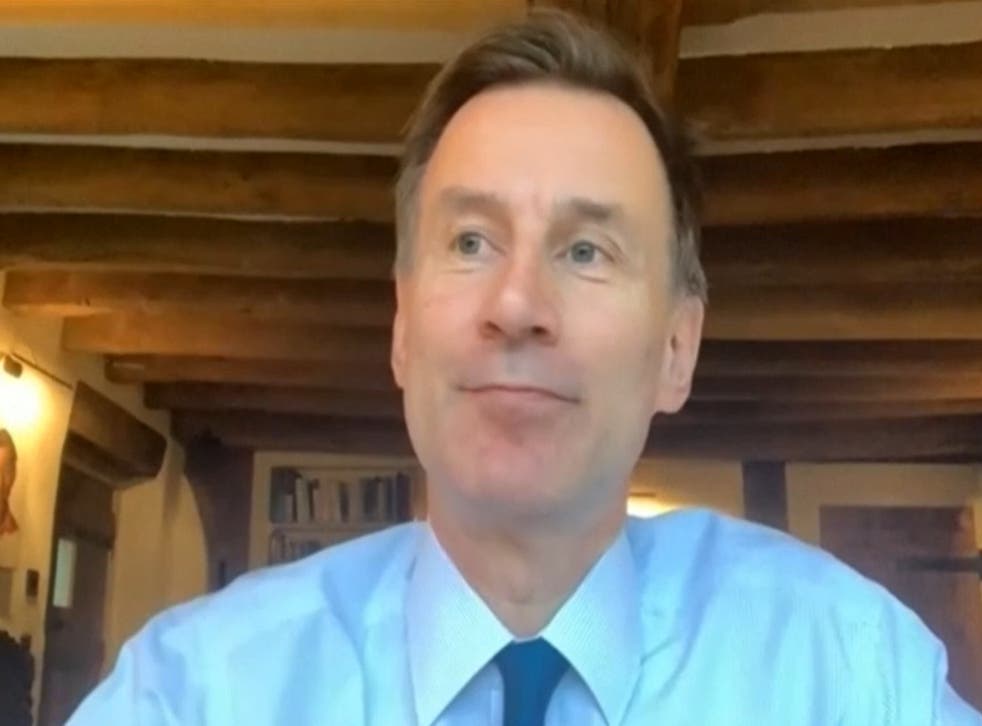 Ministers should be ready to use GPS tracking through mobile phones to monitor people self-isolating due to coronavirus, as well as paying for any lost salary while they are unable to work, former health secretary Jeremy Hunt has said.
Amid growing concern about the potential for new more virulent strains of Covid-19 bypassing vaccines, Mr Hunt warned that poor compliance with self-isolation is "the biggest flaw in our current strategy".
His comments put additional pressure on Boris Johnson ahead of a crunch meeting of the government's Covid Operations (CO) committee on Tuesday to discuss possible new measures to block the spread of the coronavirus variants, such as closing the borders or forcing new arrivals to quarantine in airport hotels.
Reports suggests the prime minister may be leaning towards backing the hotel scheme understood to be being pushed by Home Secretary Priti Patel and health secretary Matt Hancock, to which chancellor Rishi Sunak is also known to be sympathetic.
Mr Hunt, the chair of the influential House of Commons Health Committee, today said that measures at the borders would not bring the problem under control fast enough, and that ministers must act on compliance with isolation orders.
And he said that the government must remain "cautious" in its approach, despite optimism over the vaccine reaching more than 6m people and infections falling 22 per cent from their peak, because of the uncertainty about new strains of Covid from South Africa and Brazil.
"Whilst the new strains are unlikely to render the vaccine ineffective, they may reduce its efficiency at keeping people out of hospitals," he warned. "Because viruses are good at mutating, sooner or later there may well be a strain that is fully immune to the vaccine - not necessarily soon.
"Efficiently isolating people who are infectious will therefore remain a key part of our strategy for some time.
"Yet Cabinet Office surveys show an extraordinary three-quarters of those with symptoms do not fully self-isolate. Fifteen per cent of them even go to work."
If these figures are correct, around 427,000 asked to self-isolate after coming into contact with a positive coronavirus case did not do so, and 85,000 wen to their workplace, he said.
"Closing borders and quarantine hotels is a sensible step, but we won't address the heart of the problem unless we deal with domestic transmission," said Mr Hunt.
"We need to raise compliance with isolation to the 95 per cent-plus rates achieved in Korea, Taiwan and Singapore."
Mr Hunt called for a three-pronged approach, including:
- A guaranteed "salary backfill" for anyone losing wages as a result of self-isolating.
- Daily contact with all those asked to self-isolate, using Taiwan-style GPS tracking if necessary.
- Equipping and funding local councils to monitor compliance
Mr Hunt said it was clear that compliance checks cannot be done effectively with phone-calls from national call-centres.
And he said that phone-tracking would help to persuade members of the public how much their compliance matters to the authorities.
He acknowledged that full compensation for loss of earnings would be expensive, compared to the current scheme in which a one-off £500 payment can be claimed by those on certain benefits.
But he said: "Loss of earnings seems to be the biggest cause of non-compliance and the overall cost is much cheaper than another lockdown."
Join our new commenting forum
Join thought-provoking conversations, follow other Independent readers and see their replies