David Blunkett compares Ed Miliband to Clement Attlee: 'Fantastic leader, not the most vibrant'
Former Home Secretary, backed by ex-Chancellor, expresses concern about Labour's public appeal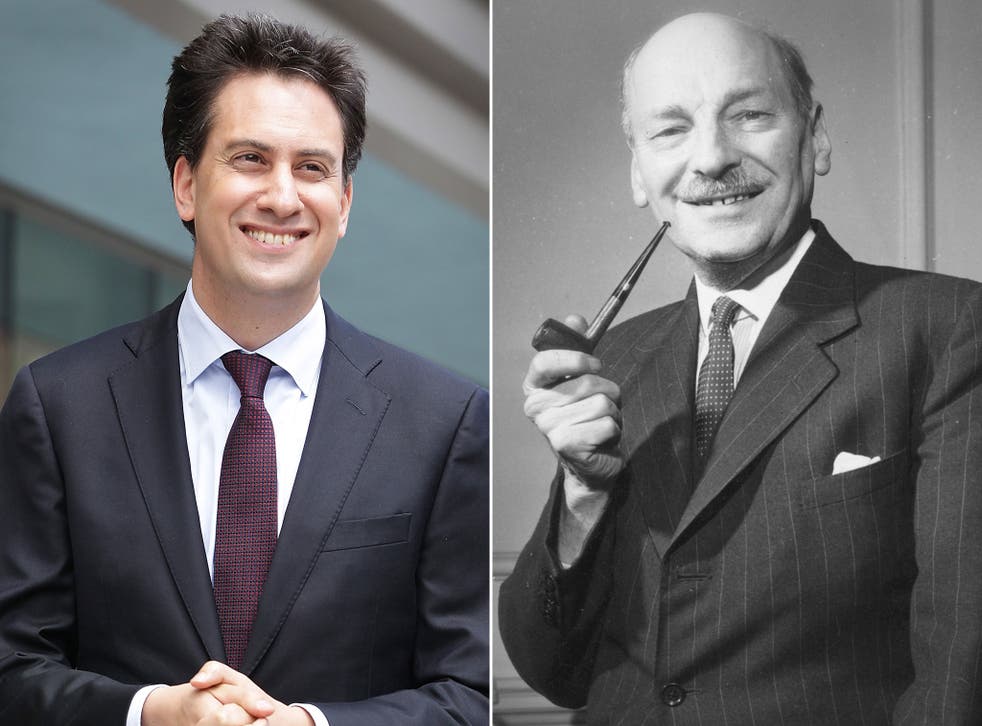 Two senior Labour figures have increased the pressure on Ed Miliband as they voiced concerns about the party's problems in getting its message across to voters.
David Blunkett, the former Home Secretary, compared him to the post-War Labour Prime Minister Clement Attlee, who was a "fantastic leader" but "wasn't the most vibrant" public performer.
Alistair Darling, the former Chancellor, raised fears that the party had barely begun to convey a distinctive message to the electorate.
Their remarks came as Mr Miliband struggles to get on the front foot after weeks of complaints within the party over the shadow Cabinet's failure to maintain a higher profile over the summer.
Liam Byrne, the shadow Work and Pensions Secretary, will today attempt to set the agenda with a scathing denunciation of "chaos" in the benefits system and further initiatives are planned to turn the spotlight on the Government's record.
But Mr Blunkett spelt out his disquiet over Labour's problems in connecting with the public by echoing a complaint by Lord Prescott, the former Deputy Prime Minister, that Labour had "massively failed" to hold the Conservatives to account this summer.
He told BBC Radio 4:"There is frustration, but there is also a great deal of hope. I would accept what's been said over the last few weeks, including the article by John Prescott on Sunday, that we need to work out how to get a higher profile in circumstances where it is very difficult to get a hearing."
Asked if the Labour leader had got what it takes, Mr Blunkett replied: "I think Mr Miliband has demonstrated on a number of occasions that he can do it but he won't be able to do it alone and nor should he.
"Clem Attlee wasn't the most vibrant, in public terms, proponent. He was a fantastic leader of the Labour Party."
He added that Labour must be clearer about its vision and "engage with people in their own lives".
Mr Darling stressed the importance of next month's Labour conference for fashioning a distinctive message to the electorate.
"I think everybody in my party is pretty focused on the fact, that come this autumn less than two years away, you need to start making it pretty clear to people what would the difference be if you come to a general election and you vote for a different government. You know that's what we have got to start to do," he told the BBC.
Mr Byrne will today claim that blunders by Iain Duncan Smith, the Work and Pensions Secretary, have left taxpayers with a bill of more than £1.4bn.
He will argue that the low success rate of the Youth Contract scheme in finding jobs for participants is costing £457m because they are entitled to higher Jobseekers' Allowance payments.
Mr Byrne will also point to an extra £300m expenditure on the new Universal Credit, as well as £287m from the increasing cost of appeals to decisions by Atos, the company which is reassessing benefit claimants' fitness to work.
He will say: "The Government's failure will end up costing the taxpayer a staggering £1.4 billion by the end of this Parliament.
"That's bad news for everyone, bad for everyone hurt by failing programmes, bad for the treasury, and bad for the country."
Join our new commenting forum
Join thought-provoking conversations, follow other Independent readers and see their replies