David Cameron accused of 'scaremongering' as new crackdown on immigration unravels
Migrants must earn the right to NHS treatment and state benefits as PM vows dilute the 'pull factor' of Britain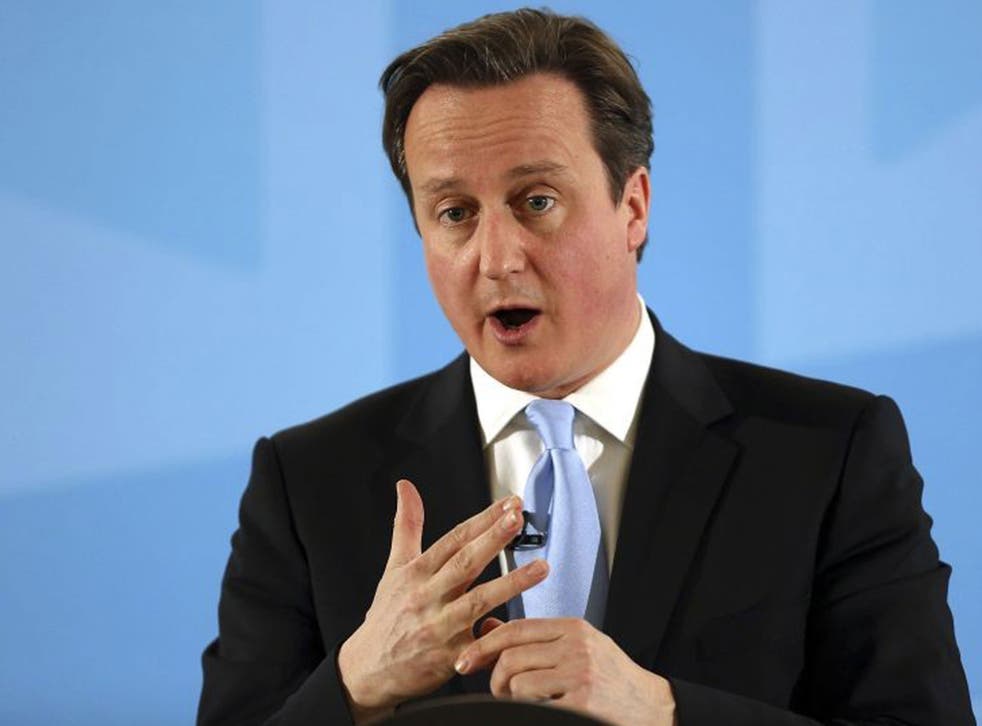 A pledge by David Cameron to reduce the pressures on public services by migrants ran into immediate trouble as he was accused of "scaremongering" and exaggerating the scale of the problem.
In a speech in Ipswich, the Prime Minister vowed to end Britain's reputation as a "soft touch" by reducing the rights of migrants to state benefits, NHS treatment and council housing. He announced that migrants who fail to learn English could lose any right to jobless benefits and added: "When it comes to illegal immigrants we are rolling up that red carpet and showing them the door."
But Downing Street struggled to provide figures to illustrate the extent of the problem and the headline-grabbing crackdown may turn out to be less severe than it first appeared. Mr Cameron said people from the European Economic Area (EEA) -the 26 EU countries plus Norway, Iceland and Liechtenstein-would lose their right to jobseeker's allowance after six months unless they have a "genuine chance" of finding work. But they can already be stopped from claiming unless they have a "reasonable chance."
Latest government figures suggest that, of the 2.2m net migrants from the eight Eastern European nations that joined the EU in 2004, only 12,850 claimed jobseeker's allowance.
Number 10 said the NHS should recoup between £10m and £20m from EEA nationals' health treatment in the UK under reciprocal agreements. But Jeremy Hunt, the Health Secretary, suggested the NHS was losing £200m. He said there was a "strong incentive" for hospitals not to declare a person "a foreigner" because they then had to chase payments.
Downing Street said the number of new social housing lettings going to migrants had risen by 40 per cent between 2007-08 and 2011-12 -but later admitted such lettings still accounted for only 9 per cent of the total.
Sarah Mulley, associate director of the Institute for Public Policy Research, said: "Mr Cameron risks reinforcing a myth that you get straight off a plane and get a council house. Politicians should take care not to stoke fears that are not grounded in fact. The vast majority of immigrants are in the private rented sector."
Jonathan Portes, director of the National Institute of Economic and Social Research, described Mr Cameron's proposals as a "sideshow" which would make little difference. The vast majority of migrants from EEA nations were young, healthy and mostly in work and made a net contribution to the economy through their taxes, he said.
Right-wing Tory MPs welcomed the Prime Minister's speech. But not all Tories were happy. A survey of Tory members by the Bright Blue modernisers' group, Mr Cameron's natural allies, found a mixed reaction to the party's target to reduce net migration to less than 100,000 a year by 2015. While 37 per cent regard it as a "good policy," 29 per cent believe of is "damaging Britain's economic competitiveness" and 33 per cent think that all students should be exempt from the target -a move favoured by Vince Cable, the Liberal Democrat Business Secretary but strongly opposed by Theresa May, the Home Secretary.
Ryan Shorthouse, director of Bright Blue, said:"The immigration cap, and sounding like you're toughening the rules for immigrants, is risky: politically, socially and economically. The Government may be raising expectations of reducing immigration to a level that cannot be delivered. And this direction of travel is not the solution to the social problems people are understandably worried about: they are actually more to with capacity in our public services, the performance of the labour market and the adequacy of our education system. It could just stoke more anger towards immigrants, solving nothing. This country urgently needs economic growth. So it is odd that the Government wants to reduce the number of productive workers and consumers of goods entering our economy".
Habib Rahman, chief executive of the Joint Council for the Welfare of Immigrants, said: "This rhetoric may curtail rights to benefits on a minor scale, but relatively few migrants compared with 'indigenous' people actually claim benefit anyway. The real effect of this speech will be to further increase the intolerance and the hostile reception that immigrants are facing from some sections of society."
Mark Serwotka, general secretary of the Public and Commercial Services Union, accused Mr Cameron of "scaremongering" and making "a desperate appeal to the worst extremes of his party"
Asked how many people his measures would stop coming to Britain, Mr Cameron declined to give a figure but promised "further progress" towards his target.
His other proposals include:
* EEA nationals, including Romanians and Bulgarians, will lose Jobseeker's Allowance and other benefits after six months unless they have a "genuine chance" of finding work and can show they have been trying to do so
* A tougher "habitual residence test" before migrants receive income-related benefits
* Local authorities to bring in a "local residency test" for council housing, so migrants have to live in an area for two-to-five years to join a waiting list
* Closing a loophole which allows people who have overstayed their visa to claim some benefits based on their national insurance contributions
* A crackdown on illegal immigrants, with penalties for hiring them doubled to £20,000 per worker and landlords fined for renting to them.
Although the three main parties deny launching an "arms race" on immigration, they have all now toughened their stance since the 2010 election – partly in response to the anti-EU UK Independence Party, which has stoked fears about an influx of Romanians and Bulgarians. Ministers insist Mr Cameron's measures were being drawn up before the recent controversy. However, it is no coincidence that the curb on jobless benefits will take effect early next year.
Further measures may follow on the admission of migrants' children to state schools. Mark Harper, the Immigration Minister, told Sky News: "We want to make sure our rules are among the toughest in the world."
However, the all-party Home Affairs Select Committee warned that tens of thousands of asylum-seekers who UKBA has given up trying to trace may still be living in Britain. It said the backlog of cases now stands at more than 312,000, the population of Iceland. "No sooner is one backlog closed, than four more are discovered," said Keith Vaz, the committee's Labour chairman. "At this rate it will take 24 years to clear the backlog."
The MPs accused UKBA bosses of misleading them about the backlogs for six years as they tried to "sweep its mistakes under the carpet". They were "astounded" that Lin Homer, UKBA's former head, was made permanent secretary of HM Revenue & Customs and had little confidence in her ability to run a government department. They said it was "appalling" that she was trying to "evade responsibility for her failings" at UKBA.
Last night Ms Homer rejected the strong criticism as "both untrue and unfair." She accused the committee of blaming her for problems at UKBA which occurred long after she left.
Party politics: What they would do
Conservatives Will restrict access of foreign nationals to benefits, NHS treatment and social housing; tougher action on illegal immigrants, including doubling penalties for employing them.
Labour Admits mistakes by previous government; would restrict low-skilled migration; would probably keep Tories' cap on visas for skilled migrants.
Liberal Democrats Propose "security bond" of at least £1,000 for visa applications from "high risk" countries.
Join our new commenting forum
Join thought-provoking conversations, follow other Independent readers and see their replies