David Cameron and Vince Cable at war over route to recovery
Business Secretary calls for more borrowing as PM insists there must be no turning back on austerity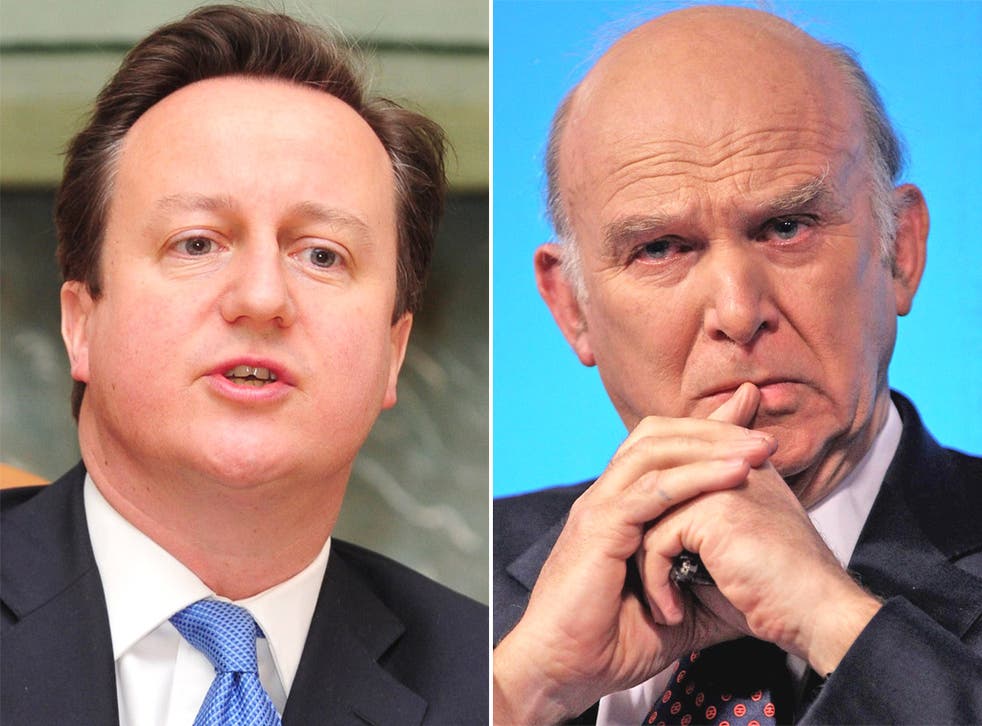 Tensions inside the Coalition over whether the Government should change economic course will burst into the open today when Vince Cable calls for higher borrowing to finance large-scale building projects to kick-start the economy.
The Liberal Democrat Business Secretary, who wants more housing, schools and colleges to be built and more road and rail projects, will argue that the "modest" £5bn increase in capital spending announced by George Osborne last December was not enough and has had "little effect on demand". Mr Cable will suggest higher borrowing, the course advocated by Labour, would not spook the financial markets as the Conservatives claim.
Mr Cable's most significant departure yet from the Coalition's stance will directly contradict a speech by David Cameron today claiming that the economic medicine is working and that he will stick to the course. The Prime Minister's case will be strengthened by an announcement that BT is creating more than 1,000 jobs in its Openreach business. Most of the new recruits will install fibre broadband in homes.
Writing in today's New Statesman magazine, Mr Cable proposes "greatly expanded" capital spending. While insisting the Coalition's cuts programme was right in 2010, he suggests the "balance of risks" may now have changed. "[There] was good reason to worry that the UK, as the country arguably most damaged by the banking crisis and with the largest fiscal deficit in the G20, could lose the confidence of creditors without a credible plan for deficit reduction, including an early demonstration of commitment... Almost three years later, the question is whether the balance of risks has changed."
The Business Secretary claims borrowing for growth "would not undermine the central objective of reducing the structural deficit" and may even "assist it by reviving growth". He recalls that the International Monetary Fund argued last year that the risk of "losing market confidence" as a result of higher borrowing is now outweighed by "the risk of public finances deteriorating as a consequence of continued lack of growth".
Setting the scene for a "no U-turns" Budget in two weeks, Mr Cameron will say in Yorkshire that the "signs of progress are just the beginning of a long hard road to a better Britain". He will argue: "The very moment when we're just getting some signs that we can turn our economy round and make our country a success is the moment to hold firm to the path we have set. While some would falter and plunge us back into the abyss, we will stick to the course."
Mr Cameron will say: "We want to look after people in their old age – and we won't be able to do that if we're squandering billions on welfare for people who could work. We want to help people into work and break the cycle of poverty – and we've seen that ever-increasing working-age welfare isn't the answer. We want to help with the cost of living, and that means cutting spending to keep taxes down."
Chris Leslie, Labour's Treasury spokesman, said: "Vince Cable may at last be seeing sense. He is right to admit there have been economic consequences to deep cuts to capital investment. But he has consistently supported a failing economic policy which has led to stagnation, falling living standards, slashed investment in infrastructure and rising borrowing to pay for the costs of economic failure."
* Civil servants will stage a strike on Budget day, 20 March, to launch three months of industrial action in a dispute over pay, pensions and working conditions. The Public and Commercial Services Union said almost 250,000 workers will take part in a series of walkouts and protests.
Osborne's limited budget options
Child care
Long-awaited plan to make child care more affordable still being negotiated inside Coalition. Could include tax breaks and more "free" hours of care.
Likelihood (out of 5): ££££
Housing
Coalition parties are wrangling over plans to extend help for home-buyers and a possible boost to housebuilding
Likelihood: ££££
Infrastructure
Chancellor is set to announce another boost to major building projects to boost growth - but many previously announced schemes are still stuck in the pipeline. Unlikely to back Vince Cable's call for them to be financed by higher borrowing
Likelihood: ££££
Fuel duty
Mr Osborne, who cancelled a 3p a litre rise in fuel duty due in January, is likely to bow to growing pressure from Conservative MPs to delay another increase due in September to help families struggling with the cost of living
Likelihood: £££
More tax cuts
Mr Osborne is likely to announce some tax cuts for business but may disappoint Tory MPs clamouring for lower taxes for individuals to kickstart economic growth
Likelihood: £
More spending cuts
Tory MPs want to see another assault on the welfare budget to create room for tax cuts. But Chancellor is already struggling to persuade Cabinet ministers to find the £10bn of cuts he has pencilled in for 2015-16
Likelihood: £
Join our new commenting forum
Join thought-provoking conversations, follow other Independent readers and see their replies