David Cameron to announce tougher tests for social housing, including keeping immigrant families off council house waiting lists for five years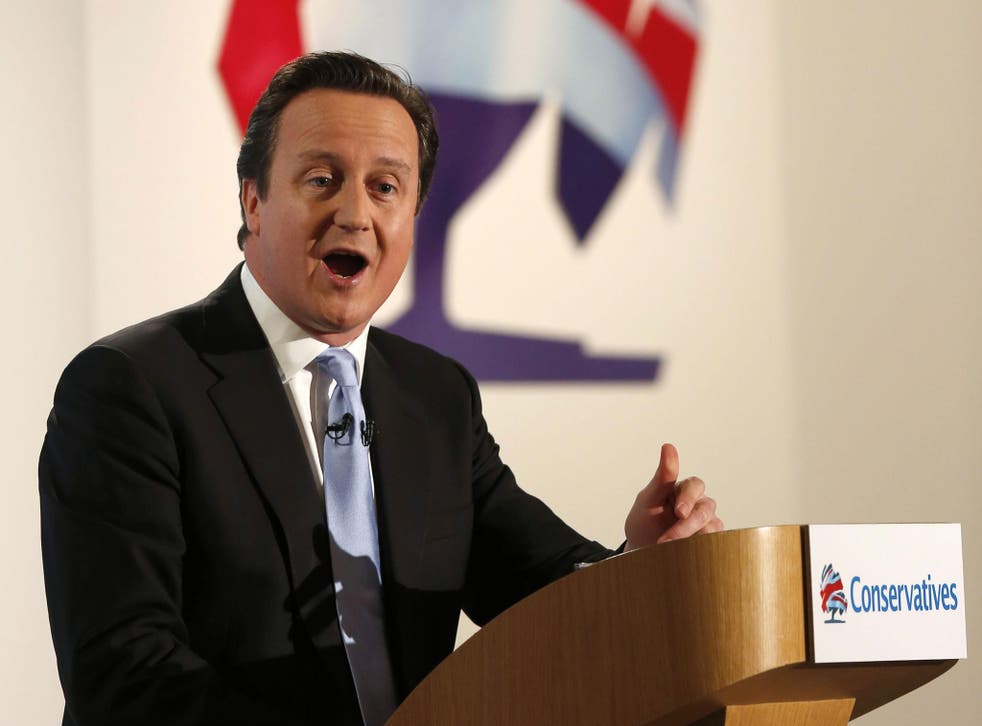 Immigrant families will be kept off council house waiting lists for up to five years, under a crackdown being unveiled by David Cameron.
The Prime Minister is to set out a tougher approach on housing and benefits, promising to tackle the culture of "something for nothing".
The intervention is due in a keynote speech on immigration tomorrow.
Councils currently have powers to impose local residency tests for social housing, but ministers are frustrated that only around half do so.
Arguing that Britain became a "soft touch" for immigrants under Labour, Mr Cameron will announce that statutory guidance is being issued.
Local authorities will have to introduce minimum residency times of between two and five years for joining waiting lists - or justify why they are not.
The harder line will please the Tory Right, who have blamed the lack of action in such core areas for the party's dismal third place behind Ukip in the Eastleigh by-election.
Concerns have been rising of an influx from Bulgaria and Romania when movement restrictions are loosened at the end of this year.
Research for the Communities and Local Government Department has suggested only around 13,000 will arrive from the two countries.
But Communities Secretary Eric Pickles said this week that he had "no confidence" in the figures, and Migration Watch UK, which wants tougher controls on immigration, has estimated that 250,000 will move to the UK over five years.
Deputy Prime Minister Nick Clegg performed a U-turn last week by abandoning the Liberal Democrats' controversial "earned citizenship" policy, which would allow illegal immigrants to stay once they have been in the country for more than 10 years.
He said such an amnesty now risked "undermining public confidence".
The Prime Minister is likely to cite figures in his speech showing that nearly one in 10 new social lettings go to foreign nationals. The proportion has risen from 6.5 per cent in 2007-08 to nine per cent in 2011-12.
Sources said the move was aimed at "stopping someone from turning up and immediately gaining access to social housing".
Ministers will take steps to ensure British nationals are protected when they move for "genuine reasons" - such as work or family breakdown - by ensuring local authorities retain the ability to set exceptions.
Such protection is already legally in force for members of the Armed Forces.
Mr Cameron is also expected to use his speech to reiterate his commitment to reduce net immigration to below 100,000.
The Bishop of Dudley, David Walker, told the Observer that politicians' response to immigration was "wholly disproportionate".
"Public fears around immigration are like fears around crime. They bear little relationship to the actual reality," he said.
The bishop, who served on the board of the National Housing Federation and is a former chairman of South Yorkshire Housing Association, said: "The tone of the current debate suggests that it is better for 10 people with a legitimate reason for coming to this country to be refused entry than for one person to get in who has no good cause.
"It is wholly disproportionate as a response. It is especially galling in Holy Week, when Christians are remembering how Jesus himself became the scapegoat in a political battle, to see politicians vying with each other in just such a process.
"Studies show that the vast majority of new arrivals to the UK enhance and enrich our society, both economically and culturally.
"The true threats to our national wellbeing lie not with those who come to visit or make their lives here but with the increasing gap between the rich and poor among us."
Chief Secretary to the Treasury Danny Alexander said the Liberal Democrats were working in Government to try to "restore confidence" in the immigration system, adding it was "so full of holes" under the previous Labour government.
He told BBC One's The Andrew Marr Show hosted by Eddie Mair: "If you want a stronger economy, then we need a society that can welcome immigrants to make an economic contribution to our country, that's what I want to see.
"But we also need to have rules in our immigration system that are seen to be fair, that British people can have confidence in and that's the balance that we're trying to achieve through all the difficult choices we've been making in Government and which led to the announcement that Nick Clegg made earlier this week."
On the council housing proposals, Mr Alexander said it was "sensible to look at the rules around the way social housing is allocated".
He said: "It is sensible to look at the rules too around benefits and access to public services, particularly for people who are here illegally, or who have overstayed their welcome."
He added: "I think it is fair that when we want to have the British public having some confidence that our rules are fair and are properly enforced, that this is precisely the sort of idea we should be looking at, yes."
Join our new commenting forum
Join thought-provoking conversations, follow other Independent readers and see their replies