Scottish independence referendum: David Cameron invokes great Scots in the pursuit of Union as fears grow that Scotland might vote 'yes'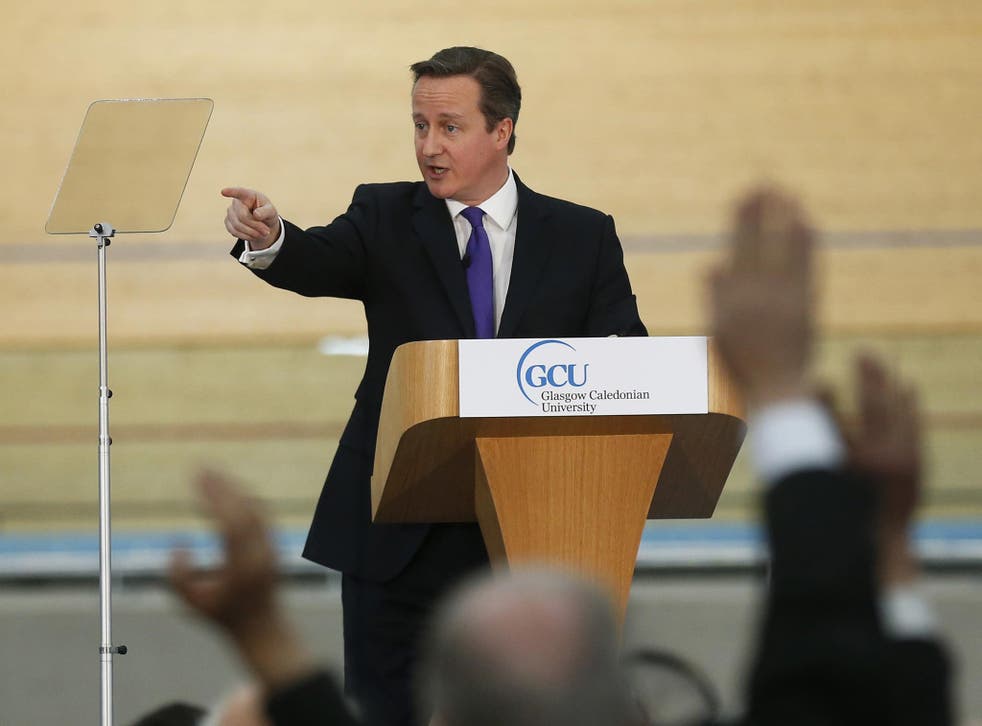 Sir Chris Hoy. Sir Arthur Conan Doyle. Lord Reith. Lord Lovat. David Cameron lined them all up as members of Team GB who would help him "do whatever it takes" to persuade Scotland not to rip up the UK "brand" in September.
The Prime Minister chose the cycling velodrome in London's Olympic Park to deliver an emotionally-charged speech that finally, after months of quiet confidence in a "no" vote, admitted that a "question mark hangs over the future of our United Kingdom".
The PM's tartan spreadsheet sounded as if he'd woken with a plate of porridge, and digested a few Scottish history books for breakfast.
There was "the fusion of our bloodlines", his West Highland heritage, ancient Scottish universities, Scotch whisky, the Black Watch, the North Sea "experience" – avoiding the word "oil" – and of course shipbuilding on the Clyde.
It was all there, the "intricate tapestry" called the UK. And although he sounded like a tear-dripped tourist guide at Normandy citing "Lord Lovat on the beach in D-Day, the bagpipes playing as his brigade landed ashore", the underlining message was the clear and present danger of separation.
He warned that "centuries of history hang in the balance" and championed "our great United Kingdom: brave, brilliant, buccaneering, generous, tolerant proud".
Cameron has been told that his pro-Thatcher, elitist Etonian and Conservative credentials can do little to boost the "Better Together" campaign should he chose to venture over the border. And opting for Olympic London, rather than any of Glasgow's newly-built Commonwealth Games facilities, looked a safe day out.
All seemed to chime with the Downing Street's previous insistence that the issue of independence was one better left for Scotland to decide.
But that strategy has now been spectacularly ditched. A risk-averse Cameron is now leading from the front, and his promise that he will repeatedly go to Scotland between now and September, suggests that Alistair Darling's days as the figurehead of UK unity are numbered.
So what's changed? Well, the numbers are no longer looking safe. With a bit of statistical manipulation, a potential 47 percent "yes" vote is predicted in the latest ICM poll. And Scotland's First Minister, Alex Salmond, felt justified yesterday in taunting Cameron, calling him a "big feartie" [translation: yellow-belly] in still refusing a one-to-one TV debate with him.
However Number 10 hopes the "Velodrome Declaration", as it may now be known, re-ignites the independence debate. The PM said he wanted "everyone in England, Wales and Northern Ireland" to tell the Scots "we want you to stay".
But when the applause died down, the English woman from Sky News immediately asked him: "What are you doing about the floods in Somerset?"
Talk about deaf ears.
Join our new commenting forum
Join thought-provoking conversations, follow other Independent readers and see their replies