David Cameron may delay EU referendum until 2017 to buy time for concessions from European leaders
Some ministers admit refugee crisis could make it more difficult to convince public to vote to remain in the union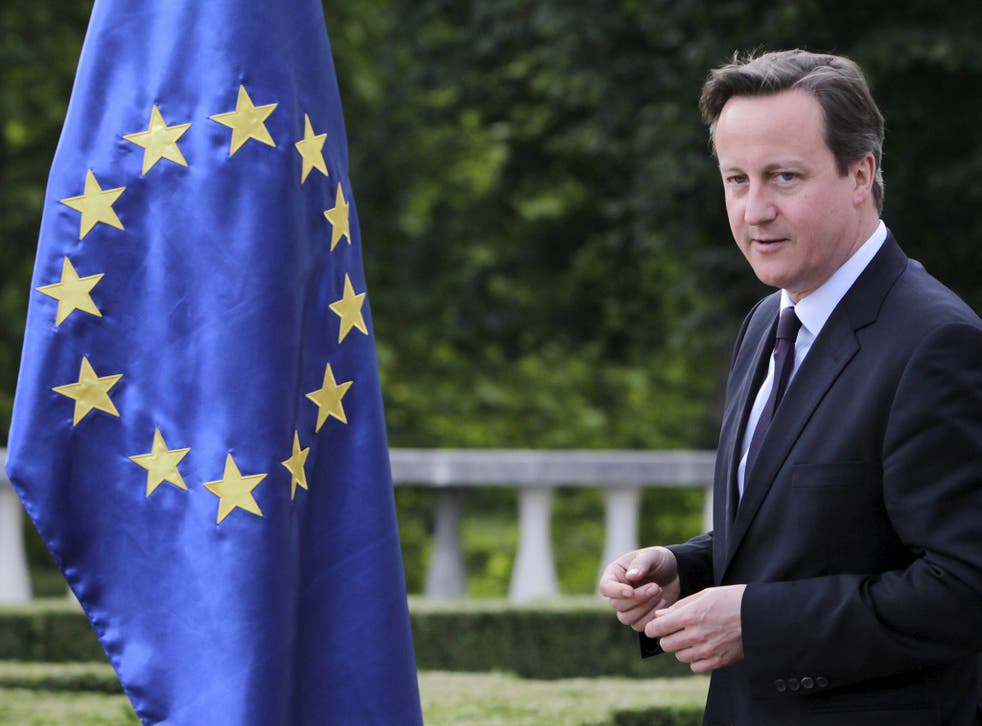 David Cameron may delay the referendum on Britain's membership of the European Union until 2017 in order to give himself more time to win concessions from other EU leaders.
Some ministers admit the migration crisis in Europe could make it harder to convince the public to vote to remain in the 28-nation bloc. They are worried that another wave of refugees arriving in EU countries next summer could dominate the campaign ahead of an in/out referendum held in September - until recently seen as the most likely date. "We may have to play it long," one minister said. "It would be better to wait if that means getting a bigger and better package of reforms."
One problem is that other EU leaders have not focused on Britain's negotiation because they have been handling the debt crisis which almost forced Greece out of the Eurozone and then the migration issue. Some other leaders have complained that Mr Cameron has not yet set out his demands.
Officially, the Government insists that the migration issue has made other EU member states more open to the reforms being pushed by Mr Cameron. His aides say he will not make a decision on the timing of a referendum until he judges the progress made by December, when EU leaders will discuss "the British question" at a summit.
Business leaders will urge the Prime Minister not to delay the EU vote. The Institute of Directors (IoD) will warn that putting it back until 2017 would turn it into "a chance to whack the political elite" in a mid-term judgement on the Government's spending cuts over the next two years.
Simon Walker, the IoD's director general, will tell its annual convention in London: "The third year of an election cycle is a difficult time for any administration… If, after deliberation, the public votes to leave Europe, our members will have to accept it, and the period of uncertainty for business that will follow. They will be less philosophical if carelessness and domestic discontent led to an 'accidental Brexit.'"
Mr Walker believes there is at least a 50-50 chance of the public voting to leave the EU. He will say: "I hope this Government will not drag out the referendum process any longer than necessary. While our members believe some uncertainty is a price worth paying to resolve EU membership, delay puts a brake on decision-making, investment and the vigour of their businesses. A referendum in two years' time will see British concerns caught up in the crossfire of the French elections, in May [2017] , and the German elections, in September."
Philip Hammond, the Foreign Secretary, hinted that the referendum might not be held until 2017 if Britain's EU partners did not make early concessions. He told a fringe meeting at the Tory conference: "We would like to get it done as soon as we can, but of course it lies at least partly in the hands of our partners."
In his speech to the conference, Sajid Javid, the Business Secretary and a possible future Tory leadership candidate, played up his Eurosceptic credentials by saying the Government is "standing up to Brussels."
Ben Howlett, the pro-EU Tory MP for Bath, backed calls by Eurosceptics for Mr Cameron to be clearer about his specific demands. He said MPs had been left out of the loop since they did not "exactly know what the Prime Minister is renegotiating". He added: "We need to know what we are fighting for. We want to know from the Prime Minister what are the key things that he is going to deliver."
Join our new commenting forum
Join thought-provoking conversations, follow other Independent readers and see their replies