David Cameron's tenure as Prime Minister in danger regardless of EU result, Tory MPs claim
'I do think one thing is for sure: if we win the referendum and come out of the EU then the Prime Minister will resign straight away out of principle'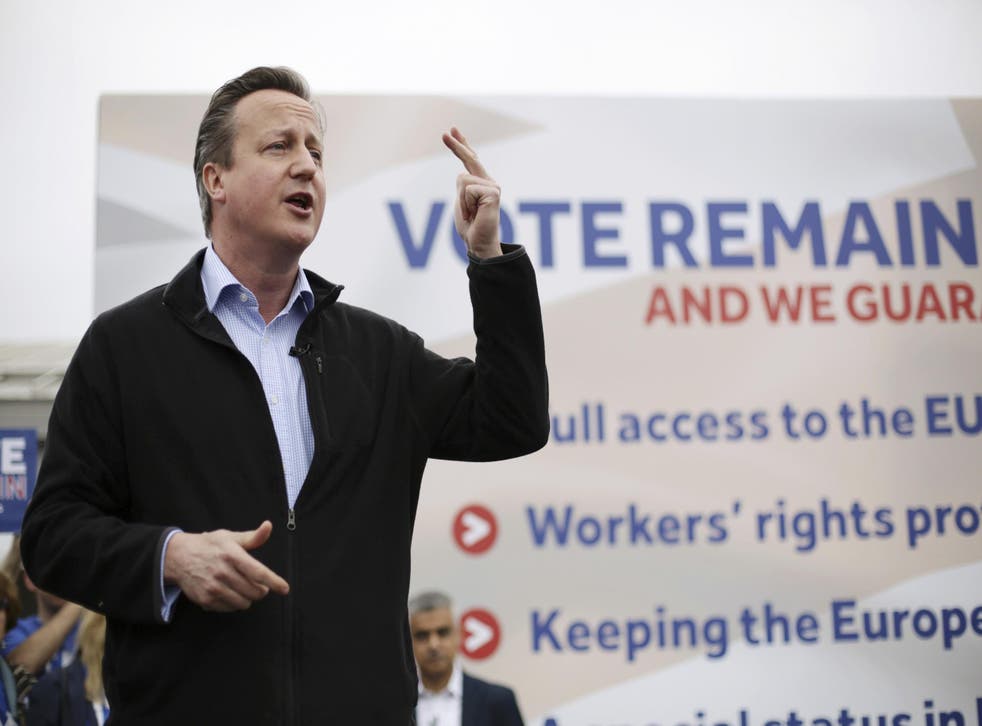 David Cameron's tenure as Prime Minister is in danger regardless of the result of the EU referendum, a number of Tory MPs have told The Independent.
In a torrid weekend, Mr Cameron has come under sustained attack from members of his own party suggesting he should quit.
But now it appears that while his position is not under immediate threat from an internal coup by disgruntled supporters of Brexit, there is a growing feeling among numerous Tory MPs that – win or lose the EU vote on 23 June – Mr Cameron should set out a clear timetable for when he will step down as Prime Minister.
Three Tory MPs have publicly criticised his handling of the referendum campaign and threatened to call for a vote of no confidence.
Bill Cash, a veteran Eurosceptic who chairs the European Scrutiny Committee, branded the PM's EU Remain campaign "monumentally misleading propaganda" while Nadine Dorries, another Eurosceptic, called Mr Cameron an "outright liar" live on television. Prominent backbencher Andrew Bridgen also said that more than 50 MPs were ready to move against the Tory leader if Britons vote for Brexit on 23 June.
One senior Tory backbencher who backs Brexit said to The Independent he was not surprised at the events over the weekend. "There's a lot of discontent," he said. "What is happening is that most people are concentrating on trying to win the referendum. I do think one thing is for sure: if we win the referendum and come out of the EU then the Prime Minister will resign straight away out of principle.
"It may well be of course – and there's a theory going around that has some credence – that even if he [Mr Cameron] wins the referendum he might say 'I've achieved my legacy' and kept the UK in the EU and say 'I'm going in six months'." The source added: "If he did that it would stop any movement in its tracks."
The criticism of Mr Cameron and speculation over his future has not been supported by all of those on the Eurosceptic wing of the party, with many urging their colleagues to put quarrelling over the leadership of the party to one side and concentrate all efforts on the upcoming referendum.
Nadine Dorries on Peston on Sunday
But Andrew Rosindell, a pro-Brexit Tory MP and member of the Foreign Affairs Select Committee, said that while any chatter over the leadership was a distraction from the referendum many of his colleagues remained "very upset" by the way the campaign has been conducted.
He said: "It was only a year ago in the general election when we were promising people fundamental change in our relationship with the EU. Well, that never happened and the world's going to fall apart if we dared to leave. We are pretty, pretty upset about this. But who will be Prime Minister is a matter for another day. Clearly, he's already said he's standing down at some point.
"I think we can discuss this as much as we like on the 24th of June but today is not really the time.
"I personally would find it hard to see how any Prime Minister having fought this kind of campaign… then he lost how he could just carry on business as usual.
"I think if we do leave the EU I think, probably, I would anticipate that he would conclude that his time as Prime Minister will be shortened and there has to be a timetable for him to leave. If he wins I think that should be even more dangerous for him really because of the way the campaign has been conducted. But I don't think it's an issue today, it's an issue for after the referendum."
Cameron's ISIS Brexit warning
However, former Cabinet minister John Redwood – a longstanding critic of the European project – urged his colleagues to take "maximum advantage" of this "crucial opportunity to get us out of the European Union". He added: "I would urge everybody of goodwill and common sense to collect every vote, free our democracy and restore an independent country. There's no more important task than that."
Jacob Rees-Mogg, another prominent Eurosceptic MP, added: "Although I strongly disagree with the Prime Minister on the EU, in other aspects I admire and support him. He has a mandate that is only a year old so I think ought to carry on."
Speaking to The Independent Steve Baker, a Tory MP and co-chairman of Conservatives for Britain, said: "There obviously is a problem. But I think we need to make sure we focus on the issue the public care about… The problem is we've now got three MPs appearing in the press expressing public concern about the leadership because of the conduct of the campaign. My point is that it would be better to focus on the issues that help the public make up their minds."
What has the EU ever done for us?

Show all 7
Jason McCartney, Conservative MP for Colne Valley, dismissed outbursts from the three Tory MPs at the weekend who threatened a no confidence vote in Mr Cameron. "I thought she [Ms Dorries] had put her letter in years ago to be honest," he said. "The same with Andrew Bridgen. I know both of them… but I don't think it's any surprise or even news that they are not the biggest fan of the Prime Minister and the Chancellor.
Mr McCartney chuckled at the suggestion from Mr Bridgen that 50 MPs were ready to fire off letters demanding a vote of no confidence in the Prime Minister. "I can genuinely say I'm friends with not only the 2010 intake but the 2015 intake as well – no, not at all… I just can't see how it is news."
Mr McCartney pointed to the Prime Minister sharing a platform with the new London Mayor Sadiq Khan on Monday afternoon in south London. He added: "Two weeks ago they were at each other hammer and tongs but they were able to put that to one side for a shared aim. Come June 24 me and my backbench colleagues have one shared aim with the Prime Minister: to make sure Jeremy Corbyn never runs our country. That's what unites us."
Join our new commenting forum
Join thought-provoking conversations, follow other Independent readers and see their replies