David Cameron says EU referendum is 'bigger than party politics' as he warns Brexit could lead back to recession
Remain campaigners from all parties are launching a massive joint day of action to save EU membership - with the Prime Minister warning that a vote to leave the EU could lead to another recession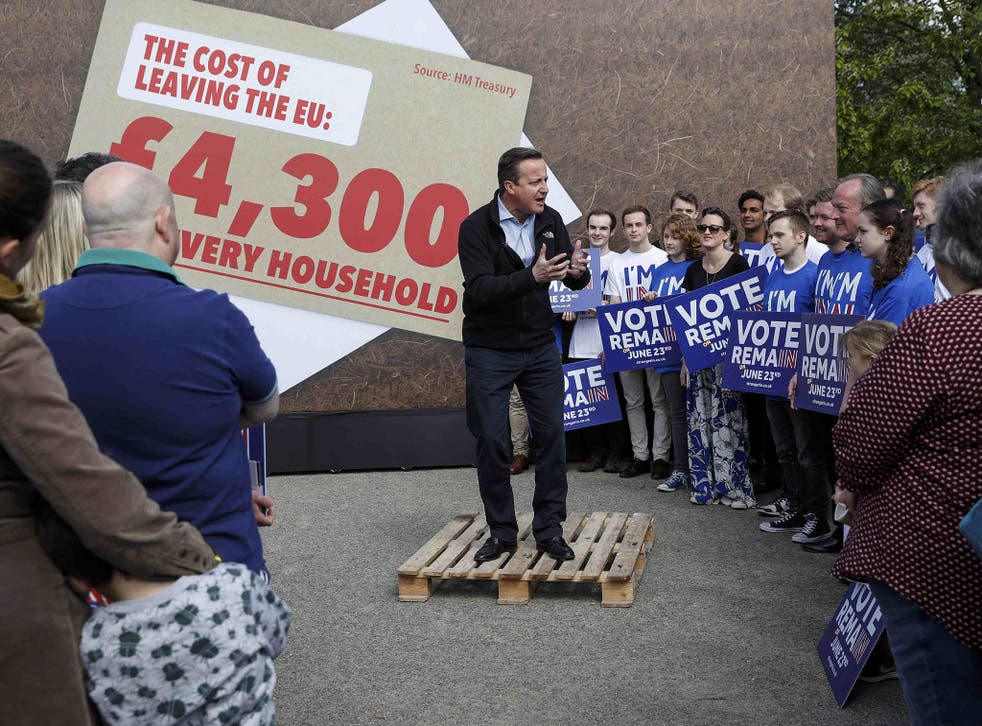 David Cameron has hammered home the economic arguments for remaining in the European Union – as politicians and activists of the main Remain-supporting parties stage a day of action to save Britain's membership of the bloc.
The Prime Minister unveiled a poster bearing the Treasury's claim that every family would be £4,300 worse off in the event of Brexit and warned that a vote to leave the EU could tip the British economy back into recession.
A recession would be the "last thing our economy needs," Mr Cameron said.
Mr Cameron also argued that the decision being put to the British people is "bigger than party politics".
Also on Saturday, Labour leader Jeremy Corbyn will lay out his vision for remaining in the EU in a speech at the QEII centre in Westminster, London, Liberal Democrat leader Tim Farron will lead a campaign in Kendall and Green Party MP Caroline Lucas will make her case in Brighton.
Mr Corbyn in particular is stepping up after having been urged by some of his MPs to take a greater role in defending membership of the EU.
Jo Cox, Labour MP for Batley and Spen, yesterday told The Independent that Mr Corbyn should use his "unique voice" as a sometime-Eurosceptic to convince wavering Labour voters.
The Labour leader yesterday urged young people to register to vote for the referendum, warning that those who neglected to do so would be left with "no voice".
In total, Remain campaigners say they will be staging 1,000 events led by around 6,200 campaigners from Britain Stronger in Europe. The campaign's organisers hope the push will help their side open up a lead in the polls – which have been stubbornly close in recent months.
Mr Cameron sought to emphasise the cross-party nature of the campaign in his speech on Saturday – a risky strategy reminiscent of some aspects of the Better Together approach during the Scottish Independence Referendum.
What's the European Parliament ever done for us?

Show all 5
"We'll see the effects of this referendum in our lives: the jobs we do, the opportunities our children have, the public services we rely on, the prices we pay, and the bills that land on our doormats," he said.
"This is a day unlike any other: politicians of every stripe taking to the streets with the same message. Because we face a vote unlike any other, one which will shape our country for decades – even generations – to come," Mr Cameron said.
"This is bigger than party politics. Its effects will last longer than our lifetimes. So we are saying with one voice: make sure Britain is stronger, safer and better off – and vote to remain in a reformed European Union."
Over recent days the Leave camp has been running stalls around the country, with key figures taking their campans to the road. Former Mayor of London Boris Johnson paid a visit to Cornwall, where he warned against migrants coming to Britain without a job offer.
On Saturday, Mr Johnson will be speaking in the South-west while the Grassroots Out campaign is mounting a nationwide blitz with events across the country.
They include a rally in Chester addressed by Conservative former cabinet minister Owen Paterson and Ukip migration spokesman Steven Woolfe.
Mr Paterson will say: "If we vote to remain, we will be consigning ourselves to being a colony of an EU Superstate, with more integration and increasingly diminished British influence".
Top-ranking institutional economists however issued warnings about Brexit this week.
Bank of England governor Mark Carney said the event could cause a sharp collapse in the value of the pound, while the IMF's managing director Christine Lagarde warned the effect of Brexit on the British economy ranged from "pretty bad to very, very bad".
The public will vote on whether Britain should remain in the European Union on 23 June.
Join our new commenting forum
Join thought-provoking conversations, follow other Independent readers and see their replies