David Cameron tells Cabinet: End cuts 'nimbyism' - the welfare state can't take all the pain
PM orders ministers to end campaign to slash benefits and focus on finding £10 billion savings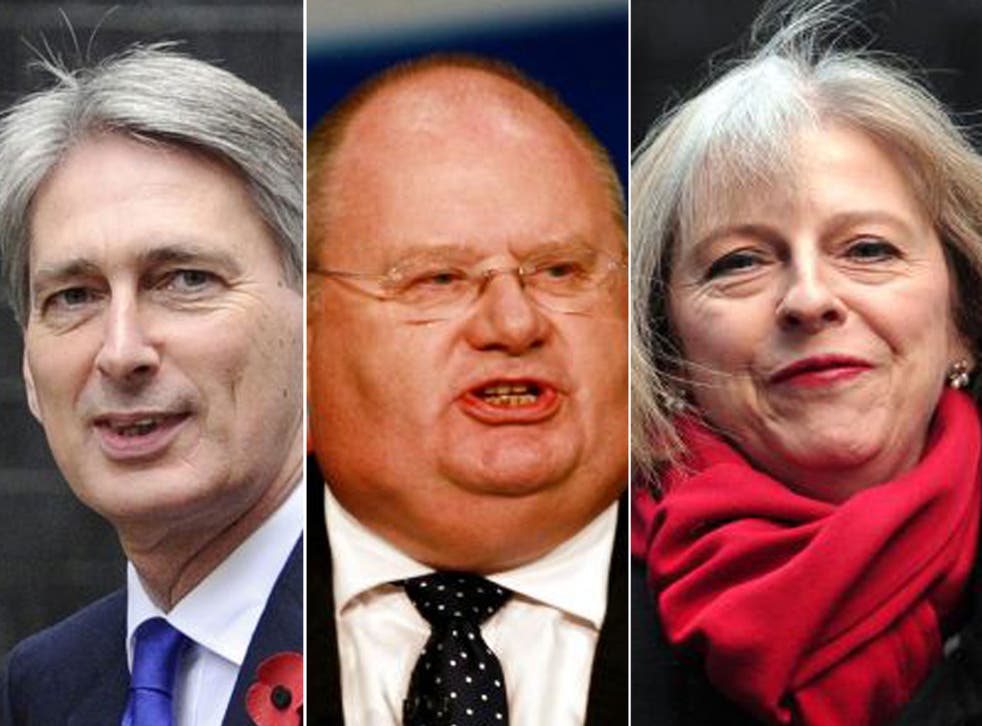 David Cameron is to order Cabinet ministers to end their "cuts nimbyism" as they threaten to derail George Osborne's demands for another £10bn of spending reductions.
The Prime Minister is to rebuff Conservative ministers who are pushing for more cuts to the welfare budget in an attempt to protect their own departments from the Chancellor's axe. He will point out that £3.6bn has already been shaved off the benefits bill in 2015-16, and argue it is time for other ministers to keep the Government's deficit-reduction strategy on track.
One close ally of the Prime Minister said: "You cannot be a fiscal conservative and then say that does not apply in your own department." The ally said it should be possible to find £10bn of savings in the 2015-16 financial year from the £150bn-a-year of government spending that is not "ring-fenced". The three protected budgets are health, schools and overseas aid.
Mr Cameron's edict is a setback for ministers who are proposing more welfare cuts, including Philip Hammond (Defence), Theresa May (Home Office), Chris Grayling (Justice) and Eric Pickles (Communities). They are all arguing that the "low-hanging fruit" has already been picked from their Whitehall empires and want a further assault on the £200bn welfare budget, which accounts for about a third of all government spending. But their budgets will now come under the Treasury microscope in a government-wide review to be completed by the end of June.
In a break with the tradition under which Whitehall budgets are negotiated behind closed doors, Mr Hammond went public at the weekend with a warning that Britain's military capability would be jeopardised by another round of Ministry of Defence (MoD) cuts.
Although Mr Cameron has promised to safeguard the defence equipment budget, which will rise by 1 per cent a year on top of inflation, that accounts for only about a third of the MoD budget. Further cuts would inevitably fall on manpower – meaning more cuts in frontline servicemen or MoD staff.
Iain Duncan Smith, the Work and Pensions Secretary, is prepared to consider seeking further savings. But one reason for Mr Cameron's caution is that the Liberal Democrats believe a further major raid on welfare would be unfair on the most vulnerable groups following the controversial decision to cap benefit rises at 1 per cent for the next three years.
Lib Dem sources say Nick Clegg would consider ending perks such winter fuel allowances, free travel and TV licences from "millionaire pensioners." But Mr Cameron is reluctant to break his 2010 election pledge to protect these payments for all pensioners.
Mr Clegg will chair a meeting of the Cabinet's home affairs committee on Wednesday to discuss whether benefits and access to NHS treatment could be restricted to people who have worked or lived in Britain for a certain period, and for local people to be given greater priority when council housing is allocated. Such curbs, if introduced, would apply to UK citizens as well as immigrants.
The ideas were initially driven by a desire to reassure the public the Government is trying to head off an influx of Romanians and Bulgarians when they are allowed to work in Britain from the end of this year.
But a sub-committee chaired by Mark Harper, the Immigration Minister, has been told by officials that bringing in such "entitlement" rules could not be imposed only on people from Romania and Bulgaria as that could fall foul of European Union laws on free movement. A Downing Street spokesman said: "We have to operate within the law, including EU single market law. It is my understanding one can't discriminate between EU nationalities within the law. There are things like habitual residency tests."
Another option would be to deter "benefit tourism" by linking the right to claim benefits to the payment of national insurance – a new "contributory principle" which would exclude new arrivals to the UK.
Although no decisions have been taken, the likely savings from such restrictions are likely to be relatively small and are not expected to solve the £10bn hole in Mr Osborne's spending plans for 2015-16.
Chris Bryant, Labour's spokesman on immigration, said: "This Government is flying more kites than Mary Poppins. Managing immigration in a fair way is really important. In a panicked reaction to the Eastleigh by-election, ministers are briefing anything and everything they can think of that they are looking at for the future, instead of properly considered, substantive and deliverable proposals that work for everyone."
Not In My Back Yard - the Cabinet ministers trying to protect their own budgets
Philip Hammond
The Defence Secretary, whose budget is being reduced by 7.5 per cent by 2015, has warned that more cuts could reduce the UK's military capabilities. His call for more welfare savings was aimed at the Liberal Democrats, who are reluctant to go further in a sensitive area.
Theresa May
The Home Secretary is already battling with the police as she imposes cuts of 23 per cent between 2010-15 and is worried that a further round of savings could jeopardise the Conservatives' standing on law and order.
Chris Grayling
The Justice Secretary is a former minister at the Department for Work and Pensions and sees more scope for savings there than in his current ministry, whose budget will fall by 23 per cent over the five-year parliament.
Eric Pickles
The Communities Secretary believes that local government has already taken a big enough hit after the 2010 spending review put it in the front line of the Coalition's cuts. Spending will fall by 33 per cent by 2015, the biggest drop of any department.
Vince Cable
The Liberal Democrat Business Secretary is fighting a public campaign to prevent further cuts to his budget, already being trimmed by 25 per cent by 2015. He argues curbing aid for industry and science would make a nonsense of the drive to create growth and has criticised the ring-fencing of the NHS, schools and overseas aid budgets.
Join our new commenting forum
Join thought-provoking conversations, follow other Independent readers and see their replies