David Cameron urged to ditch Justine Greening and expand Heathrow
Transport Secretary threatens to resign as senior Tories increase pressure on Prime Minister to approve controversial third runway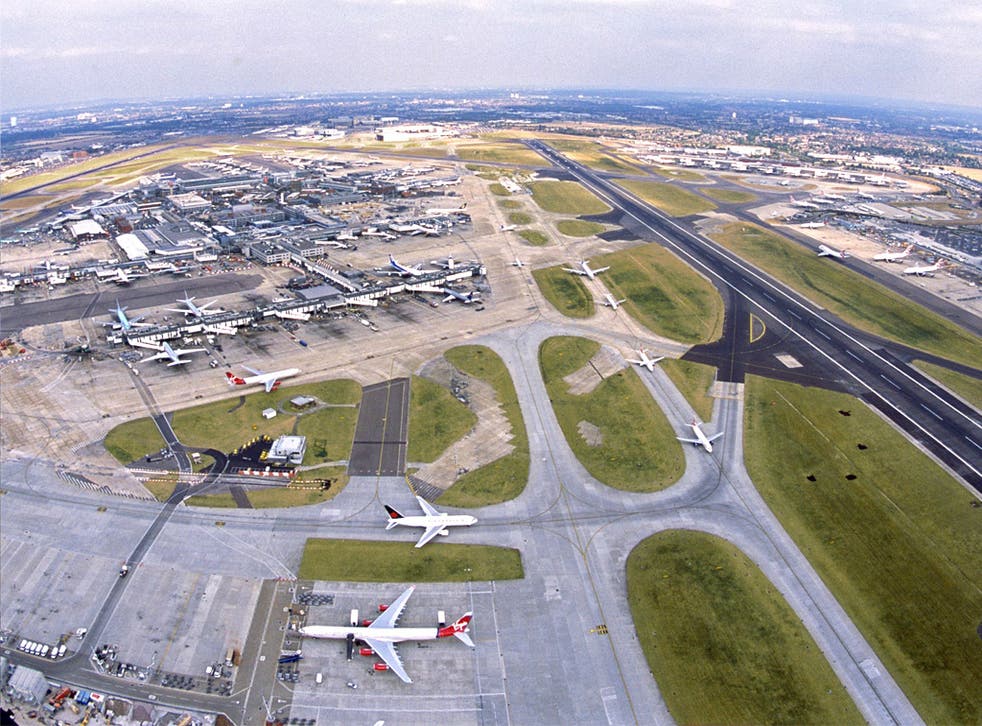 David Cameron is under mounting pressure to perform a dramatic U-turn by allowing a major expansion at Heathrow Airport.
Senior Conservatives are urging him to move Justine Greening, who strongly opposes a proposed third runway at Heathrow, from her post as Transport Secretary in a Cabinet reshuffle expected next Monday. They say that would allow the Government to expand Heathrow as the centrepiece of a new "go-for-growth" strategy.
In a report published today, an all-party committee of MPs and peers warned that "capacity constraints at Heathrow are restricting the UK's economic potential" and that the country is "being left behind". The Parliamentary Aviation Group said immediate action was needed – either to increase capacity at Heathrow or to build a new hub airport.
Yesterday, Ms Greening, who campaigned strongly against Heathrow expansion in her Putney constituency at the 2010 election, insisted that Mr Cameron would stick to his pledge to oppose a third runway. She admitted it would be "difficult" for her to stay in the Cabinet if the Prime Minister changed his mind, and appeared to go beyond the Coalition's policy by suggesting the case against the proposed expansion had been demolished for all time.
Despite her feisty stance in a series of media interviews yesterday, there is speculation in Tory circles that she will be switched to another post next week. That would allow Mr Cameron to open the door to Heathrow expansion after the next election in 2015. Action before that is unlikely because his Liberal Democrat Coalition partners oppose the move.
George Osborne, the Chancellor, is among the ministers urging Mr Cameron to rethink his position on Heathrow. The Treasury is worried about the cost of the Thames estuary airport championed by Boris Johnson, the Mayor of London. One Tory source said: "The mood on Heathrow is changing. Justine should act as a Cabinet minister, not a constituency MP. There is irritation about the way she is playing this."
Mr Cameron is in a difficult position. He wants more pro-growth measures but he is wary of making yet another policy U-turn that might make him look weak. Heathrow has now become a test of his leadership after Tim Yeo, a senior Tory MP and green campaigner who has changed his mind in favour of a third runway, challenged the Prime Minister to show he is "a man" rather than " a mouse" by grasping the nettle and giving his Government "a sense of mission". In a hard-hitting attack, he warned that Mr Cameron risks "a dignified slide towards insignificance" as voters were unable to see his priorities and passions.
Jeremy Hunt, the Culture Secretary, sprang to Mr Cameron's defence, insisting he "is very much a man". Mr Johnson, who opposes expansion at Heathrow, described the Prime Minister as " a man of dynamism and greatness" but predicted he would "seize the moment" by backing an estuary airport. "It is plain the argument over aviation capacity is not going to vanish, you can't long grass this, it is necessary to come up with an answer. Business needs an answer and I've no doubt the Prime Minister is going to provide one," Mr Johnson said.
Nick Clegg put the brakes on any change of policy in the short term. He said: "My position is very clear – we're not going to give the go-ahead to a third runway at Heathrow. We said that in the Coalition Agreement and we're going to stick to that." A Downing Street spokeswoman said: "The Coalition parties have made a pledge not to have a third runway and that is a pledge we will keep. We don't see the argument for a third runway."
Ms Greening said Mr Johnson's plan could be considered when she launches a consultation exercise next month, but insisted the arguments for Heathrow had not changed. "We do need some capacity, we do need to think long term," she said. "The so-called third runway is actually not a full-length runway, it won't be able to take the big, new planes that we're seeing entering the market today, and that's precisely why I think it's time to build on the consensus we've got that a third runway isn't right."
Airport expansion: The options
Thames Estuary
Boris Johnson, the Mayor of London, backs airport on Isle of Grain, dubbed "Boris Island". Designed by Lord Foster, it could carry 150 million passengers a year. Alternative option to build on Kent coast but strong local opposition.
'Heathwick'
Closer links between Heathrow and Gatwick would see passengers travel between them by a high-speed rail link in only 15 minutes. Could bolster London as international hub but airlines say scheme would face big challenges and want Heathrow third runway.
Northolt
RAF Northolt in north-west London, now used by VIPs, could be sold off by the Ministry of Defence and handle some Heathrow traffic such as business flights. But would face same objections as Heathrow third runway – such as more noise and flights. Labour may back the idea.
Heathrow
Third runway planned by last Labour Government but ditched by Coalition after being opposed by Tories and Lib Dems at 2010 election. David Cameron now mulling over a U-turn. Labour now against it.
Join our new commenting forum
Join thought-provoking conversations, follow other Independent readers and see their replies