David Cameron visits Tripoli, admitting Libya 'dangers' and pledging further support to country's new government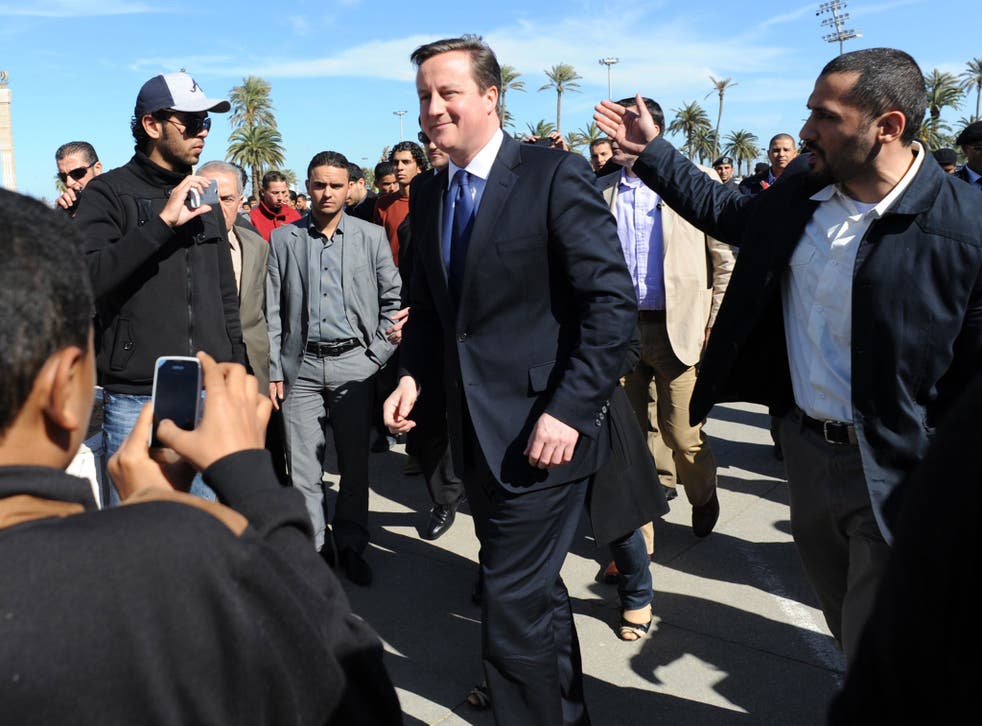 Travelling in a heavily armed 16-vehicle convoy, David Cameron visited Libya today to declare that he was "proud" of Britain's part in the country's "democratic revolution" and to pledge further support for the country's new government.
But while Mr Cameron was able to take part in a walk-about in Tripoli's Martyrs' Square he did not visit Benghazi, where British citizens were recently warned by the Foreign Office to leave because of the threat of attack.
Mr Cameron admitted that the new Libyan government still needs significant additional support to improve the security situation in the country but insisted things were improving.
"There are dangers, there are problems of security in this country," he conceded.
"I think we should be frank about that and come and see the Libyan government and talk about that and offer our help and assistance and that's what we're doing.
"Because the truth is we're much better off in Britain with a democratic Libya, but we'll only be truly better off when it's a secure and democratic Libya. It isn't that today, we want to help them to achieve that."
Under a new package of support announced today, the number of advisers working on training programmes for Libyan forces is being doubled.
The number of UK police advisers is going up from two to three, and another expert will be embedded with the ministry of the interior.
Members of the Libyan navy will be invited to attend a five-month training course at Warminster. There will also be a British-funded £4.5m job creation package focusing on ex-militia.
It was also announced that a police team from Dumfries and Galloway Police had been given visas to pursue their continuing investigations into the Lockerbie bombing.
Speaking at a press conference alongside his Libyan counterpart, Ali Zeidan, Mr Cameron said it was a myth that either Libya or Britain would be more stable if Colonel Gaddafi had not been deposed.
"The idea that Colonel Gaddafi gave either the people of Libya or the people of Britain stability and security is a complete fiction," he said.
"He was responsible for giving Semtex to the IRA. Colonel Gaddafi was responsible for the explosion over the skies of Lockerbie. Colonel Gaddafi was responsible for the death of Yvonne Fletcher."
Earlier, the Prime Minister toured a police training centre on the outskirts of Tripoli where he told recruits that Britain was to stand with them to help deliver security.
"We know that many of you played an absolutely vital role in throwing off the brutal dictatorship of Colonel Gaddafi. But the training you are now undertaking is even more important. Because there is no real freedom, there is no real democracy, there is no chance of prosperity without proper security."
Join our new commenting forum
Join thought-provoking conversations, follow other Independent readers and see their replies