David Cameron warns of new global economic crisis
PM says 'red lights are flashing on the dashboard of the economy'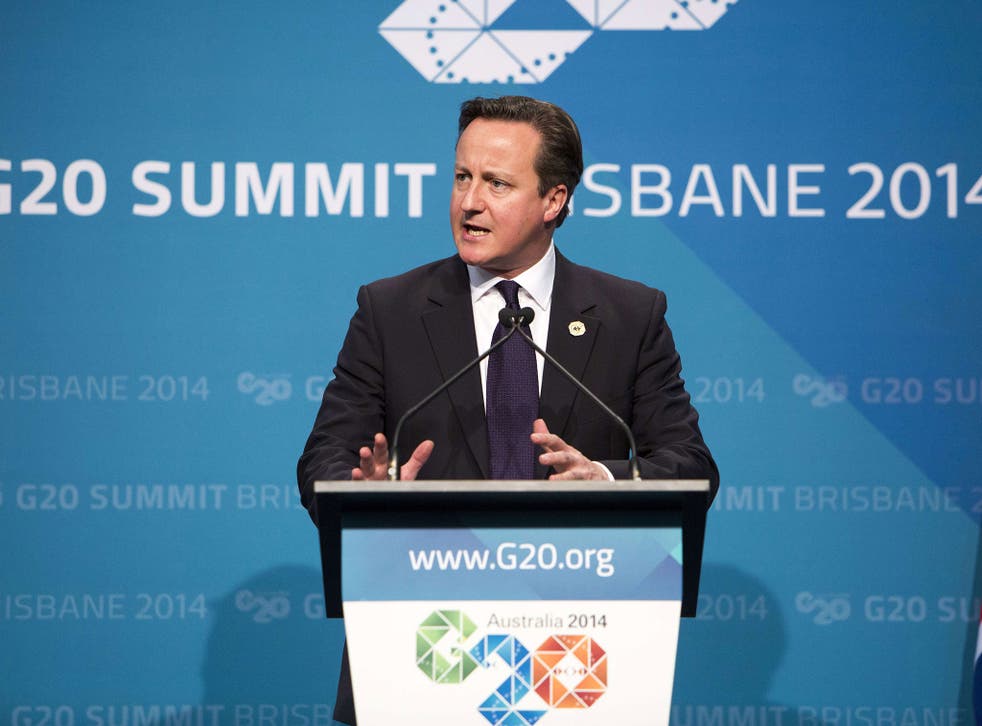 David Cameron has said the world is on the brink of a second global economic disaster, six years after the crash that "brought the world to its knees".
At the close of the G20 economic summit in Brisbane, the Prime Minister said that he saw "red warning lights" for the global economy, the result of international "instability and uncertainty" and the slowing of growth in emerging markets.
Writing in The Guardian, he said that while the UK had fastest growing economy in the G7 group of countries, it was impossible "insulate ourselves completely" from global disaster.
"As I met world leaders at the G20 in Brisbane, the problems were plain to see," Mr Cameron said.
"The eurozone is teetering on the brink of a possible third recession, with high unemployment, falling growth and the real risk of falling prices too.
"Emerging markets, which were the driver of growth in the early stages of the recovery, are now slowing down.
Issuing his stark warning, Mr Cameron said that it was not only "clearer than ever how vital it is that we stick to our long-term plan at home" but that Britain must continue to play a role on the international stage "on which our economic security also depends".
Reacting to the Prime Minister's warning, Labour disputed the suggestion that Coalition economic policies have worked for Britain, highlighting Sir John Major's comments that "none of the growth in the economy has yet reached wage packets or salary slips".
Shadow Treasury chief secretary Chris Leslie said: "David Cameron claims his policies are working, but as even Sir John Major admits, most people still aren't feeling the recovery.
"Working people are £1,600 a year worse off under his Government, borrowing is going up so far this year and exports have fallen behind our competitors.
"David Cameron should be trying to strengthen growth and make sure working people finally benefit from it, not making excuses for slower growth.
"Only Labour's economic plan will deliver a recovery for the many, not just a few at the top. And we'll balance the books, but do so in a fairer way by reversing David Cameron's tax cut for millionaires."
Join our new commenting forum
Join thought-provoking conversations, follow other Independent readers and see their replies