Dear taxpayer, here's where your hard-earned money really goes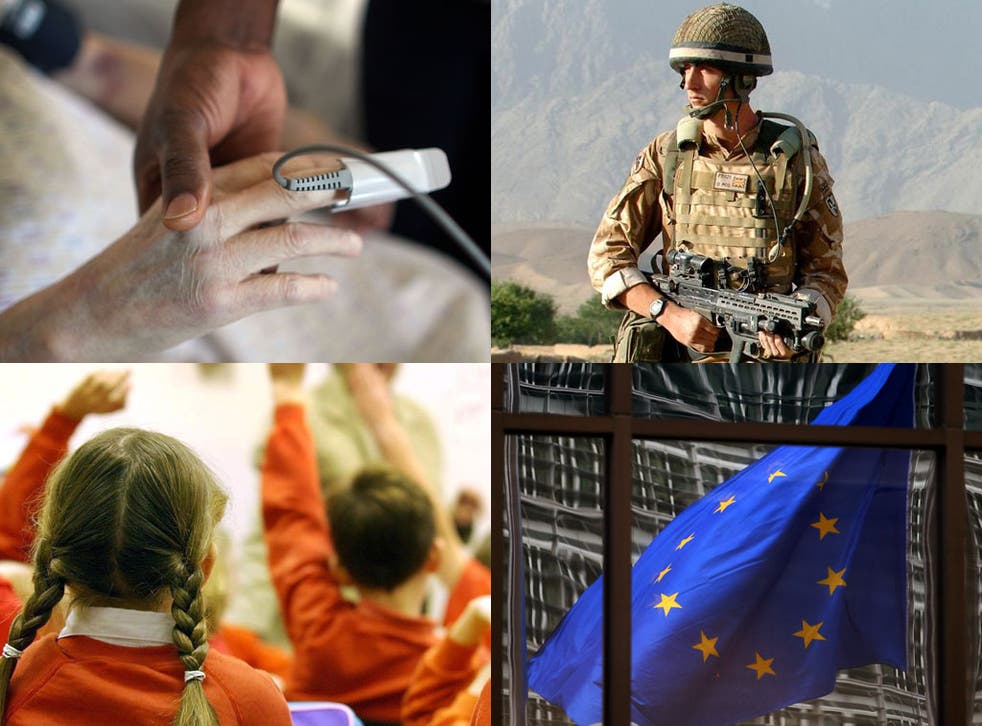 Ever wondered how much money you pay each year in taxes to service the national debt? Or how much of your hard-earned income goes to fund the Prison Service, schools or the NHS?
Well the answer is close at hand and will soon be landing on your doormat. George Osborne is expected to use tomorrow's Budget to announce plans to send every taxpayer a personal annual statement detailing how much tax they pay to central Government and exactly where it goes.
And specimen letters, drawn up by the Treasury and seen by The Independent, make interesting reading. They show that a taxpayer earning £50,000 a year is paying £14,183 (or 28.37 per cent) of their income to the Government. By far the largest proportion of this money goes to fund the welfare state (£4,727.67), followed by health (£2,469.73) and education (£1,848.73).
But other areas of Government don't come cheaply either. Paying interest on the national debt costs £902.20, overseas aid £141.12 and the prison service costs £98.78.
Obliquely labelled "Government administration" accounts for £310.47 – compared to which our contribution to the EU at £70.56 might seem like good value. The specimen letters will also vividly show how the tax burden increases disproportionately the more you earn. Someone earning £25,000 a year pays £5,702.12 in tax (or 22.63 per cent of income) while someone earning £15,000 pays £2,438.12 (or 16.25 per cent of income).
Labour is not expected to oppose the move and Mr Osborne will claim it is part of its wider drive to make the tax system simple, easier to understand and more transparent.
Shortly after the General Election, the Coalition announced that it was setting up an Office of Tax Simplification to examine all aspects of the tax system to make it easier to understand. It has looked at simplifying tax for pensioners – who often have to offset complicated benefits against tax, and struggle to understand what they are entitled to and liable for. It is now due to examine other aspects of the system, including a proposal to combine income tax and national insurance in one tax.
Treasury officials said the new tax statements formed part of this work, but cynics may suggest a baser motive.
The first letters are due to arrive on doorsteps in the financial year leading up to the next election in 2015. And with the Chancellor widely hoping to make tax cuts a central theme of the next Tory election manifesto, the statements may provide a timely reminder to voters of just how much they contribute to the state.
Transparency for Mr Osborne can equal opportunity. Or as a Treasury source put it: "It is quite right that people know how much tax they pay and what it is spent on."
THE £25,000 EARNER: WHERE THE MONEY GOES
Complete with pie charts and tables, the letter that taxpayers will receive aims to break down exactly how their money is spent. Although not the highest expense, the amount paid towards national debt interest is top of the list. The letters will also helpfully inform people how much goes towards "other" expenditure.
Welfare: £1,901
The EU: £28
Debt: £363
Health: £993
Education: £743
Public order: £284
Defence: £329
Housing: £113
Infastructure, agriculture and industry: £329
Government administration: £125
Overseas aid: £57
Recreation, religion and culture: £113
Environment: £96
Other: £227
Total earnings: £25,200
Take home pay: £19,497.88
Total tax paid: £5,702.12
Join our new commenting forum
Join thought-provoking conversations, follow other Independent readers and see their replies