Desperate Osborne set to gamble on early tax cuts
Clegg adds to mounting pressure on Chancellor as economy shrinks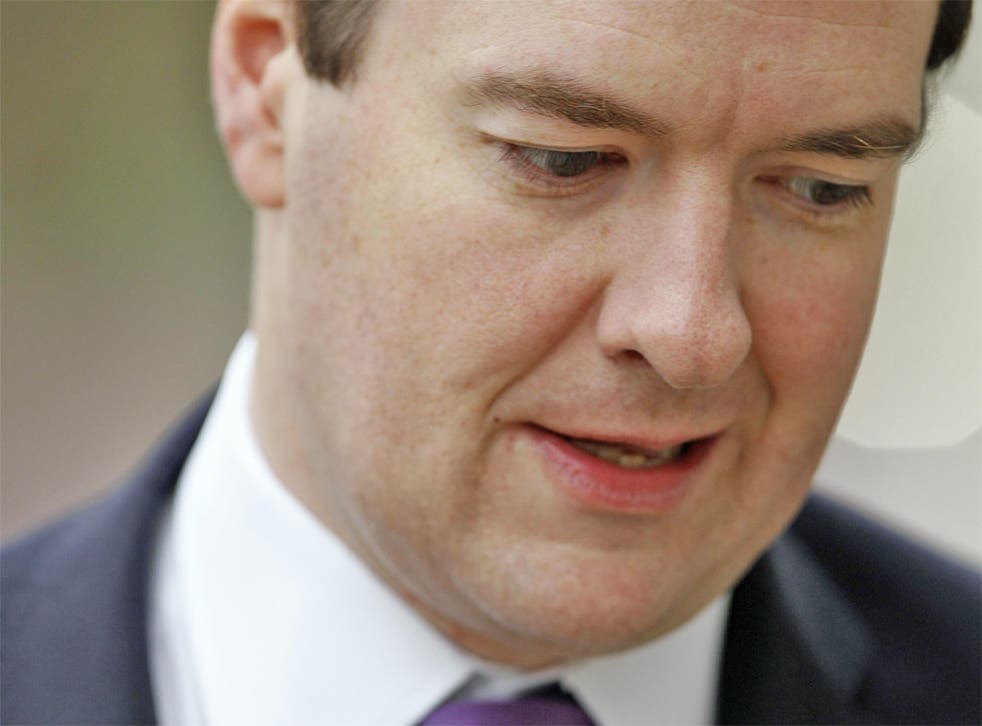 George Osborne is considering tax cuts for low and middle earners in his March Budget in an attempt to kick-start growth after figures showed that the economy is contracting.
The Chancellor will consider speeding up the Coalition's plan to raise the personal tax allowance to £10,000 a year by 2015. The move would help families in the "squeezed middle" and enable them to spend more – in the hope this would get the economy moving again.
Significantly, the Treasury has cleared a speech by Nick Clegg today in which he will urge Mr Osborne to go "further and faster" towards the £10,000 tax-free income goal. This was a key Liberal Democrat pledge at the 2010 election and is Mr Clegg's No 1 priority in negotiations with Mr Osborne about the Budget, which have just begun.
The personal allowance was raised from £6,475 to £7,475 this financial year and will go up to £8,105 in April, putting the Coalition on course to hit the £10,000 target by the next election and take more than a million people out of the tax net.
Mr Clegg believes his case for speedier action has been strengthened by figures from the Office for National Statistics yesterday, which showed that the economy shrank by 0.2 per cent in the final three months of last year. Ministers fear another negative figure for the first quarter of 2012, confirming Britain has entered a double-dip recession, which would put a huge question mark over their deficit-reduction strategy.
Although Mr Osborne would face Labour claims of opting for a "Plan B" by announcing tax cuts, he could argue that the move is in line with existing Coalition policy. Speaking to business and world leaders at the World Economic Forum in Davos, Switzerland, today, David Cameron will say: "This is a time to show the leadership our people are demanding. Tinkering here and there and hoping we'll drift to a solution simply won't cut it any more. This is a time for boldness not caution. Boldness in what we do nationally – and together as a continent."
The Prime Minister will say Europe's lack of competitiveness remains its "Achilles heel" and that it has failed to deliver the structural reforms it needs.
Mr Clegg, who will spell out his Budget demands in a speech to the Resolution Foundation think-tank, will say any tax cuts for the "squeezed middle" would have to be paid for by higher taxes for the rich, rather than higher borrowing or deeper spending cuts. "The pressure on family finances is reaching boiling point," the Deputy Prime Minister will say. "These families cannot be made to wait. Household budgets are approaching a state of emergency and the Government needs a rapid response."
Arguing that Britain "cannot afford not to do this", Mr Clegg will argue that the tax system must be rebalanced so it "rewards work and encourages ordinary people to drive growth". Mr Osborne will reject Liberal Democrat demands for a "mansion tax" on homes worth more than £2m. Instead, Mr Clegg will press the Chancellor to reform tax allowances and loopholes that favour the rich – such as rules allowing them to place expensive properties in companies so they pay only 0.5 per cent stamp duty when they are sold.
The gloomy figures from the ONS added to pressure on Mr Osborne to adopt a Plan B. Labour seized on remarks by Olivier Blanchard, chief economist at the International Monetary Fund, who suggested Britain had room to slow the pace of the cuts to avoid strangling the economy.
Mr Blanchard told the BBC: "If growth is really dismal then you may decide you're going to go a bit more slowly about the discretionary part of the budget ... to the extent that these countries are not under the gun from the markets, have plausible medium-term plans, they can slow down and it would help." However, ministers pointed to Mr Blanchard's comment that departing from the deficit-reduction plan might "lose credibility" in the financial markets.
Mr Osborne came under attack after he blamed the GDP figures on the eurozone crisis. Rachel Reeves, the shadow Chief Secretary to the Treasury, said: "[His] excuses are starting to wear thin. First he blamed the snow, then the Royal Wedding and now it's the eurozone. But Britain's recovery was choked off well before the recent eurozone crisis, and it was only exports to other countries that kept us out of recession last year."
Join our new commenting forum
Join thought-provoking conversations, follow other Independent readers and see their replies