Disability rights 'disgrace': Terminally ill facing distress and financial difficulty for weeks because of delays in benefits contract
Spending watchdog casts doubt over whether Personal Independence payments will ever be value for money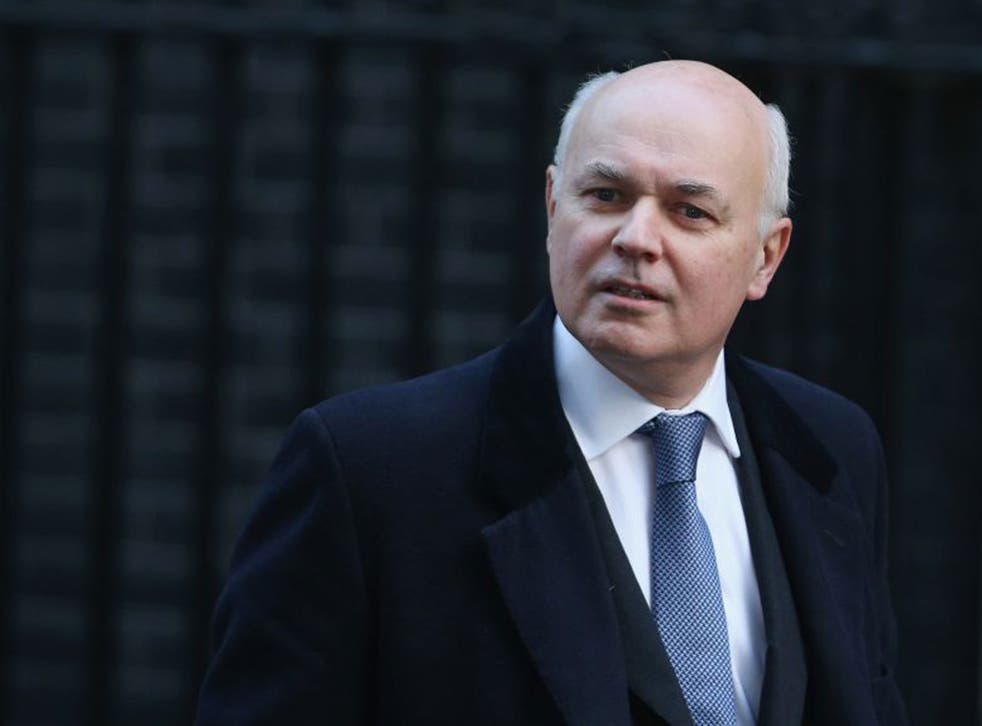 The spending watchdog has found that disabled people are facing "distress and financial difficulties" because of the mismanagement of a new Government benefit scheme.
Some terminally ill people are waiting a month to receive vital support, whilst other claimants are waiting an average of 107 days. That's more than four weeks longer than the government predicted.
The National Audit Office have also cast doubt on whether the new Personal Independence Payment, which will replace Disability Living Allowance, will ever be value for money.
Within six months that PIP was rolled out in the north of England in April 2013, a backlog of 92,000 cases built up with private contractors Atos and Capita.
The Department of Work and Pensions had made decisions in only 16% of the expected number of cases.
In fact, Iain Duncan Smith's flagship programme has performed so poorly that the Department has been forced to stagger the full national roll-out of PIPs, which raises doubts that it will never deliver value for money in the long term.
As waiting times are longer than the predicted processing times of 74 days for most claimants and 10 days for those who are terminally ill, it is already forecast to save £140 million less than expected. Meanwhile people in desperate need of money are left without support.
The DWP now predicts it will save £640 million a year by 2015, rather than its prediction of £780 million. However, the government still expects to achieve annual savings of £3 billion by 2018/19, with 3.6 million claims assessed by 2018.
Each new PIP claim - worth between £21 and £134 a week to disabled claimants - costs an average £182 to administer, compared to £49 under DLA, said the report.
"It is too early to conclude on the Personal Independence Payment programme's overall success and all major programmes run the risk of early operational problems," said Mr Morse. "However the Department did not allow enough time to test whether the assessment process could handle large numbers of claims.
"As a result of this poor early operational performance, claimants face long and uncertain delays and the Department has had to delay the wider roll-out of the programme. Because it may take some time to resolve the delays, the Department has increased the risk that the programme will not deliver value for money in the longer term."
The chairwoman of the House of Commons Public Accounts Committee, Margaret Hodge, said: "I was shocked to learn that, not only will Personal Independence Payment claims cost almost three and half times more to administer than Disability Living Allowance, they also take double the amount of time to process.
"The current backlog and delays in processing claims are simply unacceptable and will no doubt cause real distress for vulnerable claimants. Without the Department for Work and Pensions sharing details of how long claims should and do take, claimants are left facing uncertainty and potential financial difficulties whilst waiting for a decision."
Responding to Mrs Hodge, a DWP spokesman said: "PIP is a completely new benefit with a face-to-face assessment, something missing under DLA, and there will always be initial costs so this is not comparing like with like.
"The figures show good value for money for taxpayers in the short and long term, with expected savings of £3 billion annually by 2018/19.
He said the previous system was "broken", adding: "Personal Independence Payment is a principled reform which will ensure support is focused on those with the greatest need. It includes a new face-to-face assessment and regular reviews, something missing under the old system.
"The NAO acknowledges this reform started on time and on budget, and we have reduced risk by rolling it out in phases. This has enabled us to adjust our plans as we learn from the initial phases, well before the roll-out to the majority of existing Disability Living Allowance claimants next year."
Steve Winyard, head of campaigns and policy at the Royal National Institute of Blind People, said: "RNIB is alarmed to note that 'early operational performance has been poor' and we're very concerned that DWP has only been able to process 16% of applicants, leaving 92,000 disabled people - including blind and partially sighted people - waiting for vital help.
"The process must be urgently improved."
Sarah Lambert, head of policy at the National Autistic Society (NAS), said: "Disability benefits are a necessity, not a luxury, so such delays cause real financial difficulties for those who rely on them to get the support they need to live and work. It's deeply concerning that the DWP is unable to inform applicants how long they are likely to wait. This uncertainty will take an additional toll on people with autism, who often rely on routine and experience high levels of anxiety when faced with unexpected changes."
Duleep Allirajah, head of policy at Macmillan Cancer Support, said: "Since the introduction of the new welfare system we know that far too many terminally ill cancer patients have waited weeks and months before receiving their much-needed benefits. Under the old system they only waited a maximum of 10 days."
Shadow minister for disabled people Kate Green said: "This report confirms a continuing pattern of incompetence and failure under David Cameron.
"It's disgraceful that people with only weeks to live are facing such huge hold-ups.
"We've already seen the roll-out of Universal Credit become an unmitigated disaster. David Cameron must get a grip before this scheme descends into chaos too."
Additional reporting by PA
Join our new commenting forum
Join thought-provoking conversations, follow other Independent readers and see their replies