Donald Trump has not asked UK to help prepare possible military strikes against North Korea, says Government
Claim that the RAF has been asked to join an international spying operation is 'flat out wrong'
Rob Merrick
Deputy Political Editor
Friday 11 August 2017 10:49 Comments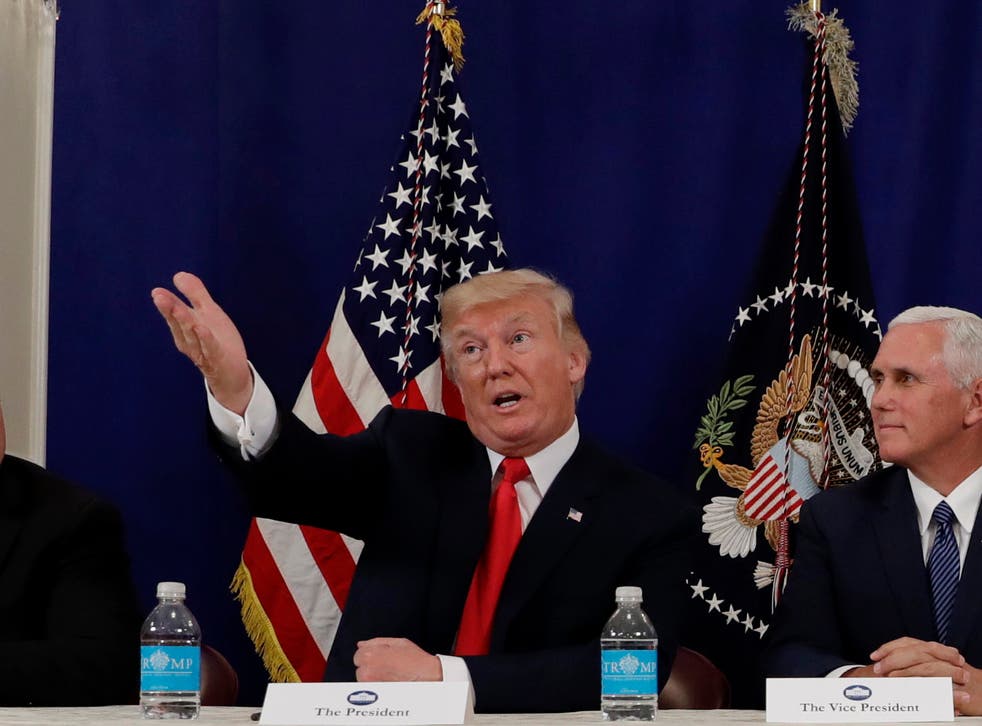 The United States has not requested Britain's help to find North Korea's nuclear weapon sites and prepare for military strikes, The Independent has been told.
A claim that the RAF has been asked to join an international spying operation over the rogue state to pinpoint nuclear locations and artillery batteries is "flat out wrong", a source said.
Instead, Government sources have suggested Britain's support for Donald Trump's hardline stance will go no further than backing at the United Nations to impose tougher sanctions.
The briefing follows Theresa May's deputy, Damian Green, appearing to criticise President Trump's threat to unleash "fire and fury" on North Korea, raising the threat of nuclear war.
Mr Green said: "I think the sensible way for people to proceed is to work through the UN process, that's what the British Government has been supporting and will continue to support."
Tom Tugendhat, the new chairman of the powerful commons Foreign Affairs Committee, has also called for the "nuclear brinkmanship" to end.
Comparing the situation to the Cuban missile crisis of 1962, Mr Tugendhat said: "Kennedy and Khrushchev showed that nuclear tensions can be unwound by measured and thoughtful action.
"I look forward to the US and North Korea working with regional partners including China to reduce tensions and end the nuclear brinkmanship."
The Daily Mirror claimed the US had asked for Britain to deploy Rivet Joint aircraft to spy on Kim Jong-un's regime and find his military bases.
At least one of Britain's three £800m Rivet Joint spy planes could be sent to a base in Japan within the next fortnight, the paper said, with US personnel joining its crew.
But, speaking to The Independent, a well-placed Government source insisted no request to send a plane had been made.
Meanwhile, a separate source told The Sun: "The Americans are more than capable of doing what they might want, or have to do, in the region without our help."
The Prime Minister, who is still on holiday, is yet to comment on the growing crisis between North Korea and the US.
The rogue state has said it plans fire missiles towards a US nuclear base in Guam, having developed - US intelligence officials believe - a nuclear warhead small enough to fit inside its missiles.
Mr Trump has said any such threats would be "met with fire and fury like the world has never seen", later musing that the warning "may not be tough enough".
Jeremy Corbyn made clear his opposition to military action, telling Sky News: "The idea that anyone can contemplate using nuclear weapons at any stage against anybody is unthinkable.
"There is no such thing as an isolated nuclear attack. It will kill millions on both sides of the Korean border and of course in neighbouring countries."
In the US, more than 60 members of Congress have signed on to a letter condemning their President's bellicose threats.
Sent to Secretary of State Rex Tillerson, it expresses the legislators' "profound concern over the statements made by President Trump that dramatically increased tensions with North Korea and raised the spectre of nuclear war".
Register for free to continue reading
Registration is a free and easy way to support our truly independent journalism
By registering, you will also enjoy limited access to Premium articles, exclusive newsletters, commenting, and virtual events with our leading journalists
Already have an account? sign in
Join our new commenting forum
Join thought-provoking conversations, follow other Independent readers and see their replies