EU chief tells Brexiteer MPs they have 'very interesting argument, the only problem being that it has nothing to do with reality'
'The only way to dispel the fears and doubts of all the citizens concerned is the quickest possible start of the negotiations based on Article 50 of the Treaty?'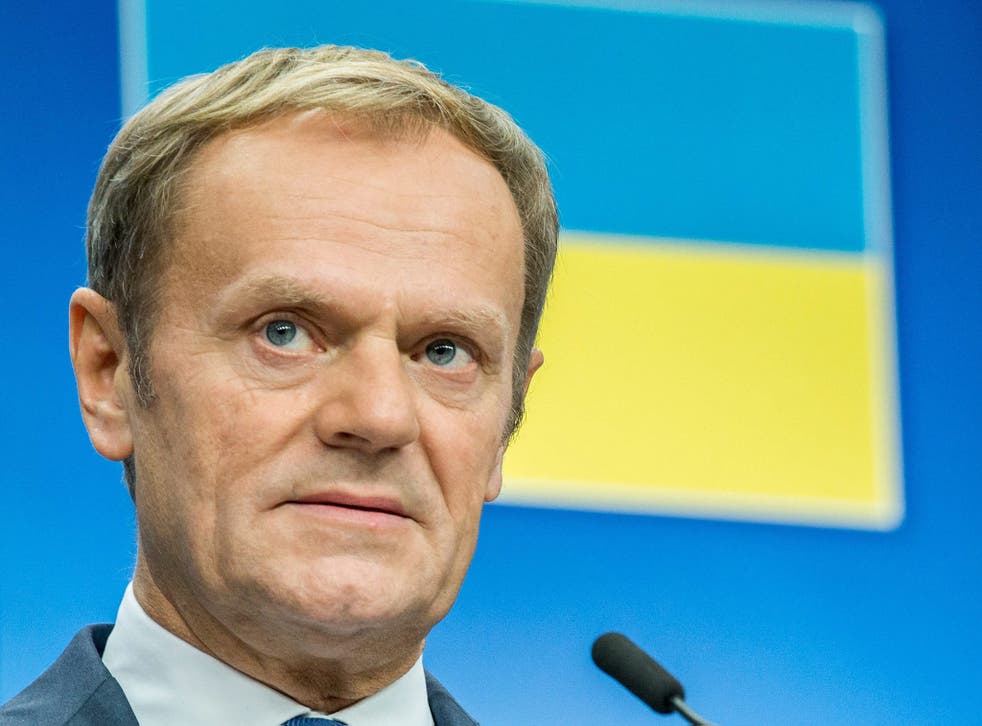 The President of the European Council has suggested Brexiteer MPs are putting forward an argument that "has nothing to do with reality" as he blamed Britain for the "anxiety" affecting EU nationals in the UK.
Donald Tusk's intervention comes after his office received a letter, organised by Conservative MP Michael Tomlinson and signed by 80 MPs, criticising Brussels' refusal to allow formal talks on the issue.
But in a blunt response, Mr Tusk said: "It's a very interesting argument, the only problem being that it has nothing to do with reality"
In his letter, Mr Tusk continued: "Would you not agree that the only source of anxiety and uncertainty is rather the decision on Brexit? And that the only way to dispel the fears and doubts of all the citizens concerned is the quickest possible start of the negotiations based on Article 50 of the Treaty?
"Immediately after the referendum I declared, on behalf of the 27 EU member states and the European institutions, that we were ready to launch the negotiation process as early as the following day. I still stand by that declaration."
"In your letter you called on me 'to resolve this matter once and for all' at the European Council in December. This would in effect mean the start of the negotiations already in December. The EU stands ready to do so, but that can only happen on the condition that Article 50 has been triggered. Let me reiterate, however, that the decision about triggering Article 50 belongs only to the UK, which we fully respect."
In their letter to Mr Tusk the MPs – including Michael Gove, Iain Duncan Smith, and John Whittingdale – added guaranteeing the rights of EU citizens was the "only just and humane thing to do".
They added: "People are not bargaining chips. Human beings are not cards to be traded 'tit for tat' in a political playground."
Brexit Concerns

Show all 26
But in a sign of how frustrated EU leaders have become with the process over Brexit, Mr Tusk replied: "Just like you, I would like to avoid a situation where citizens become 'bargaining chips' in the negotiation process. In order for this not to happen, we will need precise and comprehensive solutions, which, other than nice-sounding expressions, will provide citizens with genuine guarantees of security."
Conservative MP Steve Baker, who organised the letter sent to Brussels alongside Mr Tomlinson, said the response was "dogmatic intransigence" placing "EU processes before EU voters' concerns – again".
The escalating row over the rights of EU citizens comes after reports surfaced that Angela Merkel, the German Chancellor, blocked Theresa May's informal approach to enshrine the rights of EU citizens in the UK and British citizens overseas.
Since the EU referendum, leaders of other member states have repeatedly warned that they will not engage in any form of negotiation until the UK Government triggers Article 50 – the untested protocol for leaving the union.
Join our new commenting forum
Join thought-provoking conversations, follow other Independent readers and see their replies