Ed Balls: Pressure grows for Plan B as triple dip threatens
The Shadow Chancellor tells Jane Merrick it is 'utterly irresponsible' not to change course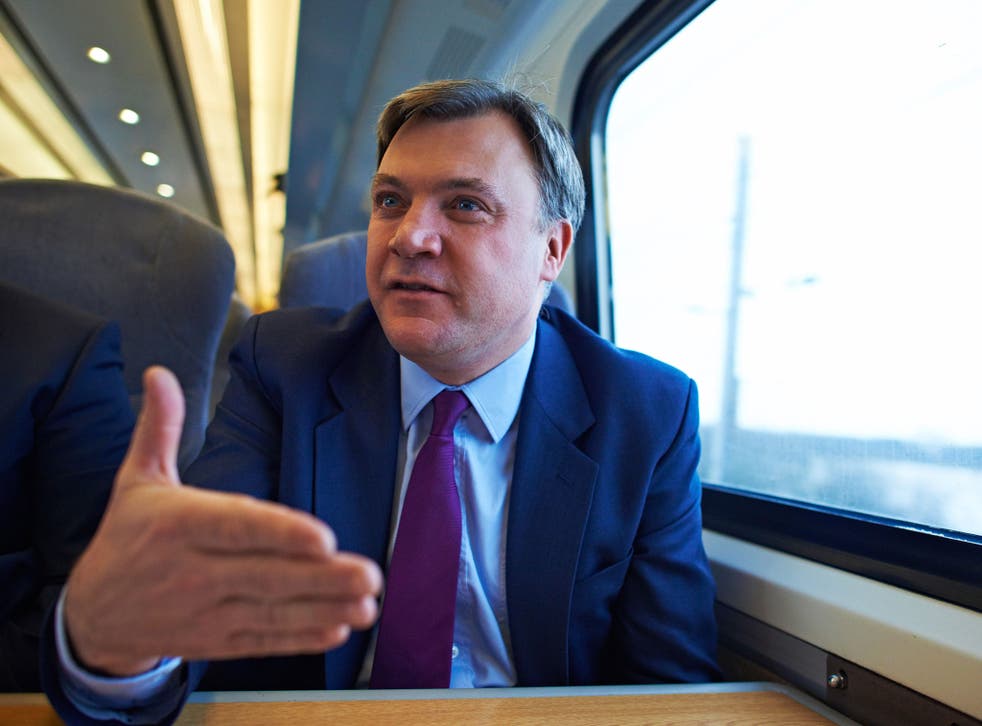 As an adviser and later a minister in the previous Labour government, Ed Balls says there was a "golden rule" that prime ministers should be careful what they say at 35,000 feet – wary that making decisions on long plane journeys might lead to slips that could have lasting damage. But following the raucous and jovial pizza and fondue dinner enjoyed by David Cameron, George Osborne and Boris Johnson at the Alte Post restaurant in Davos on Thursday evening, when the Chancellor knew the economy had shrunk again, he says the maxim should be adapted to: "be careful how you behave when you're in a ski restaurant at 5,000 feet".
Mr Balls thinks that the alpine restaurant scene – likened by one observer to a reunion of the Bullingdon Club, with Mr Cameron and Mr Osborne making jokes at the Mayor of London's expense – stands as a metaphor for the Prime Minister and Chancellor's "reckless" handling of the economy. In an interview with The Independent on Sunday, Mr Balls said: "What they say about the economy is more important than what they eat or where they drink. But it's indicative of a wider attitude.
"The dinner captures a mood of recklessness. There is a recklessness about getting the GDP figures and putting yourself in that position. This is the Osborne-Cameron way, it's reckless. They are taking the most reckless political gamble with the economy, for political reasons, and it's not paid off. It's been economically catastrophic."
On the eve of the last GDP figures in October, Mr Cameron promised that the "good news will keep coming". Mr Balls added: "Now that just looks completely out of touch and utterly complacent. It is quite a big moment. [The Government saying] 'our plan is working, we'll just carry on regardless' just looks grossly irresponsible."
Mr Balls repeated his call for an immediate VAT cut of 2.5 per cent – costing £12bn – to put money into consumers' pockets, which would lift the economy from its -0.3 per cent doldrums.
But it is not just Labour that is pressing the Chancellor to change course. Following Nick Clegg's admission last week that the Government should have speeded up capital spending in the early days of the coalition, senior figures in both the Liberal Democrat and Conservative parties are urging the Prime Minister, Deputy Prime Minister and Chancellor to implement Lord Heseltine's growth report, published last October, which calls for Plan A austerity to be replaced by a vigorous programme of construction, handing greater powers to local enterprises and making a decision on airport expansion within months – rather than the current deadline of 2015.
The Business Secretary, Vince Cable, is pressing for a massive house-building programme of 100,000 homes in a year – and more action to get banks to lend.
Sir Menzies Campbell, the former Liberal Democrat leader, is also calling for a change of course. He said: "The overwhelming requirement after the 2010 election was to restore stability in an economy which looked as if it was out of all control. The policy of stability has been successful; the issue now is economic growth.
"Having demonstrated that stability has been achieved in my opinion provides a stable foundation for policies which would assist growth, and the Heseltine report of last autumn provides an effective blueprint for such a programme."
The Lib Dem peer and former Treasury spokesman Lord Oakeshott said: "It's pathetic to see George Osborne hiding behind eurozone weakness when the big black hole in our economy is construction – down by a tenth last year. It's not Europe's fault that house-building's collapsed to its lowest peacetime level since 1923. If construction had only been flat last year, GDP would have risen by 0.7 per cent and George Osborne would have been singing, not crying, in the snow in Davos."
Crucially, and despite his presence at the Alte Post gathering, one of the leading critics of Mr Osborne is now the Mayor of London. Mr Johnson, apparently tearing up a temporary truce with the Prime Minister not to rock the boat, laid into the austerity strategy from the Davos platform the next day. He called for investment in housing and transport – two of the key measures in Lord Heseltine's report – lambasting the "hair shirt, Stafford Cripps" agenda. The reference to transport underlined his desire for a quick decision on a new airport or runway in the South-east. Lord Heseltine, and allies of Mr Johnson, believe the Howard Davies commission into airport expansion must publish its findings sooner than the current timetable of 2015.
Even the bankers are weighing in, with Jim O'Neill, chairman of Goldman Sachs Asset Management, warning that the GDP figures showed that "policy has been on the wrong path". The International Monetary Fund has also warned there should be a reassessment of tax and spending policy.
The Tories point out that Mr Balls's charge of "reckless" is a bit rich coming from the closest political ally to Gordon Brown, who left the country saddled with a huge deficit and debt, and that the deepening eurozone crisis of the past two years has left the economy with little room to grow. Yet Mr Balls insists that the eurozone cannot be solely to blame, saying a Labour government would not have imposed a VAT rise to 20 per cent, which has pegged back high-street spending.
The one thing that the Government can point to is the encouraging news on jobs last week – unemployment is down, a picture at odds with the GDP figures. But Mr Balls claims that, while more people are in work, there are also more people accepting fewer hours and lower wages, which is putting a squeeze on living standards. He says the Labour government looked at axeing child benefit for higher earners, which the coalition has just implemented, 15 years ago and "concluded it would be shambolic, chaotic, expensive, unfair and very difficult to deliver".
Given the reported tension between him and Ed Miliband, will Mr Balls be Shadow Chancellor at the next election? "The golden rule of politics that I've learnt is to plan 10 years ahead and always think today might be your last day. Ed and I are working together and we're working back from general election day."
And what about his adversary, Mr Osborne? In the wake of the GDP figures many Tory MPs were privately voicing doubts over whether he should stay. Yet although Mr Cameron has said in the past he would be prepared to fire his friends, sacking the Chancellor would be such a huge admission of failure of strategy and policy that confidence in his government would be undermined.
As the ComRes poll for this newspaper shows, Mr Cameron won an immediate surge in support after his pledge on a referendum on Europe – helping to explain the uproarious atmosphere at the Alte Post. But despite the joviality, Mr Osborne knows his political life is in danger. When confronted by Ben Stewart, the Greenpeace activist who took a covert photo of the group and who asked him if Britain was about to go into a triple-dip recession, Mr Osborne turned thunderous. Mr Stewart said: "The smile turned into a scowl in a second. It was quite chilling."
Bad news week
3: The number of times Britain will have been in recession in four years, if it enters a triple-dip recession
10.2 per cent: The amount by which the mining and quarrying output fell by in the last quarter of 2012 – the biggest decline since records began
3.3 per cent: The economy is now this much smaller than its peak in the first quarter of 2008, having recovered only about half the output lost during the financial crisis
£15.4bn: The amount the government borrowed in December last year; £0.6bn more than the year before
0.3 per cent: The amount by which the economy shrank in the last three months of 2012
4p: The amount by which a litre of petrol is going to increase within the next few days
Join our new commenting forum
Join thought-provoking conversations, follow other Independent readers and see their replies