Ed Miliband leadership turmoil was 'Labour's four-year itch', MP says
Voters think he is more in touch, as our new poll shows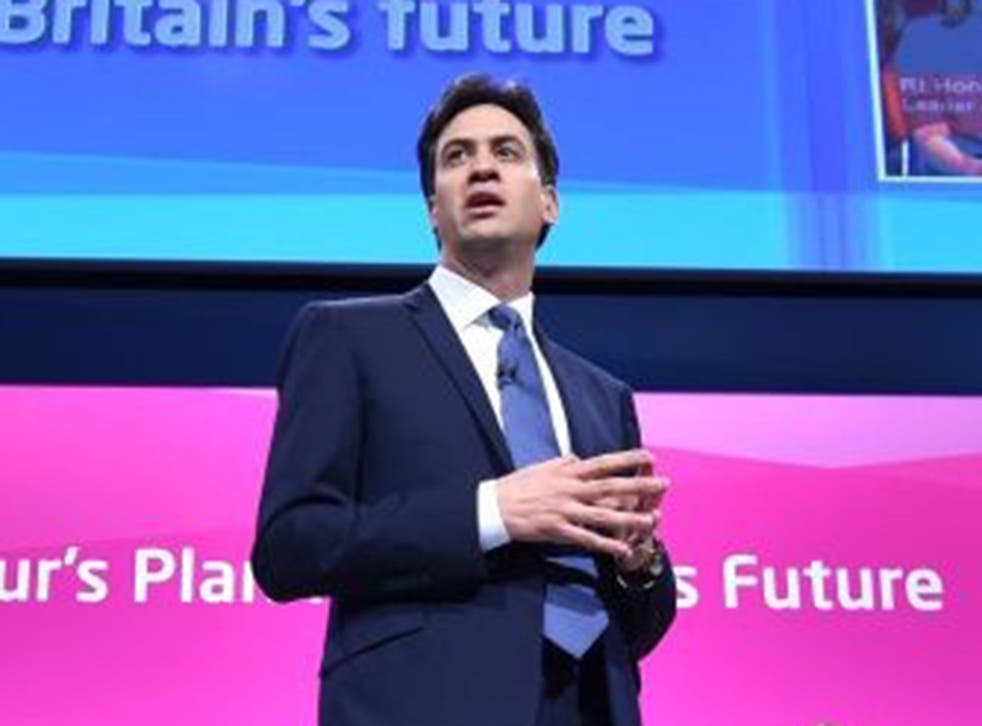 Ed Miliband's leadership turmoil was the result of a "four-year itch" that his party had to go through, one of his MPs says today, as a poll shows voters think he is more in touch than David Cameron with working people.
The ComRes poll for The Independent on Sunday gives Labour a four-point lead over the Conservatives, despite a turbulent two weeks for Mr Miliband. There had been speculation that Labour MPs were on the verge of calling for him to go and be replaced by Alan Johnson.
Mr Miliband's speech on Thursday, in which he said criticism of his leadership would only make him stronger, has won over the "internal doubters", says John Woodcock, one of the party's leading Blairites and the chairman of the Blairite organisation Progress.
In an article for Progress, the MP for Barrow and Furness says the "traumatic experience" of the "leadership turmoil surrounding Mr Miliband has been deeply unsettling".
CLICK HERE TO SEE A LARGER IMAGE
He adds: "In the spirit of moving on so we can regroup, some in Westminster are suggesting that the week of speculation over the leadership has been Labour's equivalent of a four-year itch. Like the best enduring relationships, Labour and Ed himself can emerge stronger from this brief wobble. Critically, the increased pressure has given Ed the platform to remind our party what they saw in him in the first place. That guy is tough and resolute: qualities the British public want from anyone auditioning to be their next prime minister.
"The reception for his fightback suggests he has persuaded internal doubters that he is going to lead Labour into the general election. He will lead us united towards a goal that is open wide. The next election is Labour's to lose. We are facing an incompetent government that is doing the wrong things, badly."
In a veiled message to the Labour leader that he must stick to the centre ground, Mr Woodcock adds: "Ed knows we have a duty to fill the gap the Tories have left with a bold and credible government that is honest about the changes coming down the track. Instead of offering up a scapegoat to blame, Labour's defining mission will be to equip people to deal with and benefit from that change by breaking down the barriers that are shutting them out.
"That will mean ensuring the economy supports good jobs in every area and offering everyone the help they need to get them. It will require our public services and infrastructure programmes to be laser focused on achieving that goal, tackling vested interests of any kind – private or public.
"Above all, it will mean showing we have the discipline and determination to transform our divided country in a new era in which faith in government is low and the option of big state spending has gone for good. We are up for this fight. We are going to work flat out up and down the country to convince people of our bold programme of change and make Ed our prime minister."
The ComRes poll shows little change over the past month. Labour is unchanged on 34 per cent, while the Tories are down one point to 30 per cent. Ukip is unchanged on 19 per cent and the Lib Dems are up one point to 8 per cent.
While 29 per cent of voters think Mr Miliband stands up for working people, only 22 per cent think Mr Cameron does. Some 47 per cent disagree that Mr Miliband is on the side of working people, but 59 per cent think the Prime Minister does not stand up for them. And more people – 38 per cent – believe the Labour leader was right last month to give money to a beggar, against 29 per cent who think he was wrong. Mr Cameron is twice as likely to be seen as making deep cuts to public services if he is prime minister after the next general election than Ed Miliband. However, voters continue to struggle to see Mr Miliband as PM: only 20 per cent can imagine him in No 10, while 59 per cent cannot.
Asked who would play party leaders in a film of their lives, Rowan Atkinson is the most popular choice to play Mr Miliband, while Hugh Grant is cast as Mr Cameron.
Join our new commenting forum
Join thought-provoking conversations, follow other Independent readers and see their replies