Ed Miliband outlines plan to break up Big Six gas and electricity companies and abolish energy regulator
Labour Government to impose biggest shake-up of the energy industry since it was privatised in the 1980s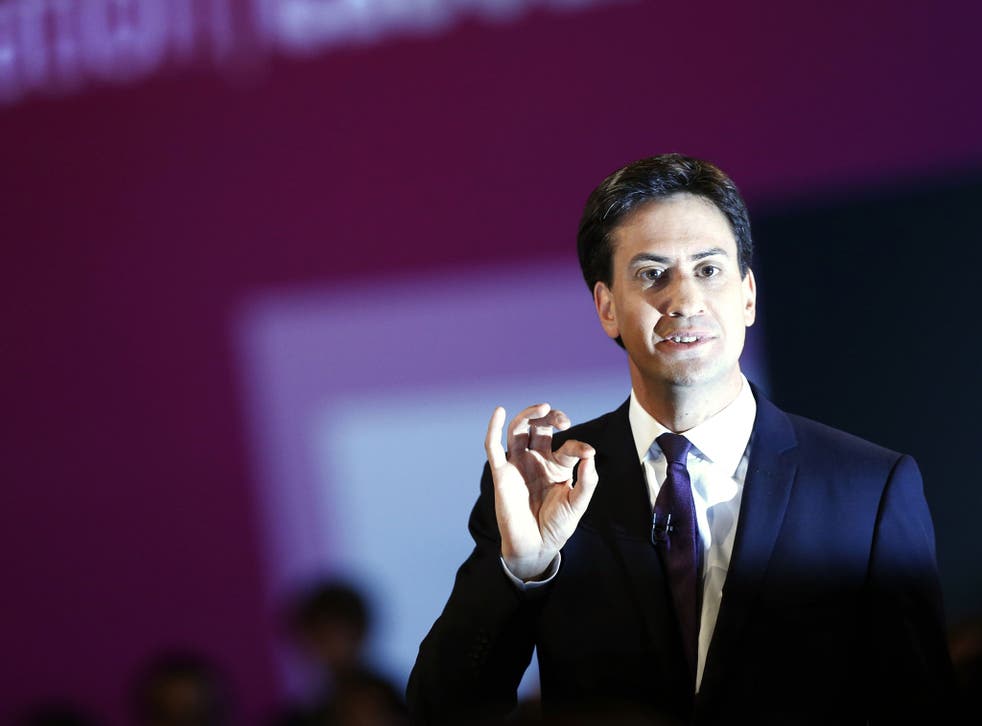 The stranglehold enjoyed by the "Big Six" gas and electricity companies on the energy market would be broken under Labour, with the regulator Ofgem also abolished, Ed Miliband will pledge today.
He will spell out how an incoming Labour Government would impose the biggest shake-up of the energy industry since it was privatised in the 1980s. An Energy Bill would be pushed through Parliament during the 20-month period while energy prices were frozen, as Mr Miliband announced in September.
In a Green Paper published today, Labour will promise to replace Ofgem, which has been attacked as a "toothless tiger", with a new body with "real teeth to prevent overcharging". A new Energy Security Board would be set up to keep the lights on and deliver the capacity Britain needs.
A Labour government would improve competition and transparency to ensure "downward pressure" on bills. Power generation companies would be banned from exclusive deals with their retail arms, which critics claim they use to boost charges and disguise profits. New entrants would be allowed into the market to bid openly for "pooled supplies" and tariffs would be simplified so consumers could compare prices.
Labour launched its policy ahead of next week's Autumn Statement, in which George Osborne will announce plans to cut at least £50 a year from domestic energy bills. Ministers will insist that will deliver real benefits, and claim that Mr Miliband's price freeze would not work because firms could raise charges before and after the 20-month period.
The Chancellor is expected to implement the Energy Companies Obligation scheme, which provides free insulation to low income households, over four years rather than two as originally planned. The warm homes discount, which cuts annual energy bills by £135 for pensioners and vulnerable groups, is likely to be funded from general taxation. Mr Osborne may also reduce the cost of transmitting energy, which is responsible for 20 per cent of the average £1,340-a-year annual fuel bill.
Speaking in Manchester today, Mr Miliband will say: "In the past three years it has become clear to everyone but this Government that the energy market is broken. Prices are rising year on year without justification. And Britain is not getting the investment in energy we need. Labour is setting out our plan to make sure gas and electricity is affordable and available for this generation and generations to come."
The Labour leader will promise: "We will reset the market with real competition and proper regulation so that prices are affordable. We will stop you being ripped off and, together, we will power Britain into the next century."
According to Labour, consumers have paid £3.6bn more than they should have and greater competition would have kept costs down for a typical household by more than £100 a year. It claimed the "Big Six" pay over the odds – by up to 40 per cent – for the energy they sell on, often through back-door deals between different arms of the same company. Labour's "tough new regulator" would have powers to order firms to pass on wholesale savings to the consumer in lower bills; protect the interest of existing and future consumers and ensure they secured fair value from the market.
Labour's Energy Security Board would be modelled on the Office for Budget Responsibility, the independent tax and spending watchdog. It would work with the Government, the National Grid and regulator to set out and implement a timetable for building the capacity Britain needs.
Ofgem insists it is working to "achieve a culture where businesses put energy consumers first and act in line with their obligations". In the past three years, it has completed 14 full-scale investigations, collected more than £35m in penalties and obtained about £6m in redress for customers.
* Chris Huhne, the former Liberal Democrat Cabinet minister, has said his party and Labour could form a "historic radical coalition" after the 2015 general election. He dismissed speculation that Nick Clegg would not be able to forge a partnership with Labour in a hung parliament.
Join our new commenting forum
Join thought-provoking conversations, follow other Independent readers and see their replies