Ed Miliband vows to wield the axe on public services to balance books
Labour pledges to cut deficit while protecting services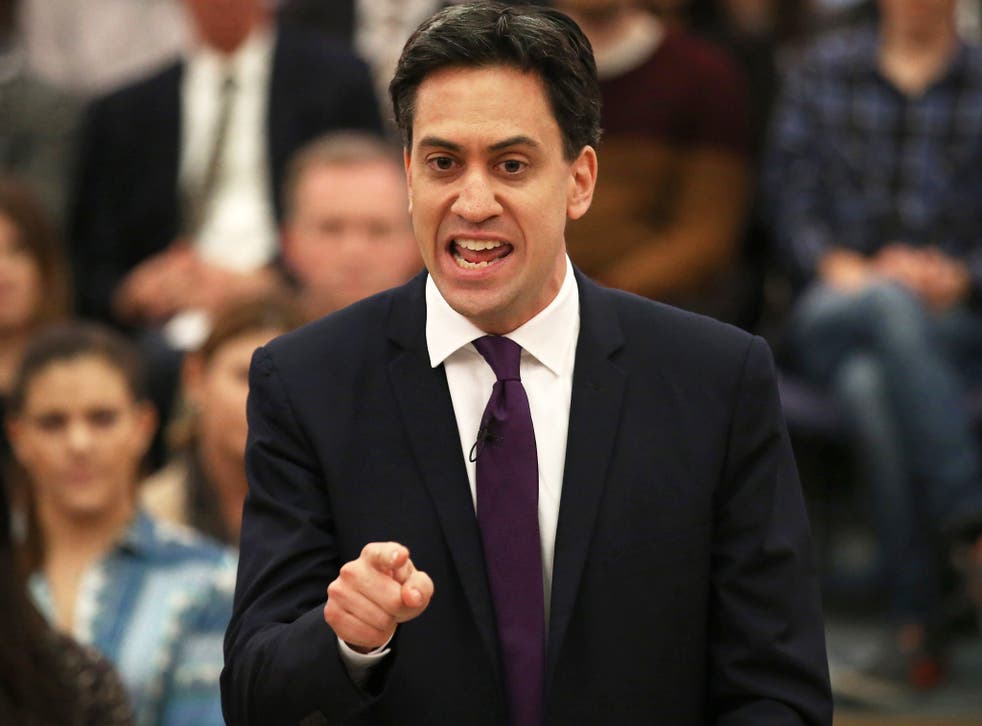 Ed Miliband will make a pitch for the political centre ground today by pledging to cut the budgets of most Whitehall departments every year until the nation's books are balanced. In his most crucial economic speech since becoming Labour leader, he will tackle the party's lack of credibility on the issue by unveiling a "tough but balanced" approach to clearing the deficit by the end of the 2015-20 parliament.
His shift will be welcomed by Blairite MPs, who have been urging him to say more about where Labour would make painful cuts.
Ed Balls, the shadow Chancellor, has written to Shadow Cabinet members ordering them to spell out how they would reduce their department's spending every year until the deficit has been eliminated. Only the NHS and overseas aid are exempt from the squeeze, but Labour is likely to pledge to ring-fence the education budget before next May's general election.
Mr Miliband believes that George Osborne left the centre ground open for Labour in last week's Autumn Statement post-election cuts that would reduce state spending to its lowest level as a share of national income since the 1930s. Speaking in London today, the Labour leader will accuse the Conservatives of being "extreme and ideological, committed to a dramatic shrinking of the state… They are doing it, not because they have to do it, but because they want to."
He will seek to reassure progressive voters that Labour's tougher approach to the deficit will not mean copying the Tories. "We will deal with the deficit but we will never return to the 1930s," he will say, insisting that working people would pay the price of not tackling the deficit.
At the same time, Mr Miliband will tell centre-ground voters who have turned away from his party that they would enjoy the best of both worlds under a Labour government – tackling the deficit without putting key public services at risk, as the Tories would.
He will announce Labour's five principles on deficit-reduction:
balancing the budget on day-to-day spending on services "as soon as possible" before 2020, but not on "productive investment" such as infrastructure projects;
tackling the cost-of-living crisis to stop reduced tax revenues making the deficit bigger;
sensible spending cuts, not "slash and burn";
the wealthiest to bear "the biggest burden" through tax rises, not ordinary people;
fully funded commitments without additional borrowing.
Outside experts calculate that such an approach would allow Labour to borrow £28bn a year more than the Tories, as it would cut the deficit more slowly. Labour has been agonising over whether to make a virtue of that, risking Tory charges of a "borrowing spree", or highlighting its own spending cuts. Today's speech is an attempt to square the circle.
In pictures: Chancellor George Osborne delivers his Autumn Statement

Show all 8
Mapping out the election battle lines, Mr Miliband will declare: "The Tory vision is clear: the wealthiest being looked after, everybody else on their own, public services not there when you need them. Our vision is different: a country that works for everyday people, with public services your family can rely on, a government that prioritises working people so we can earn our way out of the cost-of-living crisis, a Britain built on strong economic foundations."
The Labour leader will say: "This is the central contrast between our approach and the Conservatives'… We won't take risks with our public finances. And we won't take risks either with our public services, our NHS." Mr Miliband will claim the Tories' plan for £7.2bn of income tax cuts by 2020 would put public services at risk.
In his letter, Mr Balls said the Labour manifesto would set out a limited number of priority areas whose budgets would be ring-fenced. He told shadow ministers: "In the meantime you should be planning on the basis that your departmental budgets will be cut not only in 2015-16 but each year until we achieved our promise to balance the books."
For the Tories, Matthew Hancock , the business minister, said: "Labour's policy is to run deficits forever – more borrowing that would add to the national debt every single year. That would mean more debt than hard-working taxpayers could ever hope to repay. This risk to the economic recovery is exactly why Ed Miliband simply isn't up to the job."
Join our new commenting forum
Join thought-provoking conversations, follow other Independent readers and see their replies