English votes for English laws: What are the 'veto' proposals put forward by the Tories – and how are they likely to work?
William Hague was today due to unveil plans which would see English MPs consider amending stages of Bills that relate only to England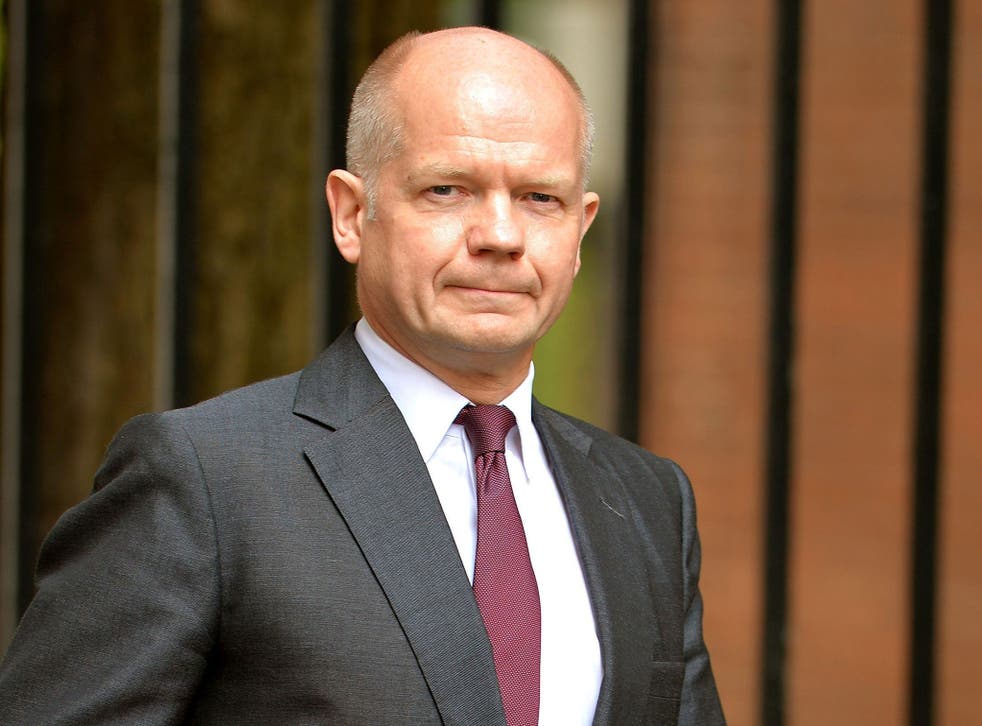 English MPs could be given a 'veto' over laws which only affect England, including income tax rate changes, under new parliamentary plans to be put forward by the Conservatives.
Leader of the Commons William Hague is due to unveil plans which would see English MPs able to decide on whether a Bill or parts of a Bill on "England-only" matters proceed to a final vote of all MPs in the House of Commons.
It would also allow only English MPs to consider the amending stages of such Bills. Welsh MPs meanwhile would be included on matters not devolved to the Cardiff Assembly.
Mr Hague is expected to describe the option chosen by his party as the least radical of the three alternatives put forward in the face of demands for "English votes for English laws".
But how exactly will the plans work – and how have they been received?
How would the proposals work?
Under the proposals, before a Bill or parts of a Bill which relate only to England are put to a final vote in the Commons, MPs for English seats would meet in an "English Grand Committee" to decide on whether or not they should proceed, Mr Hague today told BBC1's Breakfast.
The committee stage, where the finer details of the bill and amendments are discussed, would also only be attended by English MPs.
The proposal however would still require a majority of all UK MPs to pass as legislation.
Mr Hague said: "That would really give English control over what is passed, but it would keep the United Kingdom Parliament together at the same time.
"MPs from all parts of the UK would continue to debate, as they do now, anything they want. It is just that they would only be able to pass measures relating only to England with the agreement of the English MPs."
So Scottish MPs would still be able to vote on matters which do not relate to their constituents?
Yes, but Mr Hague has insisted the plans would mean English MPs would have the "decisive" say.
Asked whether former SNP leader Alex Salmond, who is hoping to win a Westminster seat at the upcoming election in May, would be able to vote on English legislation, the Commons Leader said: "He will be voting on it but the decisive votes will be cast by the English Members of Parliament."
Who would decide on what was an 'England-only' matter?
So far, Mr Hague has said it would probably be for the Speaker of the Commons to decide which measures should be treated as England-only, adding there would have to be "a mechanism" for making the decisions.
He told the BBC: "Most of the recommendations from all the studies have said you would have to ask the Speaker of the House of Commons or some other impartial authority to certify when a piece of legislation or part of it is English or English and Welsh or United Kingdom. That's the system we would have to adopt."
Why does Mr Hague want to introduce the proposal?
The Commons Leader is expected to argue that the reform is a "fundamental issue of fairness."
He will say: "How could it possibly be right for the Scottish Parliament, for example, to vote for a reduction in Air Passenger Duty in Scotland and then for Scottish MPs to come to Westminster and be able to impose an increase in Air Passenger Duty in England?
"You only have to think about this for a moment to see how fundamentally important this is and how such issues have to be addressed. Under our proposal this would not be possible without the agreement of English MPs.
"The English veto should be extended to taxation when the equivalent decisions have been devolved to Scotland - and under a Conservative Government it will be."
Are we likely to see the proposals in place anytime soon?
Mr Hague wants to see the reforms debated in the Commons before the general election and has said the proposals will feature in the Conservative manifesto for the general election on 7 May.
He said the plans will be "a very high priority" for the Tories if they win an outright majority in the election.
Scottish independence: Referendum results in pictures

Show all 15
Is everybody happy with these proposals?
Not really. The proposals have fallen short of the English parliament demanded by some MPs, including Tory former Cabinet minister John Redwood, who told the Daily Mail that the plans need to be "strengthened" in order to win support from Conservative MPs.
He said: "Scotland can do what it likes under its devolved powers – we are asking for the same."
It is believed that some Conservative MPs believe only the more radical option of giving Scottish MPs no vote at all on English matters would meet promises made by Prime Minister David Cameron, who directly linked the English votes issue to the granting of new powers to Holyrood in his immediate response to the rejection of independence by the electorate in Scotland.
A Downing Street source has acknowledged there were "clearly different views" within the party but expected "very widespread support" for the chosen option.
How is this likely to affect Labour?
While some Tory MPs may feel the powers do not go far enough, there is likely to be some cheer among Conservative ranks over the potential difficulties it could raise for any future Labour government, reliant on its own Scottish MPs, or the support of the SNP, for a Commons majority.
Mr Hague has in fact pointed out the proposed changes would curtail the ability of a future government which did rely on Scottish MPs' votes for a Westminster majority to pass legislation on England-only matters, including health, education and transport.
He told the BBC Radio 4's Today programme: "It would be able to get many things through that are United Kingdom matters, but when it came to England then it would have to have regard to the majority in England. That is a necessary corollary of greater devolution to Scotland and Wales."
Additional reporting by PA
Join our new commenting forum
Join thought-provoking conversations, follow other Independent readers and see their replies