EU deal: David Cameron and Francois Hollande make 'good progress' with draft proposals days ahead of Brussels crunch talks
Downing Street says talks were 'constructive' on both UK renegotiation and Syria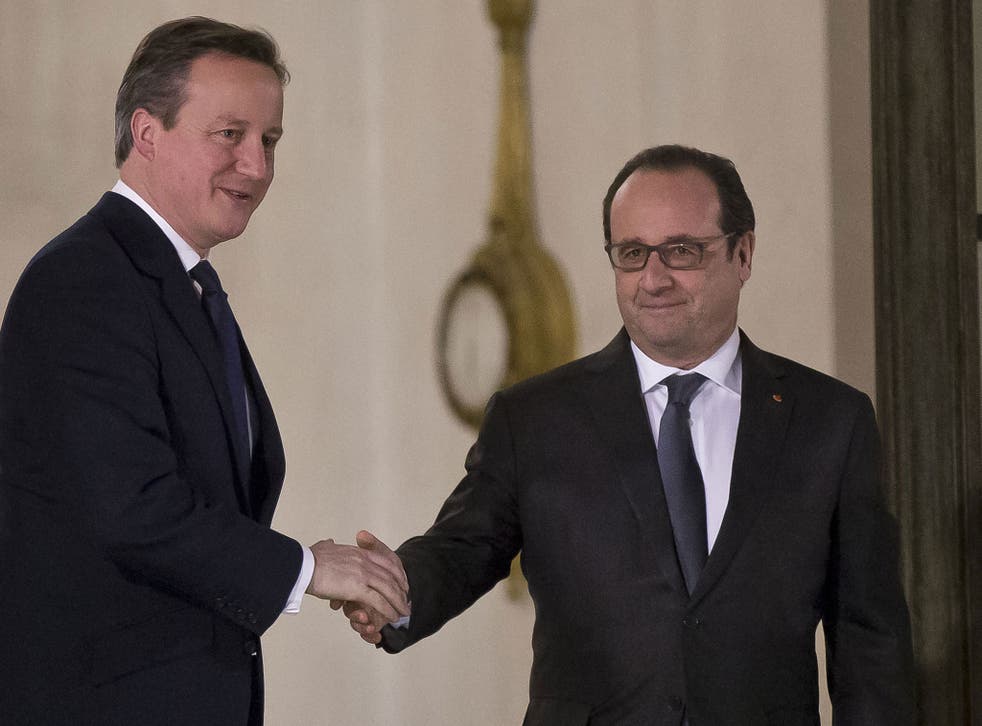 David Cameron and French president Francois Hollande have agreed that the draft proposals for reforming Britain's membership of the EU provide a "firm basis" to agree a deal this week, Downing Street has said.
The hastily arranged meeting with Mr Hollande came ahead of a crunch Brussels summit at which the Prime Minister hopes to sign up EU leaders to the reforms so he can hold an in/out referendum in June.
Downing Street's assertion suggests French concerns over protections for non-eurozone states and special treatment for the City of London have been calmed.
A Number 10 spokesman said: "The Prime Minister and President Hollande had constructive discussions on both the UK renegotiation and Syria in Paris this evening.
"They agreed that we are making good progress on the UK renegotiation and that the draft text from the European Council provides a firm basis to reach agreement at this week's summit."
Mr Cameron will now travel to Brussels for talks with selected MEPs today amid Eurosceptic warnings that the European Parliament could veto aspects of the deal after the referendum.
MEPs will eventually have to approve parts of the reform package including restrictions on EU citizens' benefits but Downing Street has insisted any deal would be a "legally binding document under international law, entered into by the 28 leaders of member states" and that the European Parliament should deliver on that.
But the Vote Leave campaign has claimed any deal will have the "legal weight of an unsigned contract" because none of it will be enshrined in EU treaty change.
The group claimed the European Court of Justice will only accept a ratified change of EU treaties as legally binding and said the court had overriden an agreement made between Denmark and and the EU in 1992 and ignored UN Security Council resolutions.
Meanwhile, Labour MP Chuka Umunna will deliver a speech for the Britain Stronger In Europe campaign to present research which shows that 64 per cent of UK goods trade is conducted with EU countries and those countries with whom the EU has free trade agreements.
UK news in pictures

Show all 50
The research by the Centre for Economics and Business Research think tank found that this cumulative trade was worth £466 billion in 2014.
Mr Umunna is also expected to back Mr Cameron's proposed deal and describe it as "meaningful and deserving of our support".
Earlier on Monday, European Council president Donald Tusk warned that Mr Cameron's renegotiation was "very fragile" and unless handled carefully could lead to the break-up of the union.
Mr Tusk is undertaking a whirlwind tour of EU capitals including Berlin, Paris and Athens to sell the package of reforms he drafted in response to Mr Cameron's demand for change.
Britain's renegotiation is the first item on the agenda for the two-day European Council summit in Brussels beginning on Thursday.
However, the gathering of 28 EU leaders is not scheduled to conclude until Friday lunchtime, after which Mr Cameron will call an immediate Cabinet meeting if he secures a deal.
The meeting will effectively fire the starting gun on the referendum battle, as Eurosceptic ministers will be given the green light to campaign for a Leave vote in the poll expected on June 23.
Agreement this week remains far from certain, with Downing Street confirming that key details still need to be "pinned down".
Mr Cameron has made it clear he is ready to wait until the next summit in March to try again for a deal, rather than accept one that falls short of his demands.
If the summit runs over into Friday evening or Saturday, the PM will review whether to call ministers to Number 10 for a weekend Cabinet meeting.
PA
Join our new commenting forum
Join thought-provoking conversations, follow other Independent readers and see their replies