EU referendum: Campaigning to begin again as race enters home straight
Both sides paused their activities in the wake of the killing of Labour MP Jo Cox on Friday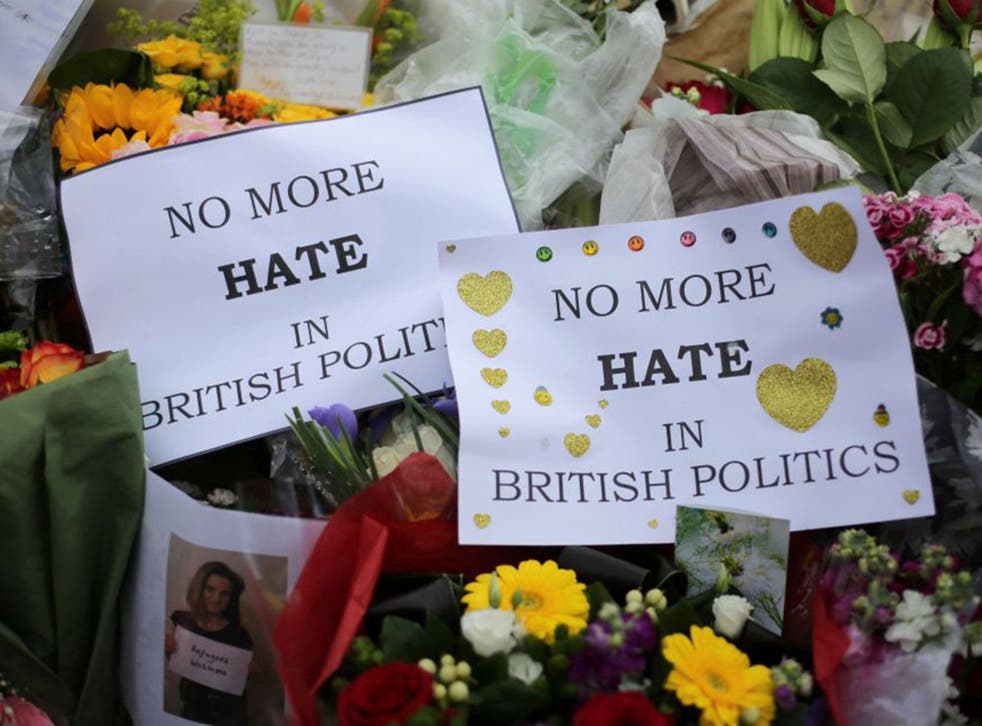 Campaigning in Britain's European Union referendum will gradually resume on Sunday after both sides paused their activities in the wake of the killing of MP Jo Cox.
Scores of rallies and battle bus activities scheduled by Vote Leave and Stronger In going into the home stretch before the vote were shelved following the incident on Thursday. But with the weekend drawing to a close and tributes mounting for Ms Cox, campaigners on both sides will once again take to the streets and airwaves to make their arguments.
On Sunday, David Cameron plans to appear on a BBC Question Time special to make the case for Remain as planned, while Vote Leave will also go ahead with a rally in the capital. Polls show mixed results for the two campaigns in the final stretch – with surveys by YouGov, ORB, and Ipsos MORI released last week showing small but persistent leads for Leave.
A BMG telephone poll for the Herald newspaper released on Saturday however gave Remain a narrow lead – though it showed a tightening towards Leave from previous surveys by the firm. That survey was conducted largely before the news about Ms Cox's death broke, however, and does not reflect changes in the campaign since that incident. Its release was delayed due to the coverage of her killing.
It is not yet clear whether Ms Cox's killing will have impacted the polls or affected the referendum's final result.
Going into the next week Sadiq Khan and Boris Johnson will face off in a referendum debate at the Wembley arena on Tuesday, while Jeremy Corbyn will appeal to younger voters on a Q&A hosted by Sky News on Monday. MPs will briefly return to Westminster from recess on Monday in order to pay tribute to the slain MP's life and work in the House of Commons.
There have been suggestions that MPs might eschew their usual oppositional seating pattern in the chamber and instead mix together in different parties as a show of unity. Conservative MP Jason McCartney, who represents a constituency close to Ms Cox's, has written to the Speaker asking for the usual seating arrangements to be set aside.
Liberal Democrat leader Tim Farron, who also endorses the plan, said: "Symbolism matters. This is a great idea. I hope we can do this on Monday to show we all stand united against hate." John Bercow, who is in charge of seating arrangements, is said to be currently considering the request.
The return of campaigning poses a particular dilemma for the Leave campaign, which has focused on the issue of immigration with laser-like intensity in recent months. On the day of Ms Cox's killing Ukip leader Nigel Farage launched a new poster featuring refugees which many on social media compared to "Nazi propaganda". Ukip denied the comparison. Though the aggressive anti-immigration approach appears to have been bearing fruit for Leave in the polls, it remains to be seen whether the public mood has shifted in light of Ms Cox's killing and revelations about her alleged killer.
What has the EU ever done for us?

Show all 7
The MP was a vocal campaigner and supporter of refugees, immigration, and multiculturalism. Thomas Mair, who has been charged with her murder, refused to give his name in court and instead stated as "Death to traitors, freedom for Britain", when he appeared at Westminster Magistrates' Court.
Ms Cox's attacker was said by eyewitnesses to have shouted "Britain first, keep Britain independent", and "Britain always comes first, this is for Britain", according to court filings. As police officers arrested Mair, he was heard to say "I'm a political activist", according to police. A search of Mair's house found material relating to far right ideology and white supremacy groups, as well as newspaper articles relating to Mrs Cox.
The European Union referendum will take place on 23 June. The deadline to register to vote has already passed.
The EU referendum debate has so far been characterised by bias, distortion and exaggeration. So until 23 June we we're running a series of question and answer features that explain the most important issues in a detailed, dispassionate way to help inform your decision.
What is Brexit and why are we having an EU referendum?
Does the UK need to take more control of its sovereignty?
Could the UK media swing the EU referendum one way or another?
Will the UK benefit from being released from EU laws?
Will we gain or lose rights by leaving the European Union?
Will Brexit mean that Europeans have to leave the UK?
Will leaving the EU lead to the break-up of the UK?
What will happen to immigration if there's Brexit?
Will Brexit make the UK more or less safe?
Will the UK benefit from being released from EU laws?
Will leaving the EU save taxpayers money and mean more money for the NHS?
What will Brexit mean for British tourists booking holidays in the EU?
Will Brexit help or damage the environment?
Will Brexit mean that Europeans have to leave the UK?
Join our new commenting forum
Join thought-provoking conversations, follow other Independent readers and see their replies