EU referendum: David Cameron gives Conservative ministers freedom to campaign for a 'leave' vote
Prime Minister announces move designed to limit the political damage caused by Tory splits on Europe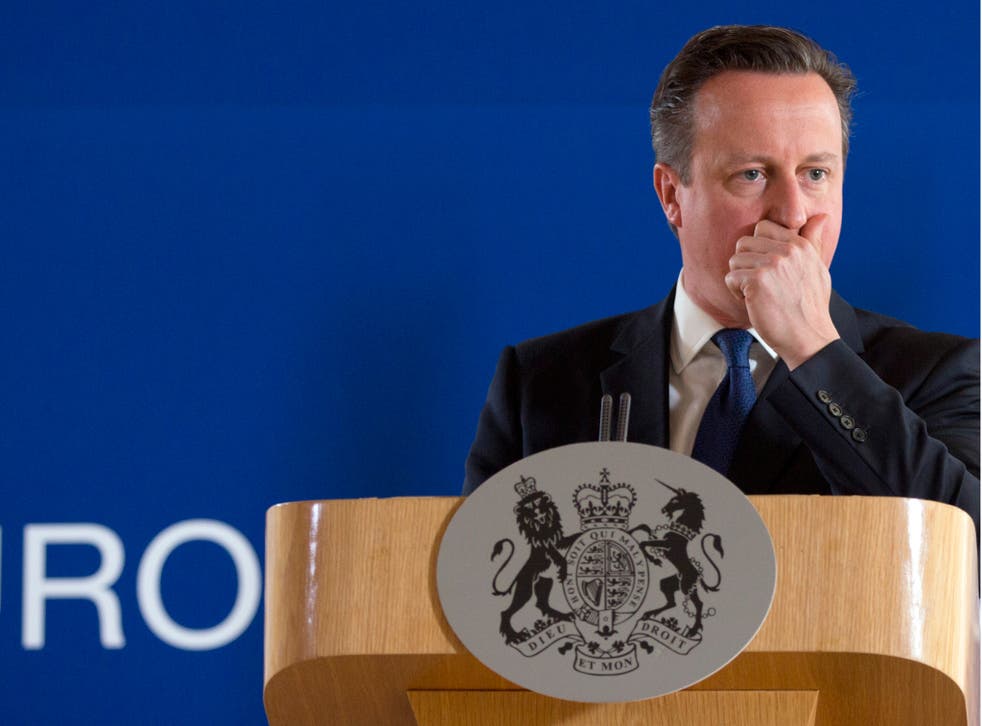 David Cameron has bowed to the inevitable and conceded that Conservative ministers will be free to spearhead the campaign for Britain to leave the European Union while staying in the Government.
In a move designed to limit the political damage caused by Tory splits on Europe, Mr Cameron announced that the Government's collective responsibility on the issue would be suspended in the run-up to the referendum.
The decision avoids the prospect of a number of cabinet Eurosceptics resigning from the Government to campaign for a "leave" vote and mirrors a similar decision taken by Harold Wilson in the run-up to the 1973 European referendum.
However, ministers will still be under considerable pressure to toe the line and back Mr Cameron if he decides to recommend a vote to stay.
A number of up-and-coming Eurosceptic ministers such as the Business Secretary Sajid Javid and the Welsh Secretary Stephen Crabb may decide to keep quiet rather than harm their future promotion prospects. Others, such as Iain Duncan Smith and Chris Grayling who are at the end of their ministerial careers are almost certain to join the "leave" campaign.
Eurosceptic Tory MPs

Show all 7
What is yet not known is how future Tory leadership candidates such as Boris Johnson and Theresa May will decide to jump. If either were to spearhead a successful "leave" campaign then they would be ideally placed to succeed Mr Cameron – whom most Tories believe would be forced to resign in the aftermath. But if they lost, their chances of replacing him would be badly, if not irreparably, damaged.
Mr Cameron made clear in his statement to MPs that while individual ministers would have a choice, the Government as a whole would still have a "clear" view that would be decided at the end of Britain's renegotiation. Until then ministers will not be free to express a view on which way they are likely to vote.
He added: "It is the nature of a referendum that it is the people not the politicians who decide. It will be open to individual ministers to take a different personal position while remaining part of the government.
"Ultimately it will be for the British people to decide this country's future by voting in or out of a reformed European Union."
The former Chancellor Kenneth Clarke, a staunch pro-European, told BBC Radio 4's World At One that the Prime Minister faced a "very difficult task" if he was to "avoid splitting the party" and claimed he had been "forced into" his announcement by ministers briefing the media that they could quit".
Alan Johnson's Brexit warning
He added that frontbenchers should resign if they disagree with the Government, and said "firm ground rules" were needed to ensure cabinet ministers campaign "moderately" and "don't get carried away".
Alan Johnson, the chair of the Labour In for Britain campaign, said Mr Cameron's move represented a "strange way to run a country".
"The Prime Minister will go and negotiate an agreement and come back and put it to the Cabinet – where in my 11 years in cabinet collective responsibility held – and whoever wins in that debate, that will be government policy," he said.
"And yet government ministers will be able to go off and argue in a different way. This is not an issue like abortion or euthanasia which is traditionally a free vote. This is very fundamental to running the country."
Speaking before Mr Cameron's announcement, Mr Johnson, the London Mayor, told LBC radio: "If we don't get what is good for Britain and for Europe, then we should not hesitate to say 'No'."
Join our new commenting forum
Join thought-provoking conversations, follow other Independent readers and see their replies