EU referendum: David Cameron says Britain must stay in Europe to tackle 'dangerous ideologies'
Speaking in Hamburg, the Prime Minister says it is 'vital' for UK to remain in EU to face down 'murderous ideologies'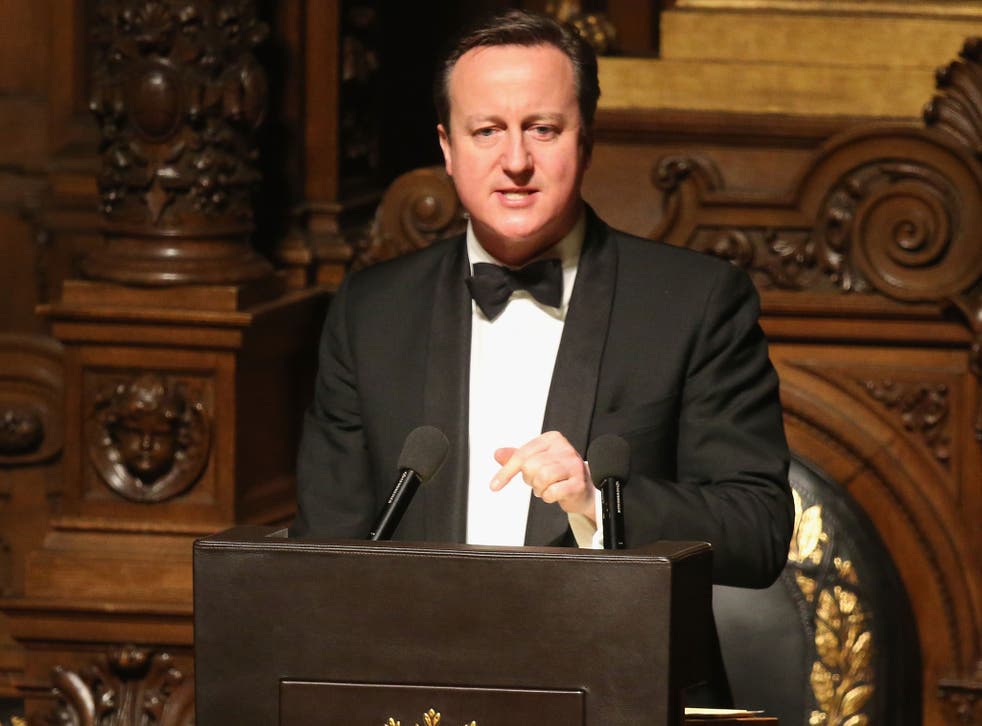 The world would be a more dangerous place if Britain voted to leave the European Union, David Cameron has claimed, as he travelled to Germany in a final effort to enlist the backing of Angela Merkel for his renegotiation demands.
In a speech in Hamburg, Mr Cameron said it was "vital to keep Britain in a reformed EU" to face down "dangerous and murderous ideologies" and stand up for democracy and the rule of law.
His address was a final set-piece event before meeting other EU leaders in Brussels next week, where he will need to win the backing of all 27 other member states for his demands. He was due to hold talks with Chancellor Merkel on the fringes of the event, hoping to win her support in preventing key British demands from being watered down during the summit.
Mr Cameron knows that he needs to secure terms at least as good as those outlined by the European Council president Donald Tusk last week if he is to have any chance of claiming the renegotiation as a success.
Dave Brown on David Cameron

Show all 11
However, he is facing resistance from other countries, notably France, over the safeguards he is demanding on further Eurozone integration. Eastern European countries are also understood to want to water down the emergency welfare break plans. The Prime Minister has cleared his diary to hold talks with some of the doubters, including French president Francois Hollande, Greek prime minister Alexis Tsipras, Romanian president Klaus Iohannis and Czech premier Bohuslav Sobotka.
Mr Cameron raised the prospect of a Russian threat as a reason why Europe was stronger together. "The reason why I believe it is so vital to keep Britain in a reformed European Union is that, when I look at the world today and where it is going, I am convinced more than ever that we need Britain and Germany working together to shape a European Union that can deliver prosperity and security for us all," he said.
"In a world where some countries claim you can be a great economic success but bypass democracy, restrict the free press and go without the rule of law, we need to stand together, and show that – far from holding countries back – these things make us stronger."
Specifically mentioning Russia, he added: "In a world where Russia is invading Ukraine and a rogue nation like North Korea is testing nuclear weapons, we need to stand up to this aggression together and bring our economic might to bear on those who rip up the rulebook and threaten the safety of our people."
But in a reminder of the obstacles Mr Cameron will face selling the deal back home, more than 130 Conservative councillors wrote to The Daily Telegraph warning he risks splitting the party unless he accepts his renegotiation has failed and campaigns for Britain to leave the EU.
They wrote: "You made clear that if you did not get the deal you wanted in Europe you would not rule out campaigning for Britain to leave the European Union yourself, and we hope you will now unite your party and Britain in doing so." Mr Cameron is anxious to get a final deal in place in time to be able to put the outcome to an In/Out referendum on the UK's continued membership in June. No 10 fears that any delay beyond early summer could play into the hands of the Out camp, making it harder for the Prime Minister to secure an In vote.
Out campaigners claimed the latest text represented a further watering down of a plan they had already dismissed as inadequate. Downing Street sources, however, insisted the substance remained unchanged, with only "minor technical changes" to the draft wording.
Labour's former shadow chancellor Ed Balls threw his weight behind Mr Cameron's EU welfare-reform agenda but warned there was "a lot more to do" to persuade the country to vote to stay in.
"We have got to show our population that Britain's influence can be used to make real changes in Europe and that's what David Cameron is trying to do through his renegotiation," he said. "We can only make those changes from the inside; we can't solve the problems of companies not paying their tax or Europe's failure to tackle the refugee crisis from the outside."
Join our new commenting forum
Join thought-provoking conversations, follow other Independent readers and see their replies