EU referendum: David Cameron warned 100 Tory MPs will vote for UK to leave Union unless he wins reforms
The Prime Minister's post-election honeymoon with his own MPs ended as Eurosceptic Tories set out demands that he has little chance of securing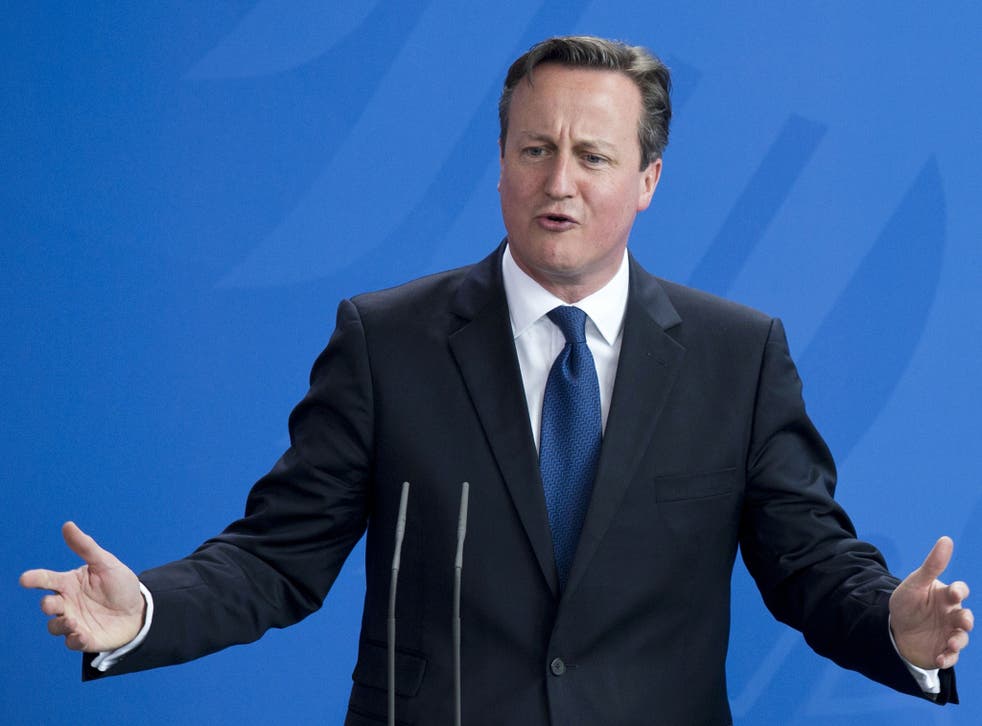 David Cameron has been warned that 100 Conservative MPs will vote for Britain to leave the European Union unless he wins the reforms they want when he renegotiates new membership terms.
The Prime Minister's post-election honeymoon with his own MPs ended as Eurosceptic Tories set out demands that he has little chance of securing. They include reforms to the EU's freedom of movement rules and allowing the UK Parliament to veto EU laws.
The Conservatives for Britain group, launched on 7 June, claimed that up to nine Cabinet ministers could support a No vote to the EU in the referendum that will take place by the end of 2017.
Mr Cameron made clear that Conservative ministers would have to resign if they failed to back his position in the referendum. Speaking at the start of the G7 summit in Germany, he said he expected all Tory ministers to accept the deal he negotiates and that they would have to leave the Government if they decide to support a No campaign. He was not prepared to compromise with former Cabinet ministers, such as Owen Paterson and Liam Fox, who have called for a period of "purdah" before the referendum during which the government machine would remain neutral as it does before elections.
"If you want to be part of the Government you have to take the view that we are engaged in an exercise of renegotiation and that will lead to a successful outcome," he said. "The Government isn't neutral in this we have a clear view; (we) get a deal that is in Britain's interest and then recommend that Britain stays in. Everyone in government is signed up to the programme set out in the Conservative manifesto."
But in a move likely to infuriate Tory rebels, Mr Cameron suggested he might be prepared to accept a renegotiation deal that did not include treaty change as long as it could not be challenged by European courts. "The deal has got to be clear, legally binding; it's got to be what it says on the tin," he said. "That's what I'm shooting for."
Treaty change is one of the key demands of Conservatives for Britain. Steve Baker, its co-chairman and MP for Wycombe, said more than 50 Tory MPs had signed up and he expected their ranks to grow to 100. He insisted the group wanted Mr Cameron to succeed in the renegotiation and that its demands were in line with his previously stated goals. "We must explore the possibility of leaving if the EU does not agree to radical reform," he said.It would be "remiss not to prepare for an Out campaign."
But Philip Hammond, the Foreign Secretary, told the BBC's Andrew Marr Show that a unilateral veto for Parliament on EU laws was "not achievable" because "that would effectively be the end of the EU."
Mr Cameron said he could see no reason why the referendum debate could not be held on the same day as other UK elections - despite a call by the Electoral Commission for it to be held on a separate date. That means the plebiscite could be held next May, when there are elections for local authorities, the Scottish Parliament and Welsh assembly and Mayor of London.
"My view is that we should hold the referendum when we've completed the negotiation," he said. "The British public is perfectly capable of going to a polling booth and making two important decisions rather than just one."
Rafal Trzaskowski, Poland's Secretary of State for European Affairs, told The Observer that Mr Cameron should not try to dupe British voters into thinking the UK could "keep all the goodies and forget about the costs" if it left the EU.
Speaking ahead of a meeting with Mr Cameron, President Obama re-iterated his desire for Britain to remain as a member of the EU.
"I would note that one of the great values of having the UK in the EU is its leadership and strength on a whole host of global challenges, so we very much are looking forward to the UK staying part of the EU because we think its influence is positive not just for Europe, but also for the world."
He added: "We have no closer partner around the world on a whole host of issues."
Conservatives for Britain: What you need to know about the group
Who are they?
More than 50 Tory MPs have signed up. The co-chairmen include Steve Baker, MP for Wycombe and David Campbell Bannerman, an MEP and former deputy leader of Ukip
Former Cabinet ministers Owen Paterson and John Redwood have signed up
Other Tory MPs include Bernard Jenkin, Julian Lewis and Adam Afriyie and newly-elected James Cleverly, Tom Pursglove, Craig Mackinlay and Anne-Marie Trevelyan.
What do they want?
They say they want David Cameron to succeed in his bid to negotiate "fundamental change" to Britain's EU membership terms. But most members are likely to vote No in the referendum whatever he wins
What are their specific demands?
The group says it is not setting out non-negotiable "red lines" yet
However, it wants to restore the sovereignty of the British Parliament by allowing it to veto any EU law that threatens the UK. Ministers say that it unrealistic and are working on a "red card" system under which several EU parliaments to block a law from Brussels
The group wants reform of freedom of movement rules, an EU tablet of stone. Mr Cameron is focusing on limiting state benefits to EU migrants after Germany refused to back changes to freedom of movement
The group wants a free trade relationship with the EU but also "a common market with the world" so that the UK can strike deals with fast-growing economies without "European barriers". Pro-Europeans argue that Britain would have less negotiating clout if it left the biggest single market in the world.
Join our new commenting forum
Join thought-provoking conversations, follow other Independent readers and see their replies