EU referendum: Former Ukip backers launch £20m campaign to persuade voters to leave European Union
The millionaire businessmen heading the campaign deny they are front organisation for Ukip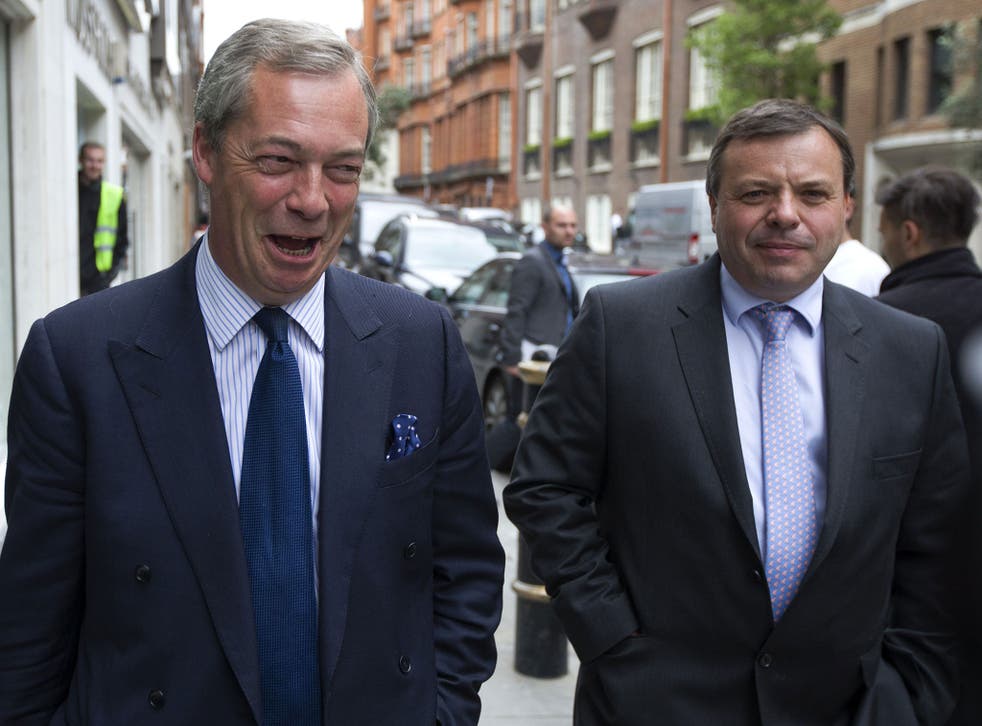 A group of former Ukip backers is to launch a £20m campaign to persuade the public to vote to leave the European Union in the in/out referendum to be held by 2017.
The millionaire businessmen heading the "TheKnow.eu" campaign, who have applied to the Electoral Commission for public funds, deny they are front organisation for Ukip. Although they are close to Nigel Farage, they claim he is not the right man to head the Out campaign because he and his party would repel some voters.
Some Eurosceptic Conservative MPs are worried that infighting and dirty tricks among rival anti-EU groups will undermine the Out campaign. "There are a lot of people scrambling to be in the lead and get control of it," one MP said.
The lead organisation for both the Yes and No camps, to be designated by the Commission, will qualify for up to £600,000 of public funds, a leaflet drop to every household and free broadcasts. Crucially, their spokesmen will also secure airtime from broadcasters.
Tory Eurosceptics claim that "TheKnow.eu" should not get taxpayers' money because it is not an all-party group, and accuse it of trying to squeeze the Tories out of the campaign. Three Tory MPs – Owen Paterson, Steve Baker and Bernard Jenkin—have joined forces with Labour's Kate Hoey, Graham Stringer and Kelvin Hopkins to form an "exploratory committee" for the EU referendum, seen as the embryo Out campaign. Douglas Carswell, Ukip's sole MP who has had differences with Mr Farage, is also on this group, which close links with the Business for Britain organisation.
"TheKnow.eu", which will be launched in September, will not have a single figurehead but about 10 "ambassadors" from different walks of life. It describes itself as "non-political and outside of the Westminster bubble", promising to give the public "the truth" and a "relentlessly positive" case for being outside the EU.
It has been set up by businessman Arron Banks, who gave £1m to Ukip last autumn. He told The Independent: "Ukip has served its natural purpose…Nigel [Farage] massively contributed to securing the referendum."
He said Ukip had "a lot of issues", "noises off" and internal divisions which had made it "the longest-running farce in the West End." He said he was friends with Mr Farage but dismissed as "complete rubbish" the claim that his group was a Ukip front. He said there was a "difference of opinion" with Mr Farage over his decision not to fund Ukip's referendum campaign.
Mr Banks, who made a £100m fortune in insurance, said his group would be a grassroots movement like the Countryside Alliance.
"TheKnow.eu" has received about £100,000 from Jim Mellon, who is said to have made £850m from property and finance. A tax exile who lives on the Isle of Man, he has hosted fund-raising events for Mr Farage and given money to Ukip through a Shropshire-based company he jointly controls.
Ukip has promoted the new group to its members, telling them: "The Out campaign is gathering momentum". It said: "Some Eurosceptics - particularly within and around the Conservative Party - are holding back, waiting to see the outcome of David Cameron's negotiations [on Britain's EU membership terms]. But that's just dancing to Cameron's tune. It's irrelevant what he pretends to get: he's trying to keep us in, not get us out."
Ukip sources insist that "TheKnow.eu" will complement Ukip's campaign but insist it is separate from the party. "Arron Banks is very close to Nigel [Farage] and very supportive of him," one said. "Nigel does not expected to the sole leader of the Out campaign but it would make no sense for him not to play a prominent role."
Join our new commenting forum
Join thought-provoking conversations, follow other Independent readers and see their replies