EU referendum: 'Four or five' UK demands opposed ahead of Europe summit
As PM prepares for leaders showdown in Brussels, No 10 admits there's 'still a lot of work to be done' to agree deal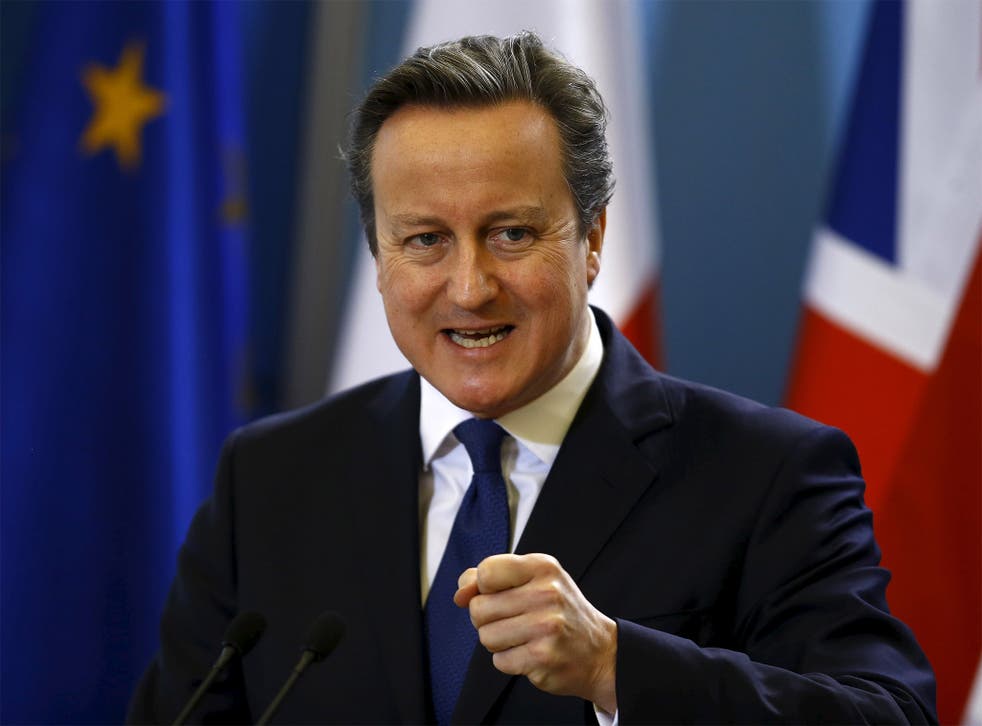 David Cameron is still facing opposition from other EU countries to "four or five areas" of his renegotiation demands, the Government has admitted, less than 24 hours before a summit of leaders in Brussels.
A block of Eastern European countries are attempting to water down plans to restrict child benefit payment to EU migrants and are also looking to restrict Mr Cameron's "emergency brake" on new welfare payments to foreign nationals. At the same time a group of other countries, led by Belgium, are objecting to altering the concept of "ever closer union" enshrined in EU treaties.
France is also understood to still have concerns about the protections Britain is demanding for countries that have not adopted the euro.
Mr Cameron is due in Brussels this afternoon for the summit that will discuss the British demands late on 18 February and again the following morning.
Senior British officials admitted that there was "a lot of work to be done" but added that some of the areas of contention were ones which could only be signed off at leader level.
They added that it should be clear by lunchtime on 19 February whether or not a deal was possible but refused to say what, if any, Mr Cameron's red lines would be.
"There are some difficult issues," they said. "We are seeking some pretty fundamental changes on the eurozone economic governance as well as on welfare. We are battling hard on all these areas on issues that really matter."
As negotiations continued over the details of the package, the PM was boosted by Angela Merkel's declaration that most of his demands were "justified and necessary".
The European Council President Donald Tusk was due to circulate the latest draft of an agreement – which will form the basis of talks on 18 February. However, the Prime Minister of the Czech Republic said while he was ready to work to achieve a deal it could not be at the expense of his country's citizens.
Bohuslav Sobotka said the limit on benefits for workers that Britain is requesting should not be applicable to those who are already working in Britain, only for workers arriving in the future.
"We will not harm our citizens," he said.
Agreement at the summit would allow an In/Out referendum to be held as early as June and open the door for senior Eurosceptic Tories to join a Brexit campaign.
Among prominent figures yet to show their hand is London Mayor Boris Johnson, who was called to No 10 for talks as the PM seeks to secure his support for the "remain" camp.
Mr Johnson remained tight-lipped on his stance as he emerged from the 40-minute discussion but senior sources said he would "make everything abundantly clear by the end of the week" if a deal was concluded by EU leaders.
Nigel Farage and George Galloway Discuss UK EU Referendum
They insisted he remained "genuinely conflicted" and rejected suggestions he was seeking to exploit the issue to maximise his chances of succeeding Mr Cameron as Conservative leader.
If he secures a deal, Mr Cameron will return to the UK for a Cabinet meeting to agree a Government position – and he has told ministers that collective responsibility will then be suspended on the issue so that they can campaign for either side.
In a pre-summit speech to the German parliament, Ms Merkel said the changes being sought by Mr Cameron were "far from being demands that are just for Britain" and that it was in her country's national interest for the UK to remain in the EU. "They are also European demands and many of them are justified and necessary," she said.
Alongside wrangling over the EU deal, Mr Cameron is also finalising new domestic legislation designed to assert the sovereignty of the UK Parliament.
Agenda: 24 hours of talks
18 February
David Cameron is expected to arrive in Brussels this afternoon. He will meet with the European Council President Donald Tusk ahead of the summit meeting at 4pm.
Discussion of Britain's demands will begin before dinner, where each country will be expected to outline their positions. Discussions will move on to the migration crisis over dinner. There could be further bilateral meetings.
19 February
The summit will recommence at 9am with an "informal" Council session. This will allow the President of the European Parliament to participate – whose support will be important if the deal is to succeed. The summit is due end at lunchtime.
Government sources said it would be clear by then if a deal could be done. If the talks are successful Mr Cameron will fly back immediately for an emergency cabinet meeting to rubber stamp the agreement. A date for the referendum is also likely to be announced by at this stage.
Join our new commenting forum
Join thought-provoking conversations, follow other Independent readers and see their replies