EU referendum: Michael Gove rules himself out of leadership contest during Brexit debate
Justice Secretary says he is 'absolutely not' going to stand to be the next Conservative party leader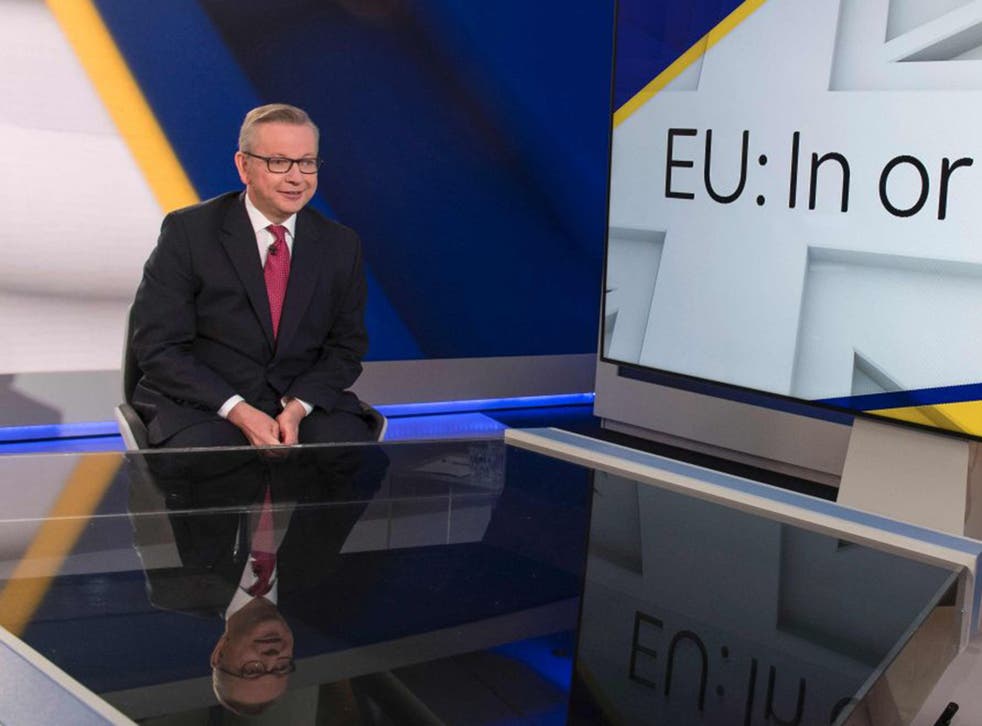 Michael Gove has ruled himself out of the race to become the next Prime Minister despite some opinion polls suggesting he could be the favourite to suceed David Cameron.
The Justice Secretary was arguing the case for Britain to vote to leave the European Union ahead of the referendum on 23 June when he was told by a member of the audience that he was seen as the "poster boy for the Conservative back benchers, the Brexiteers".
But the MP was quick to shoot down any hopes of a bid by telling the man to count him out.
He said: "I can tell you I'm absolutely not.
"The one thing I can tell you is there are lots of talented people who could be Prime Minister after David Cameron but count me out."
Laughing at the prospect of challenging Boris Johnson, the former Mayor of London and his fellow Vote Leave campaigner, Mr Gove said: "The thing I recommend is whatever posters you put up on your wall, do not put one up of me.
"I'm not the sort of person you want to have when you wake up on your bedroom wall, I'll tell you that."
What's the European Parliament ever done for us?

Show all 5
He said people do want to "speculate about personalities" but the referendum was more important than that.
"This issue is about the future of our country and what sort of nation we want to be", the 48-year-old said, "I think that instead of succumbing to the pessimism of the Remain side we should be optimistic and hopeful about our potential".
It comes after Mr Gove topped a poll of party members run by influential website ConservativeHome for the third month running.
He won 30 per cent of the vote in the June survery of members about who they want to see as their next leader and was eight points ahead of his nearest challenger, Mr Johnson, who was on 22 per cent.
Chancellor and Remain campaigner George Osborne, who was the favourite in the poll last summer, came a distant fifth after former defence secretary Liam Fox with just eight per cent of the vote.
It comes after a week of speculating about whether Mr Cameron will be forced to resign regardless of the referendum result.
Speaking on ITV's Peston on Sunday last week, Tory backbencher and Out campaigner Nadine Dorries said she had already submitted a letter to Graham Brady, chairman of the influential 1922 Committee, calling for a vote of no confidence in Mr Cameron.
Party rules dictate if 50 backbenchers make the call it can trigger a vote.
Claiming he had "lied profoundly" during the campaign, she said: "My letter is already in. If the Remain camp wins by a large majority – I think it would have to be 60/40 – then David Cameron might just survive but if Remain win by a narrow majority or lose...he's toast within days".
Join our new commenting forum
Join thought-provoking conversations, follow other Independent readers and see their replies