EU referendum: Michael Gove urges voters to take back control from Europe's 'unaccountable elites'
The Justice Secretary dismisses critical economic forecasters, saying he is 'happy' to have the Leave campaign's £350m-to-Brussels claim independently audited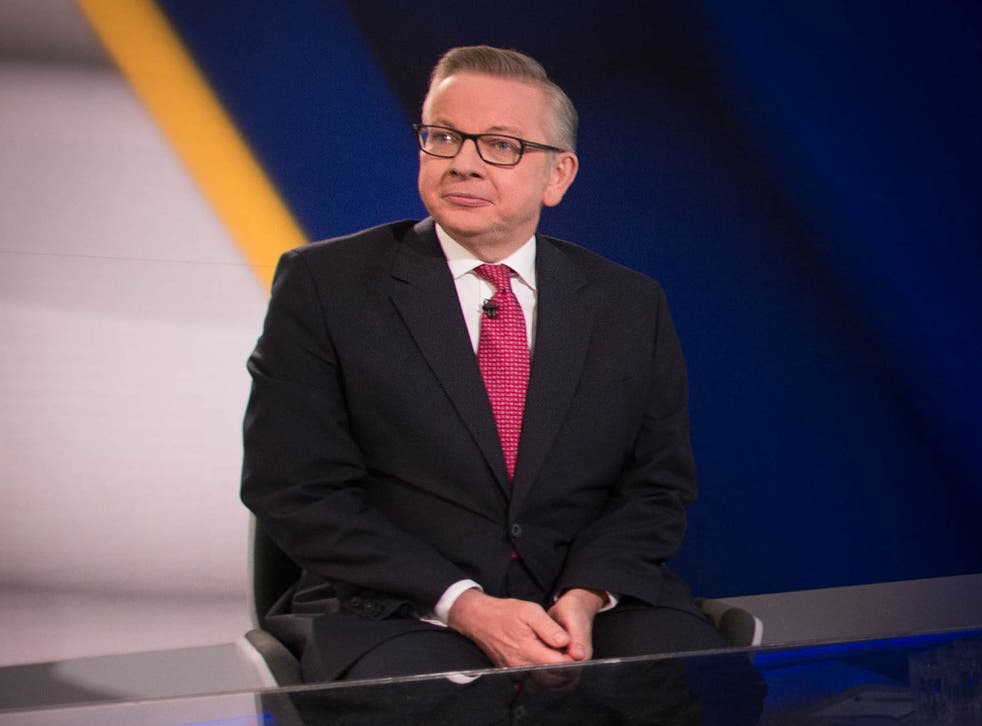 Michael Gove has claimed he is glad not a single major independent economic authority is backing Brexit, as he sought to portray the referendum campaign as a battle between ordinary people and the "invincible arrogance of Europe's elites" in his first TV set-piece of the campaign.
Hitting back at David Cameron's warnings over the risks of leaving the EU, Mr Gove told a Sky News audience that Brexit would be an opportunity to "take back control" from "unelected, unaccountable elites" and directly accused the Prime Minister of trying to "scare" voters in his own TV appearance on Thursday.
However, he faced a fierce critique from members of the public over the Leave campaign's use of the contested £350m figure – the amount they claim Britain could reclaim each week in the event of Brexit - and Vote Leave's lack of a clear economic plan for a post-Brexit Britain.
Mr Gove, the Justice Secretary, stood by the £350m figure but acknowledged it did not take into account Britain's EU rebate or the billions of pounds the UK receives each year from the EU.
He denied that Vote Leave was running a "Project Lies" campaign, and said he was happy to allow independent auditors to test the widely-criticised claim.
In a fractious exchange with Sky News' political editor Faisal Islam, Mr Gove accused the broadcaster of being part of the "elite" group arguing against Brexit.
Challenged over the lack of backing from top economists for Vote Leave, he said: "Many of those organisations that have been cited so regularly as being in favour of our being in the EU are organisations that have consistently made errors, that receive money in many cases from the EU. They are not genuinely independent, they are organisations with an agenda and an agenda that has often been wrong."
However, he was accused by Mr Islam of bringing tactics reminiscent of Donald Trump to the referendum campaign by refusing to drop the disputed £350m figure.
Mr Gove, who used the broadcast to repeatedly cast himself as an outsider, championing ordinary people against elites, hit back saying: "I think it is wrong of you to say that people who want our democracy restored and believe Britain should be a self-governing nation are people who are following in the footsteps of Donald Trump.
"It is that sort of sneering condescension towards people who believe in democracy that discredits those on the Remain side of the campaign."
However, In language that echoed Mr Trump's campaign slogan "Make America great again", he concluded with a plea to voters to leave the EU to "make this country, once more, truly great".
Railing against what he called "the invincible arrogance of Europe's elites", Mr Gove said:"These are people who have seen the euro collapse. These are people who are presiding over a migration crisis on their borders, and yet do they ever acknowledge that they need to change? No.
"I think it's time that we said to people who are incapable of acknowledging that they've ever got anything wrong: 'I'm sorry, you've had your day.'
"Unelected, unaccountable elites, I'm afraid it's time to say 'You're fired. We are going to take back control."
While his attacks on the Remain campaign's tactics were well-received by some of the studio audience, he faced harsh criticism from some members of the public over Vote Leave's use of figures and its lack of a comprehensive economic plan for the UK post-Brexit.
One audience member, small business owner Andrew Carnegie, compared Mr Gove and his fellow Leave campaigners to First World War generals urging ordinary people to go "over the top" into the unknown.
Confronting the economic arguments against Brexit, Mr Gove claimed that it was the EU that was a risk to jobs in the UK, calling the bloc a "job destroying machine". He cited personal experience, claiming that his father's fishing business had been "destroyed by the European Union".
However, he said he could not guarantee that no-one would lose their jobs as a result of Britain voting to leave.
He also faced criticism from the public over Vote Leave's handling of the issue of immigration, with one audience member warning that Brexit campaigners were "ostracising" immigrants. Mr Gove said that he was proud to live in a multi-cultural society, but argued that the UK needed more control over its immigration system, and repeated warnings that migrants from five states not yet in the EU, including Turkey, could soon come to Britain, putting pressure on public services such as the NHS.
The Britain Stronger In Europe campaign said that Mr Gove's appearance revealed "key admissions" from Vote Leave.
"Jobs will be lost if we leave; no economic experts support their case; they have no plan at all," a campaign spokesperson said.
Join our new commenting forum
Join thought-provoking conversations, follow other Independent readers and see their replies