EU referendum: Nearly half of Labour voters unaware of party's position
'Labour voters are pivotal in this referendum. That's why we need a lot of Labour voices because they are better message carriers'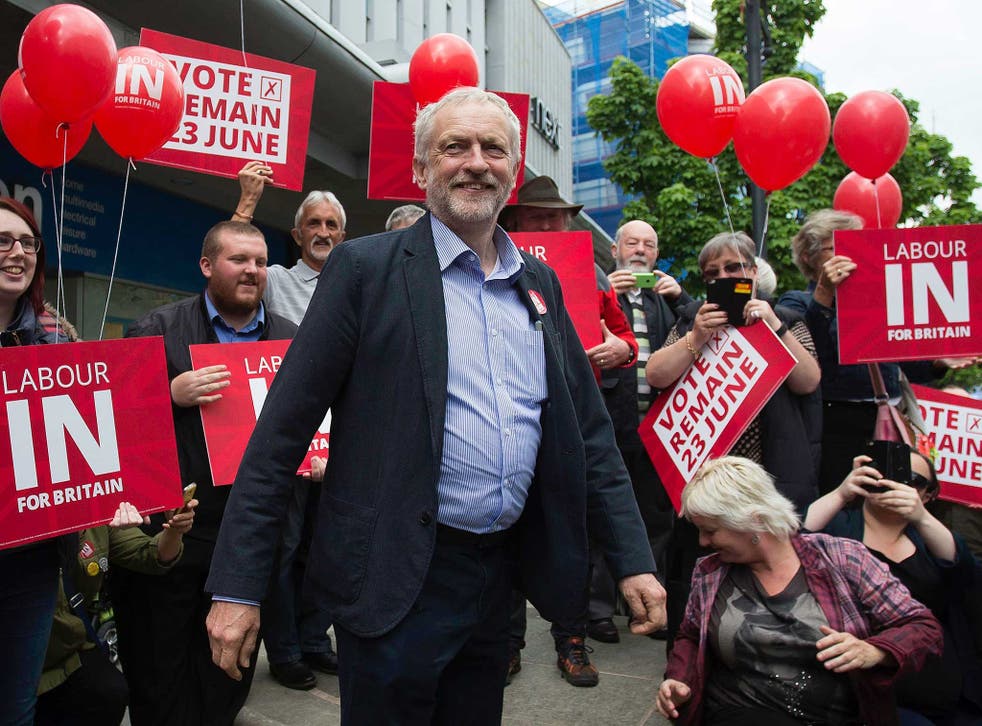 Nearly half of Labour voters are unaware of the party's stance on the upcoming EU referendum, according to two separate sets of research released just three weeks before polling day.
A leaked memo from the Britain Stronger In Europe campaign, based on recent focus groups, found that supporters of Jeremy Corbyn's Labour were "uniformly uncertain" about the party's position on the EU.
The research, leaked to the Guardian, was corroborated by a YouGov poll for the Times that claimed only 55 per cent of Labour voters knew that the majority of the party's MPs back remaining in the EU. Around 45 per cent of those asked thought the party was backing Brexit or its members were split down the middle.
A source in the Remain camp told the newspaper it was crucial that Mr Corbyn stepped up his efforts. They added: "Labour voters are pivotal in this referendum. That's why we need a lot of Labour voices because they are better message carriers."
Speaking about the Labour leader's efforts in the EU debate Alistair Darling, the former Chancellor, last week said: "I hope that he does more". It could be crucial on voting day as a as poll has already revealed that more people trust Mr Corbyn's position on the EU to the Prime Minister – 28 per cent to just 18 per cent.
The worrying news for the Remain camp comes as John McDonnell, the shadow Chancellor, begins a week-long tour of the country with events scheduled in Wolverhampton, Leeds, Leicester and Cardiff.
Speaking ahead of the first event Mr McDonnell said: "The EU referendum is about our future relationship with Europe not who is the next leader of the Tory party, which is why I think there is a positive case to be made and it's vital young people hear this case over the personal ambitions of different Tory MPs.
"The Labour leadership will not go anywhere near the Tories project fear campaign on both sides of the debate, but instead we will continue to set out the positive case to 'Remain and Reform' the EU to create 'Another Europe' and reject Tory Brexit.
What has the EU ever done for us?

Show all 7
"Next month there is a serious choice before the British people, the prospect of a Tory Brexit or a Labour Remain and Reform to create Another Europe that offers greater opportunity for working people in our country and across the EU.
He added: "For the first time in over a generation there are movements and political forces mobilised and mobilising across Europe to respond to the challenges we face.
"Another Europe is not just possible but urgently and vitally needed, which is why we must reject the offer of a Tory Brexit."
Join our new commenting forum
Join thought-provoking conversations, follow other Independent readers and see their replies