EU referendum: Sensible Eurosceptics being put off by 'angry, unintelligent mob', says senior Tory
Remarks likely to be seen as warning that the Brexit campaign is dominated by divisive figures such as Nigel Farage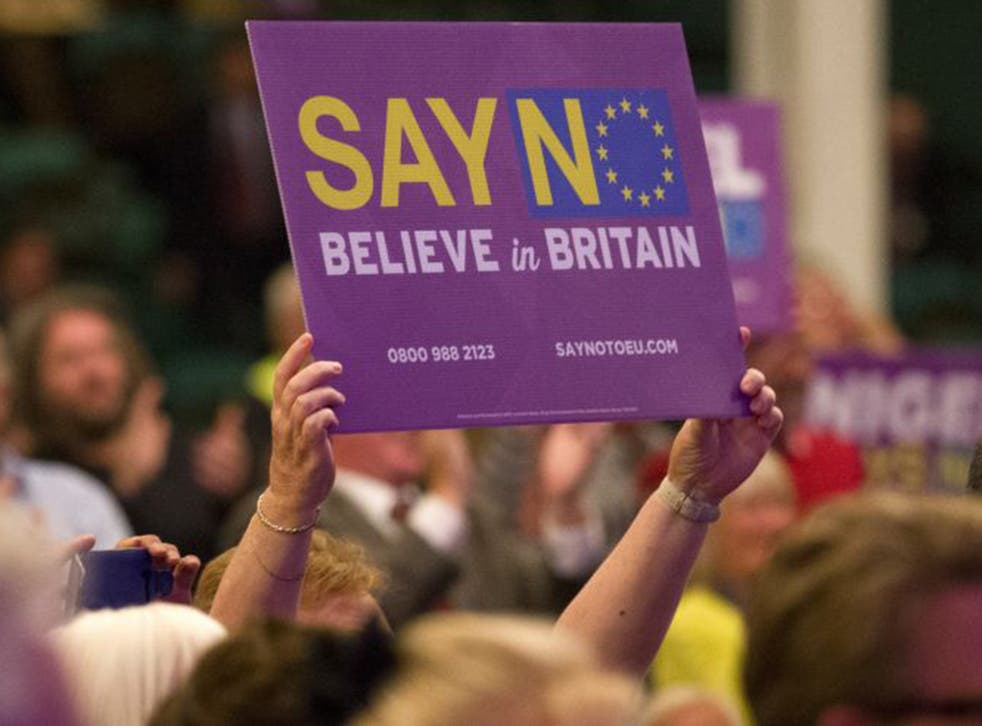 Eurosceptic ministers are being put off joining the campaign for Britain to leave the EU by the "angry, unintelligent, divided mob" leading it, a member of the Cabinet has revealed.
The senior Tory, who has yet to make up his mind about which way to vote in the referendum, said "sensible Eurosceptics" wanted to distance themselves from the hardline leaders of the "leave" campaign despite their own reservations about Britain's membership of the EU.
The remarks are likely to be seen as a warning that the campaign for British exit from Europe is dominated by divisive figures such as Ukip leader Nigel Farage and veteran Tory Eurosceptics Bernard Jenkin, John Redwood and Owen Paterson.
It comes amid claims that senior Tory donors have become disillusioned with the tactics of the leading anti-EU campaign group Vote Leave, after activists gatecrashed a speech by the Prime Minister to the CBI last year.
There have also been rumblings of discontent within the Vote Leave campaign, which is run by Michael Gove's former adviser Dominic Cummings.
Richard Murphy, the former director of the ground campaign, has left to join the rival Ukip-backed group Leave.eu. The Independent on Sunday also understands that there have been five other recent resignations.
The Vote Leave campaign, however, insists that its senior team have all remained in place.
But the Cabinet minister – speaking anonymously to The IoS – said: "The problem is, they look like an angry, unintelligent, divided mob which sensible Eurosceptics want nothing to do with. People like Sajid [Javid] and myself are being put off."
The minister added that David Cameron needed to come back with substantial reforms. "It can't just be a referendum in the status quo," he said. "There needs to be ... enough to show the relationship is changing."
There have also been claims that ministers are being censored by No 10 to stop Eurosceptic statements in the Commons. The Cabinet minister revealed he had been told to send a planned statement to the Cabinet Office to be checked. It was returned with anti-EU elements removed.
Join our new commenting forum
Join thought-provoking conversations, follow other Independent readers and see their replies