EU referendum: Brexit campaign accused of 'fanning flames of division' with controversial map
'Coded nudges and winks like this are utterly horrific and they should stop fanning the flames of division. Vote Leave is just playing the politics of division. It has no place in British society'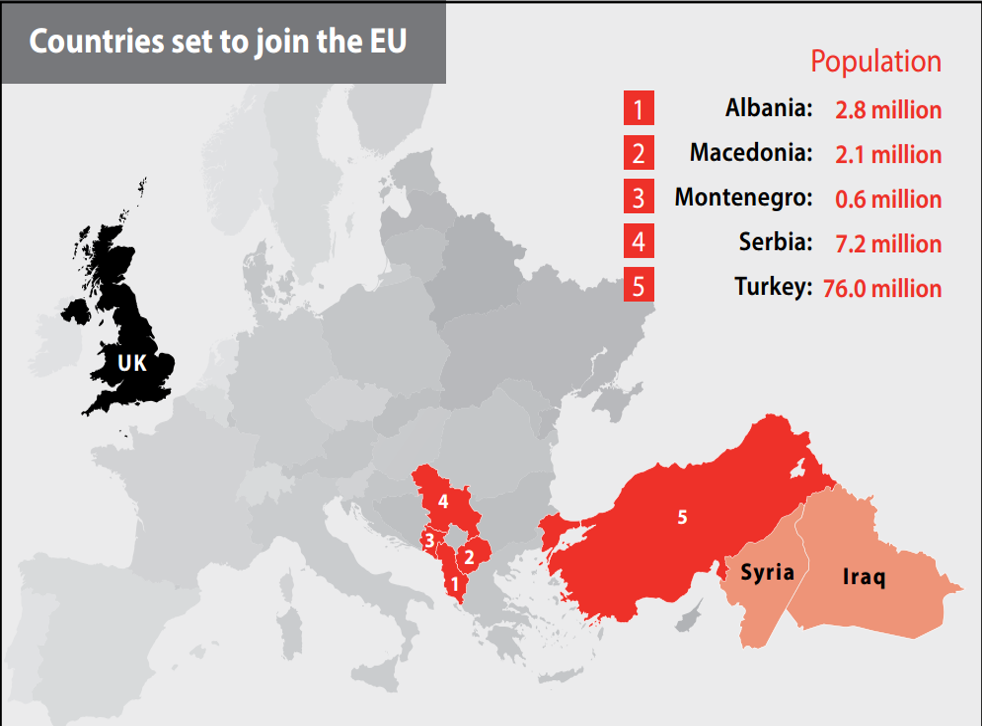 The official Brexit campaign group has been accused of "fanning the flames of division" after publishing a map highlighting how the EU will a share a border with Syria if Turkey gains membership.
In their referendum campaign material, set to be sent to millions of people across the UK , Vote Leave claim that five countries – Albania, Macedonia, Montenegro, Serbia and Turkey – are "set to join the EU". Only three territories are actually named on the map: the UK, Syria and Iraq.
David Cameron has previously criticised the Vote Leave campaign for claiming that Turkey is set to join the 28 member-state bloc. Speaking in May the Prime Minister said the country would not be ready to join the bloc "until the year 3000" on its current rate of progress.
EU Referendum: Latest Poll
"This is just the visual interpretation of a dog whistle," Tim Farron, the leader of the Liberal Democrats, told The Independent.
He added: "Coded nudges and winks like this are utterly horrific and they should stop fanning the flames of division. Vote Leave is just playing the politics of division. It has no place in British society."
The leaflet, first published by the Spectator, highlights "the facts" of the EU, adding: "The EU is expanding to include: Albania, Macedonia, Montenegro, Serbia and Turkey. When we joined, there were just nine member states. Now there are 28, the most recent being Romania, Bulgaria and Croatia. Five more countries are in the queue to join, including Turkey, totalling 89 million people. When they join, they will have the same rights as other member states".
It also carries the widely disputed claim that the EU "costs us £350 million a week", which is "enough to build a new NHS hospital every week." Despite warnings from the UK Statistics Authority, who criticised the figure as inaccurate, both Michael Gove and Boris Johnson have continued to publicise the figure relentlessly.
What has the EU ever done for us?

Show all 7
"We get less than half of this back, and have no say over its spent," the leaflet adds.
It comes as the pound fell sharply against the dollar on Monday as financial markets reacted badly to new polls suggesting momentum is moving towards Britain's exit from the European Union.
On Sunday Nigel Farage was criticised by a fellow Brexit campaigner of "outrageous blatant scaremongering" after suggesting women could be at risk of sex attacks from migrants if Britons vote to stay in the EU.
Referring to reports from the New Years Eve attacks in Cologne in Germany that hundreds of women were sexually assaulted, the Ukip leader said the possibility of such attacks in the UK will be "the nuclear bomb" of the referendum campaign.
Join our new commenting forum
Join thought-provoking conversations, follow other Independent readers and see their replies