'Europe isn't à la carte' – Hollande sounds warning to dent Cameron hopes for repatriation of powers
Prime Minister met with strong French objections over campaign to win new deal on opt-outs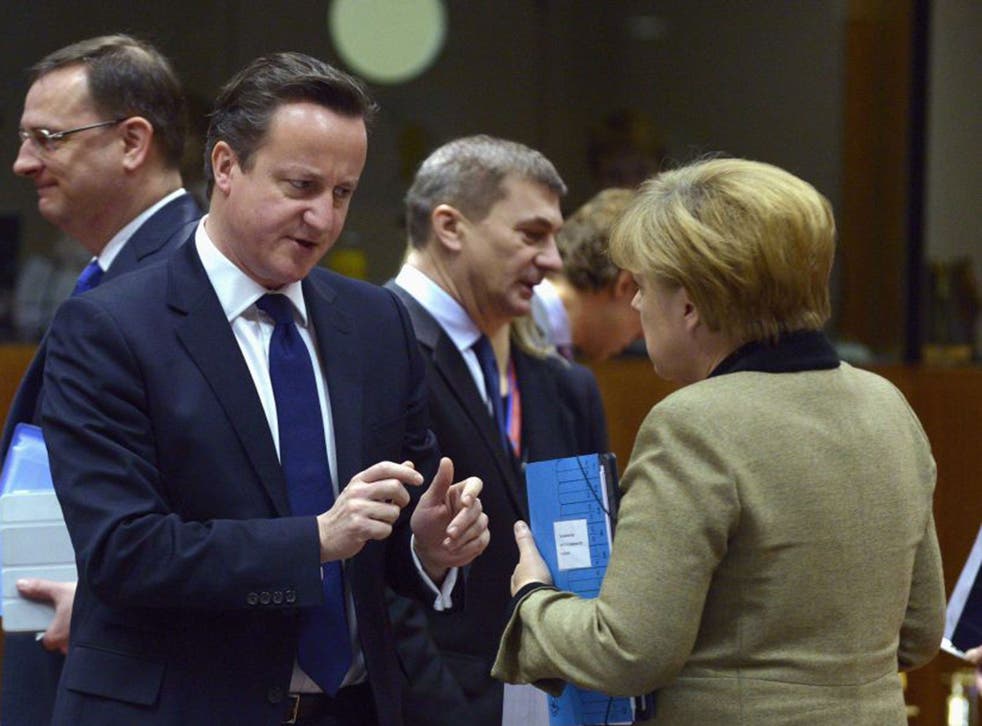 David Cameron's drive to win a "new settlement" for Britain in Europe suffered an immediate setback yesterday when France said the EU would not allow the UK to renegotiate its membership terms.
After Mr Cameron told fellow EU leaders Britain would demand a new deal in return for allowing euro members to forge closer union, he was slapped down by the Socialist President of France François Hollande, who declared that Europe was "for life".
He told a press conference: "To repatriate [powers]? Usually when a country commits, it is for life. I believe that treaties are meant to be complied with. This discussion could take place, but Europe is not a Europe in which you can take back competences. It is not Europe à la carte."
His remarks are a clear warning that Britain would not secure an opt-out from the EU's social chapter of employment rights, which its partners now regard as a permanent and necessary balance to the single market. They do not want to hand the UK the competitive advantage of cutting its labour costs.
Angela Merkel, the German Chancellor, may be prepared to make some concessions to the UK during talks on a new treaty on full economic and monetary union, but EU diplomats said they would be limited. For example, Britain might win an opt-out from the EU directive on maximum working hours, but there was no prospect of letting it leave the entire social chapter or common fisheries policy –both key Eurosceptic demands.
"Cameron is raising expectations that can't be fulfilled," one EU source said. Another added: "If he tables a long list of demands to repatriate powers, then all the other 26 members will do the same … What he wants is not going to happen."
Downing Street hit back, with a source saying: "It's wrong to say you can't repatriate powers. There's no clause written down anywhere that says this can't be done. Indeed, this Government has already returned the bailout power from the EU and the last EU treaty provided for the UK to return powers on home affairs and justice if we choose. There needs to be flexibility to ensure the interests of all EU members are respected. And clearly as the eurozone seeks changes to allow for the closer integration it needs, so others can seek changes to advance their interests too."
* The decriminalisation of some drugs appeared a more realistic prospect last night after charities backed Nick Clegg's call for a Royal Commission to review Britain's 40-year-old laws on illegal substances.
David Cameron rejected the Deputy Prime Minister's demand, but Danny Kushlick, of the Transform Drug Policy Foundation, said: "Nick Clegg's call is a sign the world has moved on."
Join our new commenting forum
Join thought-provoking conversations, follow other Independent readers and see their replies