Ex-MEP Marta Andreasen claims Ukip peddles 'lies' as high-profile Tory MP Priti Patel's father announces he is standing for election
Former MEP claims Nigel Farage is to blame for failing to vet candidates with far-right links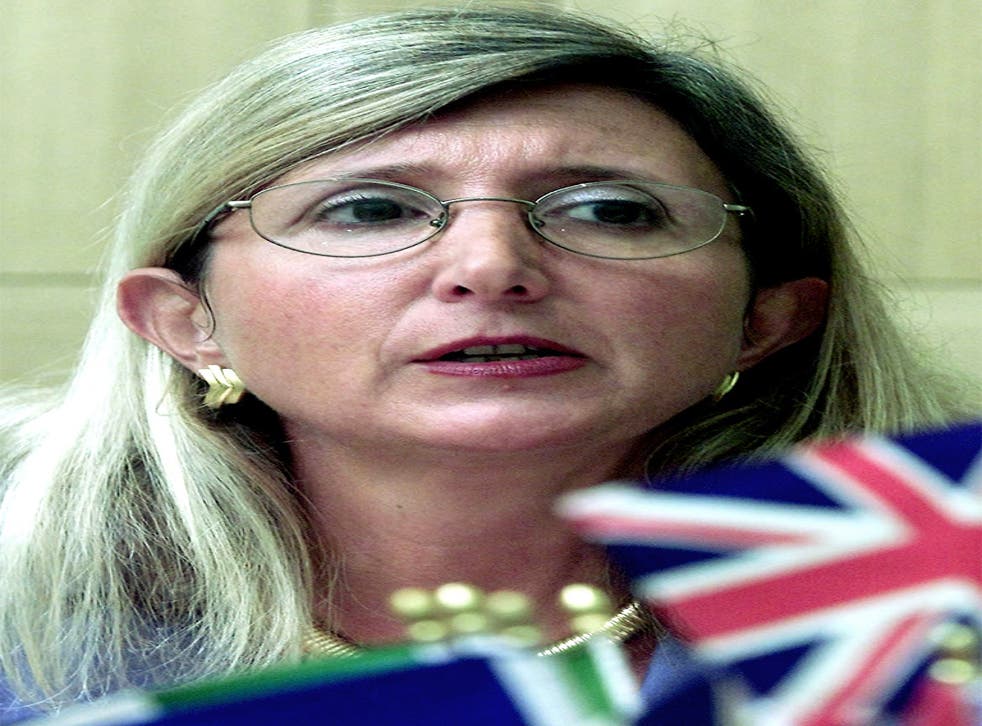 The UK Independence Party tells "lies" to stir up fear of immigrants and Nigel Farage is personally to blame for failing to vet candidates with far right links, one of its former leading MEPs has claimed.
Marta Andreasen's comments came as the Ukip leader spoke of his pride that the party was managing to reduce the BNP's vote share by winning the support of people who had previously voted for Nick Griffin's party.
Ukip, which is riding high in the polls ahead of Thursday's local elections, has come under pressure over the backgrounds of several of its candidates. Today it suspended the membership of an activist who was photographed apparently making a Nazi salute.
Mr Farage has always insisted the party is colour blind and bans former supporters of the BNP and other far-right groups from membership.
But Ms Andreasen, who defected to the Conservatives three months ago, said she had become concerned that Ukip, which is fielding more than 1,700 candidates, was increasingly stirring up hatred against immigrants in its campaigning.
And she claimed she was still receiving calls from party members alarmed at its strategy and choice of candidates.
Ms Andreasen told The Independent: "Even if they say they have changed the constitution to have less BNP [members], they actually are taking the ground of the BNP and they have many members who are coming from the BNP and the National Front."
The MEP, who represents the south-east of England, said Ukip had "generated a lot of anxiety" by playing on anti-immigration sentiment in the recent by-election in Eastleigh, where the party came second ahead of the Tories and Labour.
She said: "If you saw the campaign in Eastleigh it was all about immigration and they lie, they produce data which is ridiculous, they say the whole population of Bulgaria and Romania is going to come to the UK."
Mr Farage admitted that the party faced "one or two teething problems" in selecting its representatives and admitted that it "does not look very pretty" to have a candidate pictured making the Nazi salute. He said: "We don't have the resources to trawl through absolutely everybody's social media sites and that has led to one or two embarrassments."
But Ms Andreasen, a former chief accountant for the European Commission, said it was Mr Farage's jealousy of potential competitors inside the "one-man band" party that had prevented candidates from having their records checked.
She said Mr Farage changed the party's constitution last year "giving him full power on everything, including the establishment of strategy, policies and selection processes for candidates for elections".
She added: "He has come out saying 'we cannot vet everybody' – well he cannot vet everybody because he wants the control himself. He should have been able to establish an administration with the means to vet, even if it's 1,700 candidates. He's the one who put candidates all over the place in as many seats as possible… He's very attractive to the media because he's a showman but he doesn't have the patience or the interest in dealing with data."
There is no love lost between the pair, with Mr Farage responding to Ms Andreasen's defection by saying the Conservatives "deserve what is coming to them", adding: "The woman is impossible."
Ukip is aiming to capture around 14 per cent of the vote in tomorrow's elections. While that is unlikely to win the party many seats it could deprive other parties – notably the Tories – of victory in close-fought contests.
It is also expected to finish second in the parliamentary by-election in the safe Labour seat of South Shields.
During a campaign visit to the constituency, Mr Farage insisted he was doing more than any political leader to counter the BNP.
He said Ukip was managing to reach out to voters concerned about immigration while refusing to pander to racial prejudice. "By adopting that strategy we have actually taken away one-third of the BNP vote. Nobody has done more [than me] to damage the BNP in British politics."
Ukip received a pre-elections fillip with the disclosure that a candidate is the father of the high-profile Tory MP Priti Patel. Sushil Patel is standing in the Hertfordshire County Council elections.
Tory sources initially claimed he would stand down to avoid embarrassing her, but last night he insisted he was standing. He said: "My views are my own and I am astonished there has been quite so much interest in my candidacy."
Marta Andreasen: Ex-MEP who is no stranger to controversy
A Spanish national, born in Argentina, Marta Andreasen, 58, was once chief accountant for the European Commission.
She was suspended after raising concerns about its financial records, first via a letter to its then president, Romano Prodi, before publicly accusing the organisation of having worse accounts than Enron.
She entered the European Parliament for Ukip in 1999 and was re-elected twice, becoming party treasurer in 2007.
This February, she became the third MEP to quit Ukip in two years amid rows about policies, personalities and far-right allegiances.
Join our new commenting forum
Join thought-provoking conversations, follow other Independent readers and see their replies