Exclusive: Hunt on the brink as he is accused of misleading Parliament
Culture Secretary faces immediate resignation if found guilty over dealings with Murdoch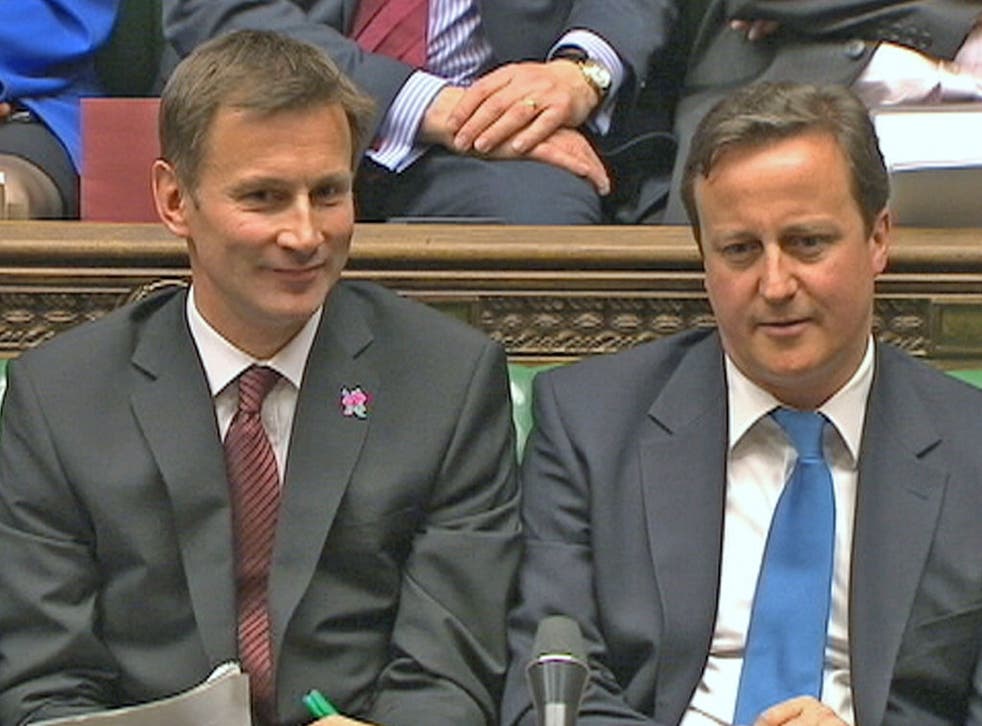 Jeremy Hunt today stands accused of misleading Parliament over his dealings with the Murdoch empire, an offence which would trigger the Culture Secretary's immediate resignation.
As the Prime Minister battled to save his minister, an Independent on Sunday investigation has established that Mr Hunt appears to have misled the Commons on three occasions in his handling of News Corp's takeover bid of BSkyB.
In what could turn out to be the final blow to the under-fire Culture Secretary, a letter written by his permanent secretary, Jonathan Stephens, seen by this newspaper, challenges Mr Hunt's version of events.
David Cameron last night maintained his refusal to refer Mr Hunt's conduct to an independent investigation, despite Lord Justice Leveson's insistence that it was not a matter for his inquiry into the press. But the Prime Minister will come under fresh pressure tomorrow when Labour demands that Mr Hunt clarify his comments to the House of Commons over how his special adviser, Adam Smith, was able to funnel information to News Corp lobbyist Frédéric Michel while the Culture Secretary was responsible for the BSkyB bid decision.
Mr Hunt is accused of misleading the Commons three times: once in March 2011 and twice in his statement to Parliament last Wednesday, 25 April.
Under the ministerial code, misleading parliament carries an immediate obligation to resign.
On 3 March last year, the Culture Secretary, who at the time had "quasi-judicial" oversight of the bid, told the Commons that his department was "publishing all the documents relating to all the meetings – all the consultation documents, all the submissions we received, all the exchanges between my Department and News Corporation". Yet, despite Mr Hunt knowing that Mr Smith had been appointed as a point of contact with Mr Michel, none of the emails between the two men was published. It was only last week, when James and Rupert Murdoch gave evidence to the Leveson inquiry, that the emails came to light.
The second difficulty for Mr Hunt is his insistence to the Commons last Wednesday that Mr Stephens had "authorised" and "approved" Mr Smith as a point of contact with News Corp. In evidence to the public accounts committee last Thursday, Mr Stephens declined to say whether he had authorised the contact. However, in a letter, following the hearing, from committee chairman Margaret Hodge to Mr Stephens, seen by The IoS, she demands to know whether the contact was "approved". Crucially, in his reply, Mr Stephens says only that he was "aware and content" that Mr Smith was the contact. The difference in language from Mr Hunt's most senior civil servant appears to undermine the minister's statement to Parliament.
A third problem for the Culture Secretary is his failure to tell MPs last Wednesday the full details of his own dealings with Mr Michel. (See box, below.)
Shadow Culture Secretary Harriet Harman told The IoS: "Jeremy Hunt has misled the House. He said he was impartial when he wasn't, he said he had given the House all the information, when clearly he hadn't."
There is even the prospect that the Prime Minister himself has broken the ministerial code by failing to order an independent inquiry into Mr Hunt's conduct. Section 1.3 of the code makes clear that once a prime minister has acknowledged an investigation is warranted, he must refer it to the Independent Adviser on Ministerial Standards.
In a statement yesterday, No 10 implied there was a case for Mr Hunt to answer, saying: "It does not make sense to cut across a judicial inquiry with a parallel process that would risk pre-empting, duplicating or contradicting it. Once Jeremy Hunt's evidence is made public and he is questioned, if there is anything that suggests there has been a breach of the code the Prime Minister would of course act."
Ms Harman added: "In seeking to provide cover for Jeremy Hunt, the Prime Minister has put himself in breach of the ministerial code. The longer the Prime Minister hangs on to a Secretary of State who should not be in his office, the more it is evident that the Prime Minister himself is failing in his duties."
It also emerged that five Tory members of the Culture, Media and Sport Select Committee have had meetings with News Corp since 2009. Labour's Chris Bryant said any MPs who have had "secret briefings" from the firm should declare it before tomorrow.
Five issues that will determine his fate
1. Did Mr Hunt mislead Parliament on 3 March last year? He told MPs: "We are publishing all the documents relating to all the meetings – all the consultation documents, all the submissions we received, all the exchanges between my department and News Corporation." Emails show that there was further communication, namely between his special adviser, Adam Smith, and Frédéric Michel, the News Corp public affairs chief, that was not published in March 2011. Mr Hunt told the Commons on 25 April that contact between Mr Smith and Mr Michel was authorised, so he must have known that emails existed.
2. Did Mr Hunt mislead Parliament on 25 April this year? He said that Jonathan Stephens, his permanent secretary, had "authorised" and "approved" Mr Smith as a point of contact with News Corp. Mr Stephens, asked to confirm this by the Public Accounts Committee the next day, declined. In a letter the day after, Mr Stephens said he was "content and aware" of Mr Smith's role, which is not the same as "authorised and approved".
3. Did Mr Hunt mislead Parliament on 25 April about meetings with Mr Michel? Asked by Richard Graham MP, how many conversations he had with Mr Michel, Mr Hunt replied "Zero". Later, in response to another MP, Mr Hunt replied: "Throughout the bid process, the contact that I had with Fred Michel was only at official meetings that were minuted with other people present." But Mr Michel's written statement to the Leveson inquiry detailed a third meeting, in London on 20 May 2011, and several text messages between Mr Michel and Mr Hunt in 2011. Why didn't Mr Hunt mention these to Parliament?
4. Under section 3.3 of the ministerial code, it is the Secretary of State who is responsible for the conduct of his or her special adviser. So, if Mr Smith resigned over the Michel emails, why hasn't Mr Hunt resigned, too?
5. If Mr Hunt says he did not know the content of the emails, how was Mr Smith able to give Mr Michel a "heads up" the day before a Commons statement by Mr Hunt, saying he, Hunt, was minded to refer the BSkyB bid to the Competition Commission but would delay it to allow News Corp to submit concessions?
Jane Merrick
Join our new commenting forum
Join thought-provoking conversations, follow other Independent readers and see their replies